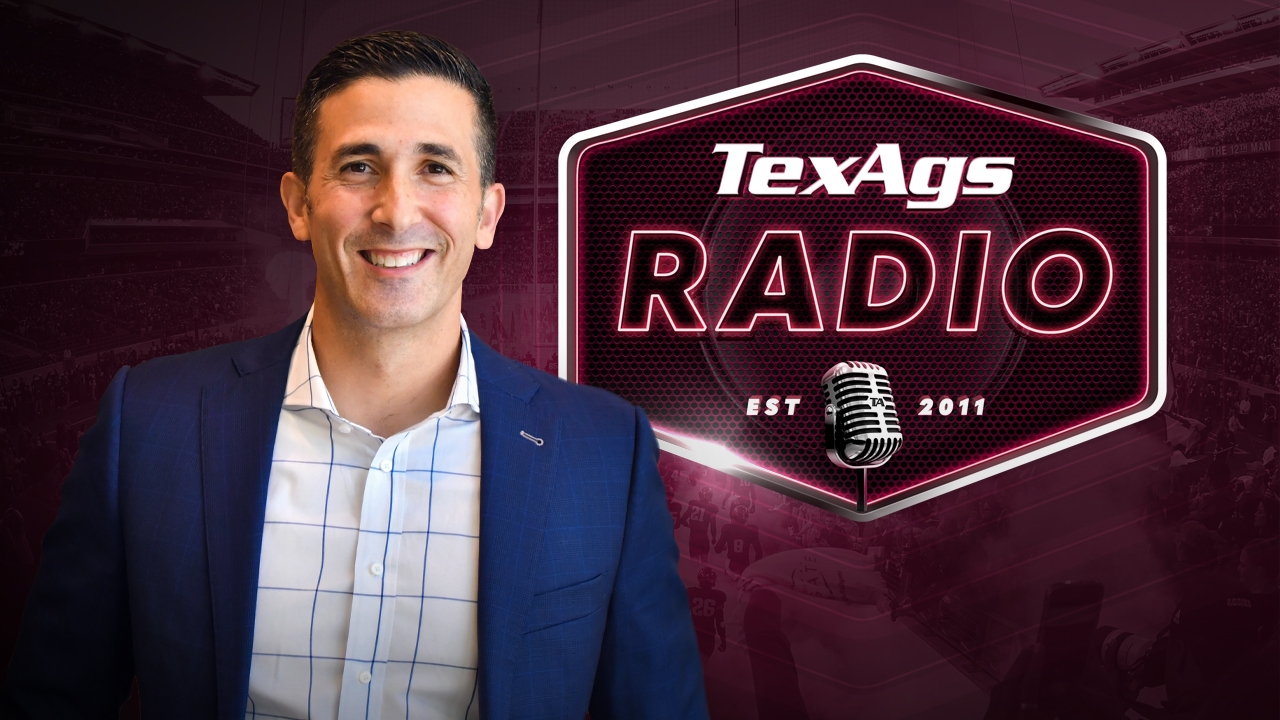 Photo by Jamie Maury, TexAgs
'I am coming home': David Nuño joins TexAgs as Director of Broadcast Media
---
In David Nuño's 15-year broadcasting career, he's covered the Super Bowl, the World Series, the NBA Finals and All-Star Game, NCAA Final Fours and football championship games.
And looking back on it all, Nuño said he has two favorite memories.
One was being doused in champagne in the Houston Astros clubhouse while doing a live shot for ABC 13 following the 2015 wildcard playoff victory over the New York Yankees.
The other was being at Reed Arena when Texas A&M's Acie Law hit "The Shot" to beat Texas 46-43 in 2006.
You can take the broadcaster out of Aggieland, but you just can't take Aggieland out of the broadcaster.
Aggieland resides in Nuño. And soon he'll reside in Aggieland.
The 44-year-old Nuño is coming back to College Station to replace Gabe Bock as TexAgs Director of Broadcast Media and host of TexAgs Radio. His first show at the TexAgs Radio desk will be July 6.
"I am coming home," Nuño said recently. "I have always had a love for the Bryan-College Station area. There are two things in sports that get my blood going: Texas A&M and Real Madrid soccer.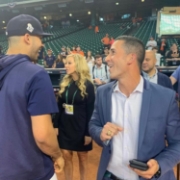 "There is nothing like A&M sports. I've always thought about one day relocating. It's the perfect area at the perfect time."
TexAgs co-owner Billy Liucci said Nuño is the perfect choice to replace Bock, who has been with TexAgs since 2008 and hosted TexAgs radio since its inception in 2011.
"When the position came open it was a no-brainer," Liucci said. "He was the No. 1 target for me. There was not a No. 2. David Nuño was the fit on every level.
"He is the guy that can take us into the stratosphere here at TexAgs in terms of producing unique and rich content for our subscribers and plow areas we've yet to even touch in content and visibility."
Nuño, who earned a Broadcast Journalism degree from Texas A&M in 1999, is eager to bring his family to the area he loves so much.
"I remember the small town charm with the big city access. The great restaurants. The awesome adult culture along with the college life," Nuño said. "There is a great atmosphere, you can get around town, there are great churches.
"I remember feeling at home there. When I come to College Station it's like I never left. I look forward to being here on football Saturdays and my kids getting to see it and have a front-row view of what I do."
Nuño and his wife Elizabeth, a fitness coach who graduated from Texas, have 13-year-old twin sons Christian and Cruz and two daughters — 10-year-old Anneliese and 8-year-old Isla.
"When the position came open it was a no-brainer. He was the No. 1 target for me. There was not a No. 2. David Nuño was the fit on every level."
All are soccer players.
Although his wife attended Texas, Nuño said she's converted.
"She is an Aggie at heart," he said. "My kids are all Aggies. They don't even know about the Longhorns."
Though Houston, where Nuño was born and raised, isn't far from College Station, the road back for him was long and winding.
He interned with local radio personalities Chip Howard and Louie Belina as an A&M student. His first assignment was covering Melvin Watkins' introductory press conference as A&M's basketball coach in '98.
After earning his Broadcast Journalism degree, he actually took a job as a banker with Chase. Nuño didn't know it, but his career and life would change by watching a CNN interview with Dallas Mavericks owner Mark Cuban.
In the interview, Cuban said he always responded to emails from fans. So, Nuño emailed him. Cuban responded. The next day he had a gameday internship with the Mavericks.
He interned with the Mavericks for a year. Then the San Diego Sockers of Indoor Soccer. Then, with the Houston Rockets.
Nuño eventually returned to the Mavericks as Hispanic Marketing Manager, a position that required some television appearances.
Next, Oliver Luck, then head of the Houston Sports Authority, hired Nuño in a public relations role. They worked together to bring the San Jose Earthquakes of Major League Soccer to Houston as the Dynamo in 2005.
"There is nothing like A&M sports. I've always thought about one day relocating. It's the perfect area at the perfect time."
He left that position to work as a television sports reporter in Bryan-College Station and Waco for the next two years.
In 2007 he moved to radio on KGOW in Houston. That led to Nuño becoming a national sports talk show host in 2010.
Two years later, he accepted a position as reporter and weekend sports anchor for ABC 13 in Houston. He remained in that job until moving to TexAgs.
"TexAgs is a brand that I have not only watched grow, but I have been a viewer and listener," Nuño said. "It's a perfect match. It's something I've thought about for over a decade."
Liucci did, too.
"Gabe and I many times talked about what our 'Dream Team' of TexAgs consists of. David's name was literally the first name that came up knowing his personality, knowing his love for Texas A&M and his love for College Station.
"He's such a pro. Whether it's hosting radio, whether it's on TV, whether it's on social media, he's just a stud at what he does. He's a cultural fit for us at TexAgs."
Programming Note: Nuño visited with Gabe and Billy on TexAgs Radio this morning at 10:35.
Never miss the latest news from TexAgs!
Join our free email list