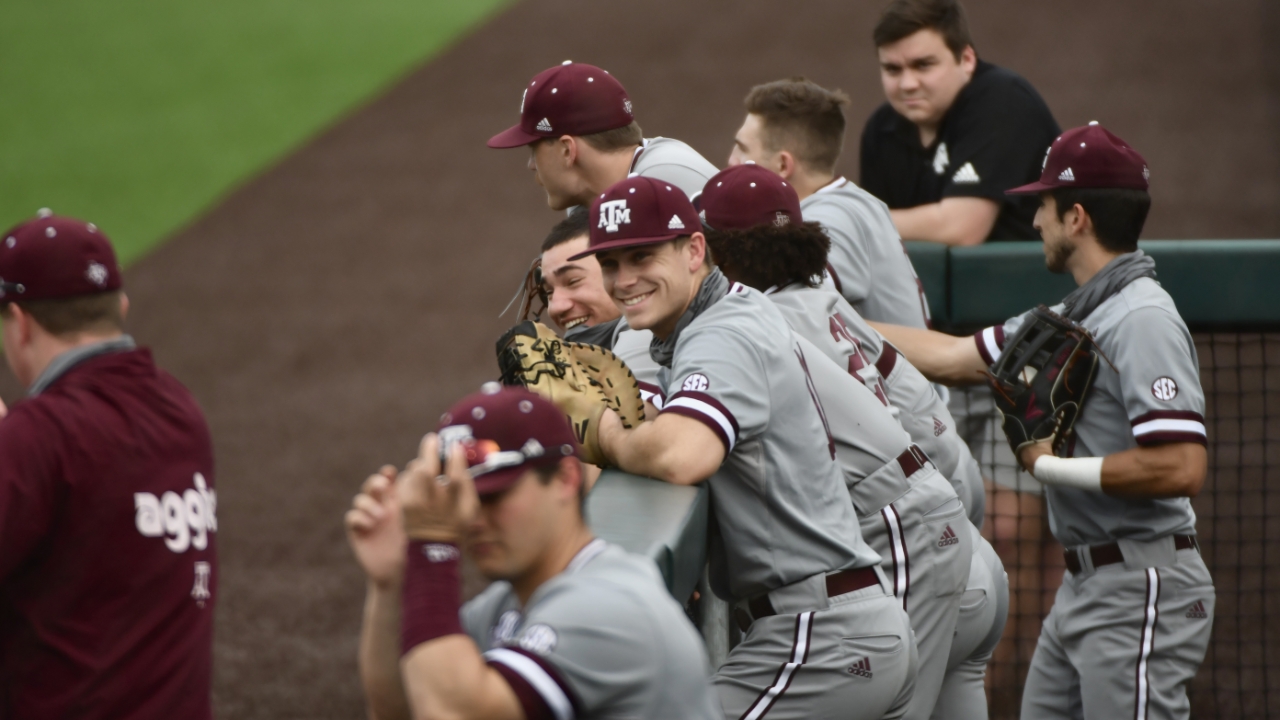 Photo by Jamie Maury, TexAgs
Texas A&M Baseball
Series Preview: Texas A&M at No. 6 Mississippi State
---
Also included above is Diamond Talk with Gabe Bock, Ryan Brauninger and Scott Clendenin from Friday's edition of TexAgs Radio.
Who: Mississippi State (29-10, 11-7 SEC)
Where: Dudy Noble Field – Starkville, Mississippi
When:
Friday: 6:30 p.m. CT (SEC Network+)
Saturday: 2:00 p.m. CT (SEC Network+)
Sunday: 2:00 p.m. CT (SEC Network)
Pitching matchups
Friday: Dustin Saenz (LHP, 5-5, 3.97) vs. Christian MacLeod (LHP, 3-3, 3.40)
Saturday: Bryce Miller (RHP, 2-1, 3.82) vs. Will Bednar (RHP, 3-1, 3.32)
Sunday: Nathan Dettmer (RHP, 3-1, 3.59) vs. Jackson Fristoe (RHP, 3-3, 4.54)
Scouting Mississippi State
The Bulldogs are having an excellent year under head coach Chris Lemonis. The third-year coach took MSU to Omaha in his first season in 2019 and looks well on his way to add another trip to the College World Series, currently ranked nationally in the top ten.
The 2021 squad is well-rounded and can beat you a number of ways. On the mound, the Bulldogs lead the nation in strikeouts with 503. Ironically, the Aggie pitching staff is second in the nation in strikeouts with 467. Mississippi State has an overall advantage on the bump by the numbers with a lower ERA of 3.62 (A&M, 4.22), a minuscule opponent batting average of just .205 (A&M, .251), and 148 walks (A&M, 154).
The biggest difference between the pitching staffs is the bullpen, where Landon Sims is arguably the best reliever in the SEC, if not the country. With an ERA of 0.67 and 53 strikeouts in 27 innings of work, he's not just good — Sims is dominant. How dominant, you ask? He has allowed only 13 base hits all season and only two earned runs. The Bulldog bullpen is also deep, with as many as five hurlers available with an ERA under 3.00. The Aggies can't find themselves behind in games going to the later innings. It's just too hard to make that climb back with so many good arms in the Mississippi State bullpen.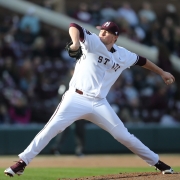 TexAgs
Mississippi State's starting pitching is solid across the board by the numbers but not elite by any stretch — at least not yet. It's a very talented trio, but all three are freshmen. Christian MacLeod (3.40), Will Bednar (3.32) and Jackson Fristoe (4.54) have good strikeout numbers and good 'pitchability' stats. Fristoe's walk total is a bit high at 24, and that's why his ERA is a full run higher than the other two starters. Still, all three have a hits-to-innings pitched ratio under 1.00, which is a pretty good barometer of overall effectiveness. That said, all three starters are susceptible to the long ball. Combined, the starting rotation has allowed a whopping 22 home runs compared to just 14 for Texas A&M's trio.
Offensively, Mississippi State is very dangerous at the top of the lineup. The table setters are Tanner Allen and Rowdey Jordan. Allen gets most of the headlines with his .350 batting average, 82 total bases, six homers and .586 slugging percentage in the two-hole, but Jordan isn't far behind with a .306 average, 81 total bases and seven home runs in the lead-off spot. What makes these two so dangerous is not only their ability to hit for average and power but also their ability to get on-base in any manner. Despite the gaudy slugging numbers, the pair have combined for 54 free passes and on-base percentages of .410 and .446, respectively.
Outside of Jordan and Tanner, the Bulldog lineup by the numbers is very solid but pretty average by SEC standards. Kamren James is hitting a respectable .285, and his high RBI total (40) is a result of the top of the lineup being on-base so much. Luke Hancock hits clean-up with a .254 batting average and seven home runs. The top four in the batting order combine for 28 homers, so while the averages outside of Tanner won't turn many heads at first glance, the on-base percentages, power numbers and overall production rate is very impressive. Managing the top of the lineup will be the focus and challenge for the Texas A&M pitching staff all weekend.
Texas A&M storylines to watch
At this point in the season and where the Aggies stand at 5-13 in the SEC, there's no magic solution to transform this team into something it's not. The hope is that the team will still be in the fight and play with the intensity we've come to expect from every A&M baseball team. To date, this team has played hard and hasn't given up. The Aggies went toe-to-toe with the sixth-ranked Volunteers last weekend and were three innings from winning that series before the pitching ran out of bullets. That's just the reality of this season. This team simply doesn't have enough bullets at the plate, in the field or on the mound.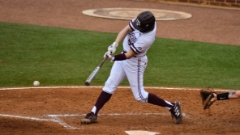 Jamie Maury, TexAgs
To beat Mississippi State on the road, what bullets A&M has must be firing. This team can't afford to have the starting pitching struggle and give the team fewer than 15 innings of effectiveness, which was the case last weekend and why the bullpen dried up at the end of game three. This team can't afford for Ray Alejo, Austin Bost or Will Frizzell to go cold in this series. This team can't afford a costly error. The bottom line is that teams who aren't so good must play clean baseball and get great performances from its few productive pieces to compete against an elite opponent like Mississippi State.
That means getting a minimum of two quality starts from Dustin Saenz, Bryce Miller and Nathan Dettmer. It also means getting effective (and extended) innings out of the bullpen from Chandler Jozwiak, Joseph Menefee, Mason Ornelas and Chris Weber. Those are the only trusted arms left in relief.
It also means getting offensive production out of Alejo, Bost and Frizzell. Particularly with Frizzell, he needs to hit with runners on-base and deliver. This offense isn't good enough to keep up with Mississippi State's run production without Frizzell driving in multiple runs.
What's at stake this weekend
I'm not going to insult anybody's intelligence and provide a path to the NCAA Tournament. We all know that something very different and out of the ordinary must happen over the next 12 games for the postseason to be a possibility.
The hope is for the team to play good, clean baseball and let the chips fall where they may. I'll be focusing on a couple of freshmen starters: Nathan Dettmer and Kalae Harrison. Both have shown signs of being really good, and the potential is there to be big factors in this program over the next couple years. With so many seniors and graduate students on this team due to COVID-19, next year's team will be essentially a complete rebuild. However, Dettmer and Harrison are very talented young players who can form the nucleus of a new team in 2022. With the advent of the new transfer rules and the usual JUCO baseball talent available in the summer, a college baseball program has the potential to rebuild and reload in one offseason. That said, a lot of my focus from here on out will be on the play of the two true freshmen and hoping the team can play good baseball and win some games down the stretch.
Never miss the latest news from TexAgs!
Join our free email list
PRESENTED BY