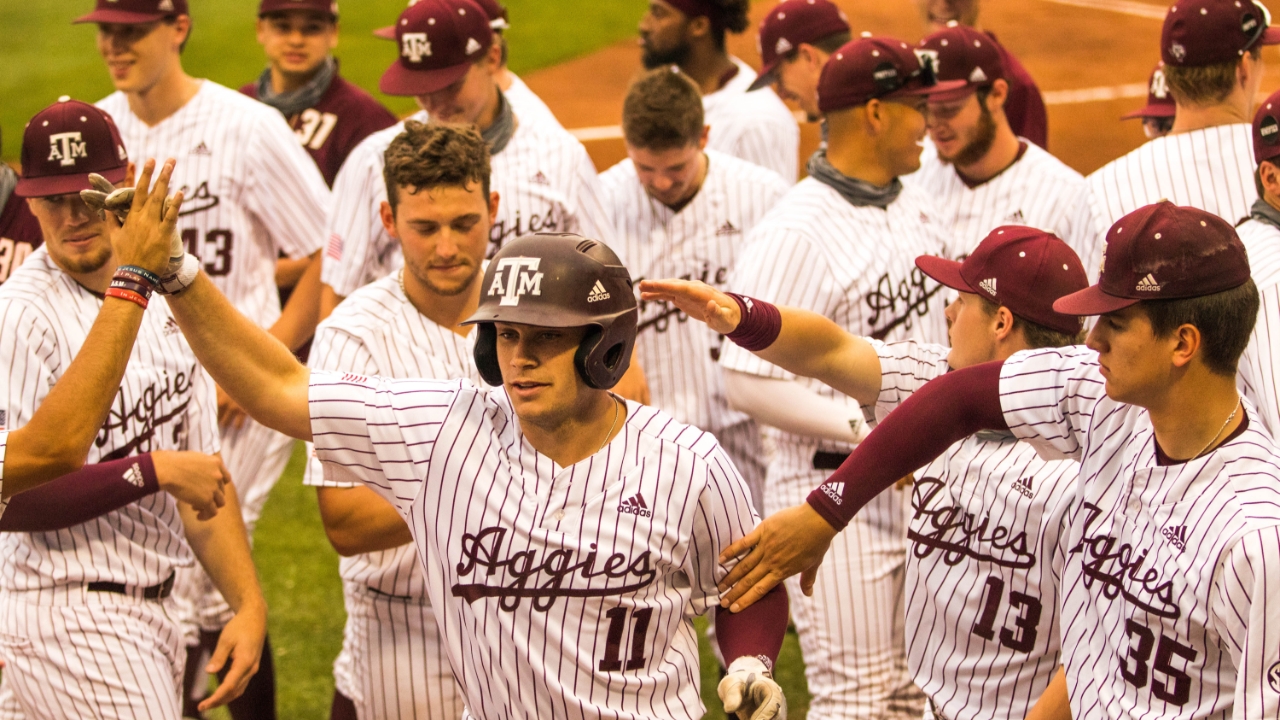 Rob Childress
Jonathan Childress
Austin Bost
Texas A&M Baseball
Aggies notch shutout, 4-0, for season sweep of Texas State
---
Game #43: Texas A&M 4, Texas State 0
Records: Texas A&M (24-19), Texas State (17-25)
WP: Jonathan Childress (3-4)
LP: Austin Smith (2-3)
Save: Chris Weber (1)
Box score
---
Wire-to-wire win.
Thanks to fantastic pitching and a first-inning home run, Texas A&M coasted to a 4-0 win over Texas State on Tuesday night at Olsen Field. Jonathan Childress and Chris Weber combined to hold the visitors out of the run column as the Aggies swept the season series over the Bobcats.
"I'm incredibly proud of those two veteran lefties for responding and going out and doing what we needed them to do most," said Texas A&M head coach Rob Childress.
Pitching dominated the night as a pair of Aggie left-handers held the visitors scoreless for the staff's sixth shutout of the season.
"It's a huge confidence booster, it's always what we're trying to do as a staff. It's good to actually do it."
"[Jonathan] Childress was fabulous and pitched out of some jams. Chris Weber came in behind him for a four-inning save and was really good," Rob Childress said.
Jonathan Childress earned the Tuesday start and tossed five innings without allowing a run, coughing up just four hits while striking out four and walking two. It was the freshman's best outing since a March 13 start vs. Samford in which he allowed one run over 7.2 innings of work.
"It's a huge confidence booster," Jonathan Childress said of the shutout. "It's always what we're trying to do as a staff. It's good to actually do it."
Weber picked up where Jonathan Childress left off, holding the Bobcats off the scoreboard for the final four frames to earn the uber-rare four-inning save, allowing just one hit in the process. Weber walked one and struck out five.
"I don't know that I've ever been a part of a game where someone throws a four-inning save," Jonathan Childress said of Chris Weber's feat. "It was pretty cool. He did a great job."
Early on, Jonathan Childress worked out of trouble. After punching out the first two batters of the game, Texas State loaded the bases, and Rob Childress took a visit to chat with his starter.
"I went out and told him, 'The first two hitters, you were on attack, the aggressor. Stop feeling for it, get on your toes and let it rip,'" Rob Childress said of his message. "Once he did that, he rolled the rest of the way."
Jonathan Childress got out of the jam, and Austin Bost immediately provided an early cushion, hitting a two-run home run to left-center in the first inning to stake the home nine to a 2-0 advantage.
"I'm getting the pitches that I want to hit," Bost said. "If they're going to make a mistake, I'm going to hammer it."
From then on, Jonathan Childress settled in.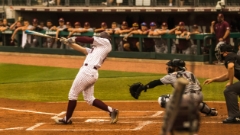 Angelina Alcantar, TexAgs
"I felt a lot more comfortable going out for the second inning," Jonathan Childress said. "A lot fewer nerves or jitters."
A&M's offense was as potent as expected, but the Aggies added insurance runs in the seventh and eighth, allowing Weber to close the ballgame and the rest the remainder of A&M's bullpen ahead of the trip to Starkville this weekend.
"That's what we needed most," Rob Childress said. "I'm just proud of our team for coming out and doing what it takes."
A&M has not won a conference series since taking two of three from Georgia at home nearly a month ago. Facing No. 6 Mississippi State at Dudy Noble Field is a much more imposing task.
First night's series opener between the Aggies and Bulldogs is set for 6:30 p.m. CT.
Never miss the latest news from TexAgs!
Join our free email list