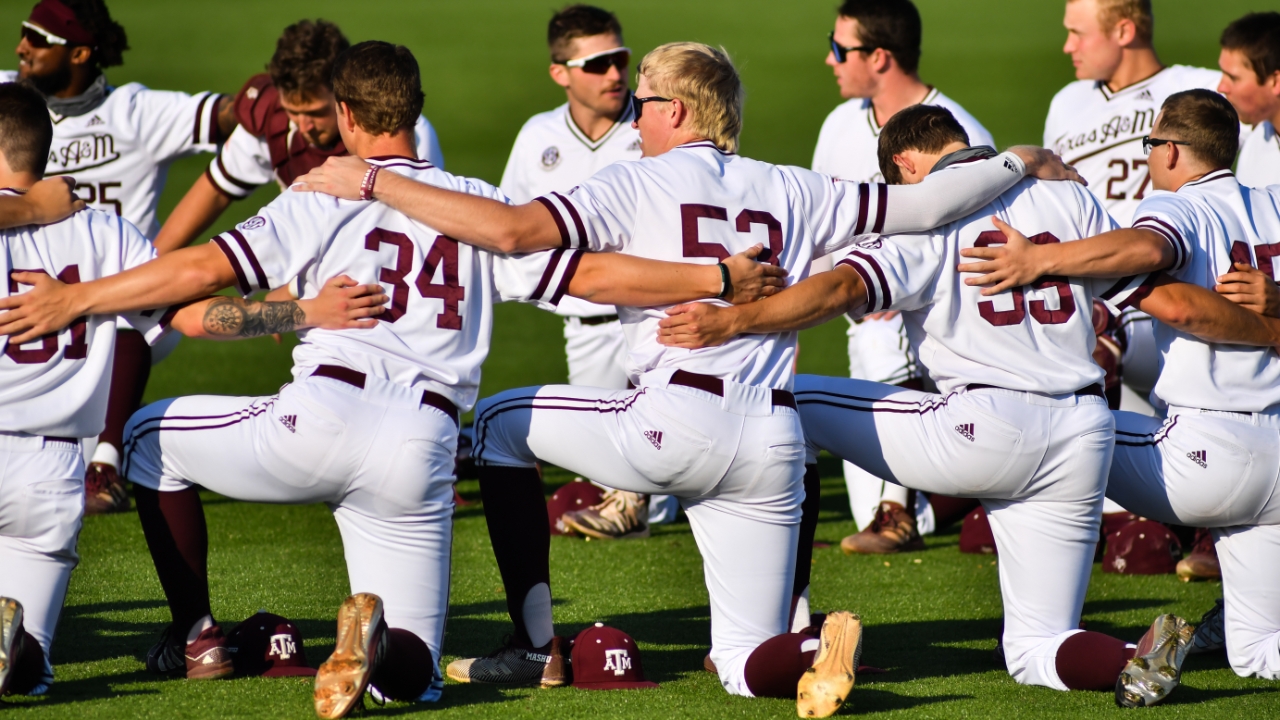 Photo by Jamie Maury, TexAgs
Texas A&M Baseball
Series Preview: Texas A&M vs. No. 6 Tennessee
---
Also included above is Diamond Talk with Gabe Bock, Ryan Brauninger and Scott Clendenin from Friday's edition of TexAgs Radio.
Who: No. 6 Tennessee (30-8, 10-5 SEC)
Where: Blue Bell Park – Bryan-College Station, Texas
When:
Friday: 6:30 p.m. CT (SEC Network+)
Saturday: 5:00 p.m. CT (SEC Network+)
Sunday: 12:00 p.m. CT (SEC Network)
Pitching matchups
Friday: Dustin Saenz (LHP, 5-4, 3.91) vs. Chad Dallas (RHP, 5-1, 3.97)
Saturday: Bryce Miller (RHP, 2-1, 3.21) vs. Will Heflin (LHP, 2-1, 3.73)
Sunday: Nathan Dettmer (RHP, 3-1, 3.02) vs. Blake Tidwell (RHP, 4-2, 3.50)
Scouting Tennessee
This will be an interesting series between the Aggies and Volunteers for several reasons, but all eyes will be on the young 42-year-old fourth-year Tennessee skipper, Tony Vitello. Since taking over the dormant Volunteer program in 2018, he has quickly turned the fortunes in Knoxville with steadily improving season records: 29-27 in 2018, 40-21 in 2019, 15-2 in 2020 and currently 30-8 this season. He brings his Volunteers into Olsen Field with a No. 6 national ranking and just one game out of first place in the SEC race. It should come as no surprise that his name has been mentioned (among others) as a possible candidate for the Texas A&M baseball coaching job that looks like it may come open at the end of the season.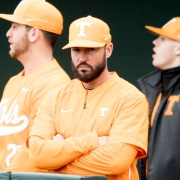 Calvin Mattheis/News Sentinel
Known as a vocal, fiery on-field coach, Vitello was ejected from last Friday's SEC game against in-state rival Vanderbilt. Make no mistake, his success and pedigree are a proven commodity with assistant coaching tenures with Jim Schlossnagle at TCU and Dave Van Horn at Arkansas. Watching a potential head coaching candidate will be one storyline this weekend. However, there's also an important series to be played against a top-ten team.
If you look at the team numbers, you have to scratch your head and ask how they do it. The pitching and hitting statistics are solid across the board, but nothing sticks as a single reason why this Tennessee team is so good. Let's review.
The Vols have a team batting average of .263, slightly lower than Texas A&M's .264. They've hit just 45 home runs (A&M, 48), scored 262 runs (A&M, 250), struck out 337 times (A&M, 350), with a slugging percentage of .442 (A&M, .427) and a slightly higher on-base percentage of .384 (A&M, .374). From the season numbers, the two offenses are not that different in terms of power and run production.
Liam Spence leads the team in hitting at .375, runs scored (35) and on-base percentage (.528), but Jake Rucker is the only other Volunteer hitting above .300 (.317). The Tennessee lineup is not top-heavy, and the leading power hitters Jordan Beck (7 HR, 37 RBI) and Evan Russell (10 HR, 21 RBI) are hitting just .243 and .223, respectively. That means Texas A&M pitchers must avoid hanging breaking pitches and hitter's counts (2-0, 3-1) against this group. There are a lot of low average hitters with run generation numbers in this lineup.
On the mound, Tennessee's team numbers are comparable but slightly better than Texas A&M's. The Vols have a team ERA of 3.61 (A&M, 3.96). The most impressive statistic for the opponent is a very low walk total of 100 (A&M, 141). That doesn't bode well for the Aggies, who usually must leverage some free passes to generate a big scoring inning.
While Tennessee doesn't have a dominant starting pitcher with an ERA lower than 3.50, they do have some quality depth in the bullpen with Kirby Connell (2.08 ERA), Mark McLaughlin (2.25 ERA) and Redmond Walsh (2.95 ERA, 3 saves). This group isn't overpowering, but they are somewhat efficient and force offenses to earn everything they get. That's also supported by a very solid defense, fielding at a high .978 clip (A&M, .972).
Texas A&M storylines to watch
By now, you know the storylines for Texas A&M to be successful.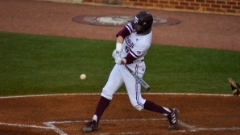 Jamie Maury, TexAgs
The offense has to be more than Will Frizzell. He can carry the load, and opposing teams will pitch around him if the bases are empty when he comes to the plate. That means Ray Alejo must get on-base in front of him. He managed to reach base only twice in the Arkansas series, and players in front of Frizzell managed to go 2-for-16, reaching just three times. That won't cut it. Frizzell is the one big gun in the lineup that can generate runs in bunches, and if the Aggies want to post some crooked numbers this weekend and the rest of the season, ducks must be on the pond for the big man to drive them home.
Austin Bost has cooled off in the past week or two. That needs to change. Opposing pitching will pitch around the dangerous Frizzell, which means those behind him will get better pitches to hit. Bost and Logan Britt will get opportunities in situations when Tennessee pitches around A&M's top slugger, and if you want to beat the No. 6 team in the nation, you have to make them pay.
Keep an eye on freshman Kalae Harrison, who is quietly starting to bring his average up and has looked better at the plate in recent games. He went 3-for-10 against the Razorbacks and reached base five times. His average has inched up to .258. His recent performance bodes well for his future at Texas A&M.
On the mound, it all starts with Dustin Saenz on Friday night. He has lost his last two starts, and his ERA has climbed to 3.91, the highest among the three weekend starters. He gets the toughest assignments every week, but he has not been very efficient recently. Not often at this level of college baseball do you see a Friday night starter with an ERA hovering around 4.00.
Bryce Miller bounced back with a very nice six-inning, one-run effort in game two last weekend. The Aggies will need a lot more of that if they hope to win this series. It would also be nice if Miller pitched more efficiently as he gets his pitch count elevated even when he's not in trouble. A pitcher cruising and only allowing three hits and a run should get past the sixth frame. With A&M's thin, inconsistent bullpen, it would be ideal if he can keep his count low and make it through the seventh inning.
Any series will hinge on which Chandler Jozwiak we see. He has been inconsistent in recent weeks. He took the loss on Saturday but came back and earned a critical save on Sunday to avoid the sweep.
What's at stake this weekend
If there's even an outside hope of making a wild finish and getting into the NCAA Tournament, the Aggies have to be thinking sweep here. Yes, that's unlikely, but that's the current path. Even if you've already given up hope for postseason play, you simply want to see this team compete hard and play well. That's where we're at with only 15 SEC games remaining. I'm sure there will be more than a few Aggie fans and A&M athletic administrators taking a close, in-person look at the skipper in the visiting dugout.
Never miss the latest news from TexAgs!
Join our free email list
PRESENTED BY