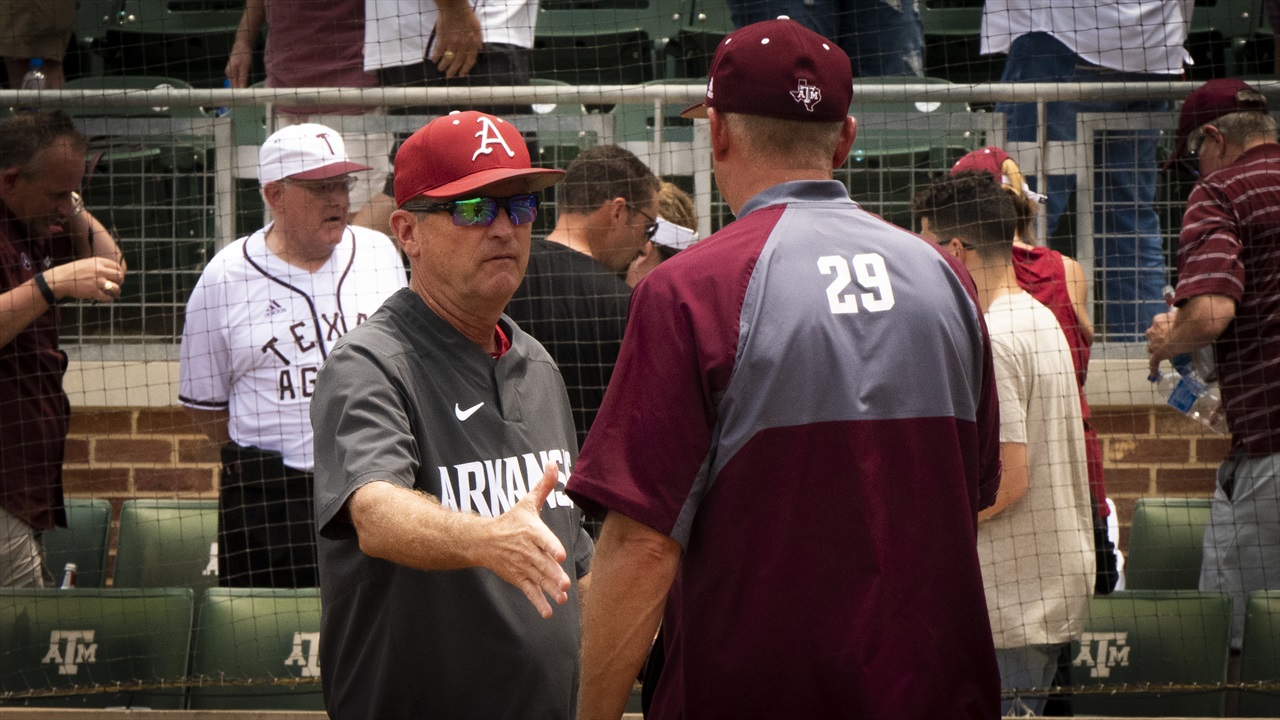 Photo by Jackie Ysaquirre, TexAgs
Texas A&M Baseball
Series Preview: Texas A&M at No. 1 Arkansas
---
Also included above is Diamond Talk with Gabe Bock, Ryan Brauninger and Scott Clendenin from Friday's edition of TexAgs Radio.
Who: Arkansas (28-5, 9-3 SEC)
Where: Baum-Walker Stadium – Fayetteville, Arkansas
When:
Friday: 6:30 p.m. CT (SEC Network+)
Saturday: 6:30 p.m. CT (SEC Network+)
Sunday: 2:00 p.m. CT (SEC Network+)
Pitching matchups
Friday: Dustin Saenz (LHP, 5-3, 3.19) vs. Patrick Wicklander (LHP, 1-1, 2.76)
Saturday: Bryce Miller (RHP, 2-1, 3.58) vs. Peyton Pallette (RHP, 1-2, 4.83)
Sunday: Nathan Dettmer (RHP, 3-1, 2.43) vs. Lael Lockhart (LHP, 1-1, 4.25)
Scouting Arkansas
I'm sure it won't take a lot of nuanced analysis to persuade you that Arkansas is a good baseball team. After all, the Razorbacks are the consensus No. 1 team in the nation at 28-5 and 9-3 in the SEC. It goes without saying that the Aggies draw the hardest road assignment in college baseball this weekend, and the numbers certainly back that up.
The Hogs have arguably the best offense in the country, leading the nation in home runs (63) and ranking fourth in team slugging percentage (.517). The Aggies have only three hitters slugging above .500. Brady Slavens leads Arkansas with 40 RBIs, 12 more than A&M's top hitter WIll Frizzell. The Razorbacks have seven hitters with five or more home runs and four hitters with eight or more long balls.
Arkansas leads the Aggies in almost every offensive category with a .287 batting average (A&M, .269), 281 runs scored (A&M, 221) and 204 walks (A&M, 184). It's an understatement that the pressure will be on the Texas A&M pitching staff, which has been struggling in recent weeks.
Arkansas leads the Aggies in almost every offensive category with a .287 batting average (A&M, .269), 281 runs scored (A&M, 221) and 204 walks (A&M, 184). It's an understatement that the pressure will be on the Texas A&M pitching staff.
Arkansas is capable on the mound, but the season statistics are not remarkable. In fact, the Aggies have better team pitching numbers. The Razorbacks sport a 4.25 team ERA (A&M, 3.70), 334 strikeouts (A&M, 382), 132 walks (A&M, 109).
Arkansas doesn't have a dominant starting rotation. In fact, they've moved pitchers in and out of the rotation throughout the year. Patrick Wicklander will toe the rubber on Friday with a nice 2.76 ERA, but he has given up more hits than innings pitched and opponents are hitting .268 against him. Those are solid but hardly elite Friday-night numbers. Saturday and Sunday starters Peyto Pallette and Lael Lockhart have ERAs of 4.83 and 4.25, respectively. Again, that's not going to make an opposing offense cringe. The Hogs do have a stingy closer in Kevin Kopps, who boasts a 0.96 ERA and four saves.
Make no mistake, Arkansas is the best team in the land for their explosive, high-octane offense, which will serve as a huge challenge to the A&M pitching staff this weekend.
Texas A&M storylines to watch
The biggest storyline for Texas A&M this weekend is starting pitching. The Aggies must get quality starts from all three scheduled to go in this series. Dustin Saenz has been rock-solid all season, so I expect another quality start. The key will be Bryce Miller, who was not sharp at all last weekend after coming off a hiatus due to COVID-19 protocols. His early exit last Saturday tired out a thin and shaky bullpen. Miller must give A&M at least five innings (and ideally more) on Saturday if the team has any hope of upsetting the No. 1 team this weekend. Nathan Dettmer has been a young bright spot for the Aggies this season, and his success on Tuesdays earned him a weekend starting spot. However, Dettmer has a tendency to get behind hitters and give up the base-on-balls, and that got him in trouble against Alabama. He's allowed 19 walks in 40 innings of work.
In fact, the entire staff must be more efficient and avoid the free passes. The best offense in college baseball doesn't need any help from A&M pitchers getting on-base. If the Aggies can't stay ahead in the count and start giving out free passes, this will be a very long weekend...I mean very long.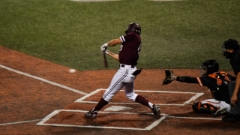 Jamie Maury, TexAgs
At the plate, what more can you say that we haven't said already? This team simply has been too inconsistent to be effective this season. The Aggies received almost no production out of the lead-off spot last weekend, and that meant not many big RBI opportunities for guys like WIll Frizzell, Austin Bost and anybody in the middle of the order. The offense also suffered last weekend from Ray Alejo going into a mini-slump after seeing his average jump to almost .370. Alejo swinging a hot bat at the top of the order changes the equation for the bats in the middle of the lineup.
Arkansas should give the Aggies some chances to score, and the offense must figure out how to bunch together some hits and walks in an inning to put up a few crooked numbers this weekend. Arkansas is too explosive offensively to think an opponent can manufacture a few single runs here and there to win ball games in Fayetteville.
What's at stake this weekend
I was going to figure out just how many baseball cliches I'm going to use for this segment. But there's no need. We know the situation. The only way for Texas A&M to crawl out of this 3-9 hole is to win the next four series against Top 10 SEC competition. Yeah, that's not likely to happen. I just want the team to go out and play better baseball and let the chips fall where they may. Beating the No. 1 team on the road is an uphill battle for any college team, and it's even tougher rolling into the hills of Arkansas with a lower division SEC record of 3-9 and struggling. There is one silver lining here: If the Aggies somehow defy the baseball gods and find a way to win a pair of games this weekend...ah, never mind! Just go play your best baseball and go from there.
Never miss the latest news from TexAgs!
Join our free email list