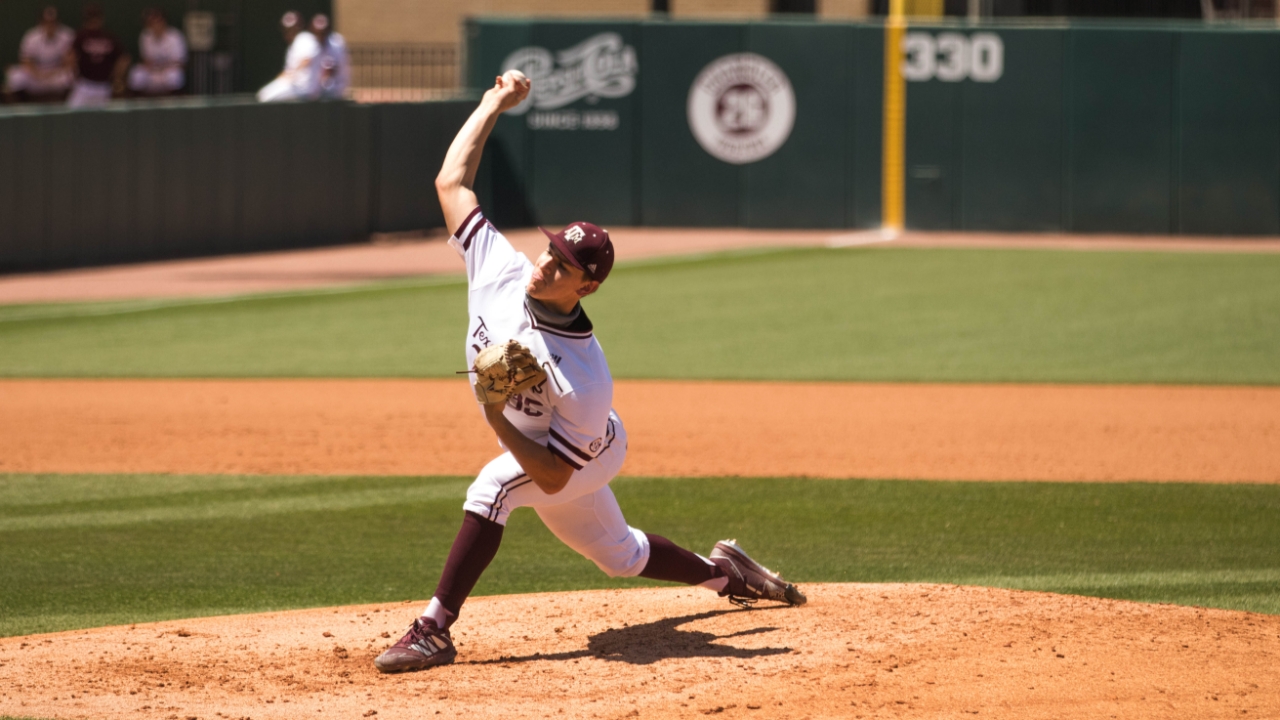 Rob Childress
Nathan Dettmer
Austin Bost
Texas A&M Baseball
Late three-run homer secures sweep for Tide as Aggies fall, 7-4
---
Game #34: Alabama 7, Texas A&M 4
Records: Texas A&M (19-15, 3-9), Alabama (19-12, 5-7)
WP: Jacob McNairy (1-0)
LP: Chris Weber (1-2)
Save: Chase Lee (4)
Box score
---
Swept up by the Tide.
Texas A&M dropped the series finale, 7-4, on Sunday afternoon as Alabama completed the three-game sweep of the Aggies in Bryan-College Station. The Tide came up with the game's biggest hit in the late innings and capitalized on A&M's mismanagement of the pitching staff as the Aggies' losing streak has now reached six.
"Each time they scored, we answered back offensively, and I just didn't put our pitchers in a very good position to win today, and that's my fault," said Texas A&M head coach Rob Childress.
"That's the type of guy he is: He's going to take the blame for when he messes up. He's definitely going to get it right more than he gets it wrong."

Tied at four in the seventh, Peyton Wilson led off with a single off of Chris Weber. After a pair of flyouts, Wilson appeared to be thrown out stealing second, but the play was ultimately reversed upon review. The call clearly changed the momentum.
"Obviously, it was a big call," Childress said, admitting he had only seen the replay on the Olsen Field scoreboard. "My expectation is it was the right call or they wouldn't have overturned it."
After an intentional walk, Owen Diodati deposited a three-run homer into the Alabama bullpen in right field, giving the visitors a 7-4 advantage. A&M never responded.
"It all falls back on managing the pitching staff, and I didn't do a very good job of that today," Childress said.
Early on, it was a back-and-forth affair with the Aggies opening the scoring in the second as Ty Coleman drove in Austin Bost. However, true freshman starter Nathan Dettmer could not shut down the Tide in the third, coughing up three runs.
"In the windup, I was smooth and had a lot of rhythm," Dettmer said of his third-inning struggles. "When I switched to the stretch, I don't know what happened, but I felt kind of robotic."
While Dettmer noticed a change in his own mechanics leading to the three-run frame, Childress said the damage was self-inflicted.
"We walk the nine-hole hitter and let them get back to the top," Childress said. "For [Dettmer] to get it back together, a true freshman in this league, and get us through five, he more than did his job."
A&M answered back in the bottom of the third with two runs on four consecutive hits to tie the game, 3-3.
In the sixth, Dettmer walked Diodati before allowing a run-scoring double to TJ Reeves to give Alabama the lead again. Childress then turned to Weber and took the blame for leaving Dettmer in too long.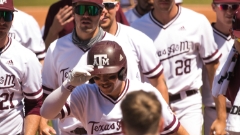 Angelina Alcantar, TexAgs
"Should've run Weber out there with a clean inning; it ends up costing us a run," Childress said.
Coleman answered back in the bottom half with a solo shot to left that tied the game, 4-4, shifting the momentum back in favor of the Maroon & White. Unfortunately for the home team, Alabama delivered the big blow immediately after.
"It definitely was a dagger," Bost said. "It hurts because we were fighting, fighting, fighting."
Bost finished the game 4-for-4 with a double, an RBI and a run scored. Upon hearing his head coach took accountability for the loss, Bost was not surprised.
"That's the type of guy he is: He's going to take the blame for when he messes up," Bost said of Childress. "He's definitely going to get it right more than he gets it wrong."
This historic string of losses comes immediately after A&M defeated then-No. 5 Texas, 2-0, before dominating Missouri in last week's series opener. Childress's message to his team on Sunday was simple: Find that feeling again.
"Leaving the field today, I just told them to remember that feeling of going back to the hotel on Thursday night a week ago after we beat Missouri, 16-2," Childress said. "We're the same team."
The Aggies travel to San Marcos on Tuesday night to face the Texas State Bobcats. First pitch from Bobcat Ballpark is scheduled for 6:00 p.m. CT.
Never miss the latest news from TexAgs!
Join our free email list