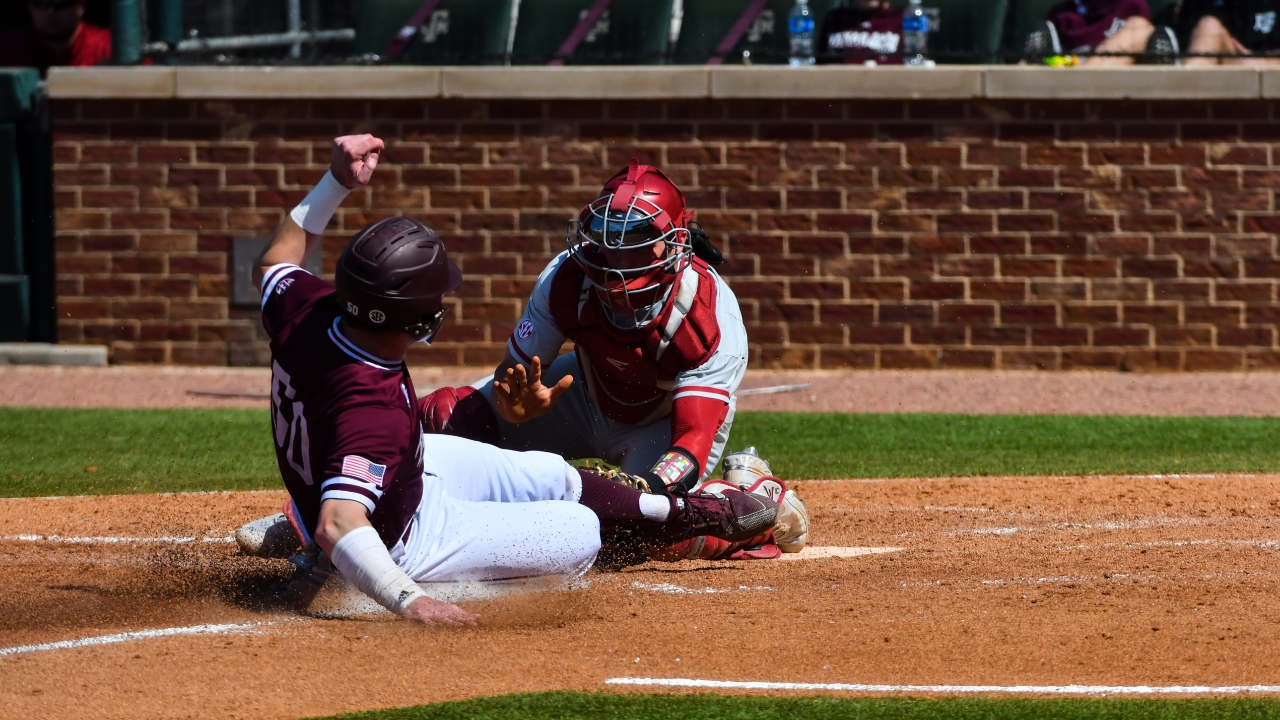 Rob Childress
Kalae Harrison
Mason Ornelas
Texas A&M Baseball
Aggies drop second SEC series in a row with 6-3 loss to Alabama
---
Game #33: Alabama 6, Texas A&M 3
Records: Texas A&M (19-14, 3-8), Alabama (18-12, 4-7)
WP: Connor Shamblin (3-2)
LP: Bryce Miller (2-1)
Save: Landon Green (1)
Box score
---
Saturday squanderings.
Alabama took the series from Texas A&M on Saturday afternoon as the Crimson Tide defeated the Aggies, 6-3, at Olsen Field. In his return to the rotation, Bryce Miller's lack of command gifted the Tide too many runs early for A&M's futile offense to overcome as the losing streak has reached five games.
"When you talk about a five-game skid, you could point to a lot of different things in each and every game," said Texas A&M head coach Rob Childress. "We all got to be better in each and every area."
"This record does not reflect us. We're going to bounce back."
Wasted opportunities were a theme throughout. At least one Aggie reached base in every inning except the seventh as A&M tallied nine hits. The home nine were 4-for-22 with men one and 1-for-10 with men scoring position as the Ags stranded 11 runners.
"You want to be the guy to step up and pick up your teammates and do what you can to help the team," said Aggie shortstop Kalae Harrison. "It might put a little pressure on some guys. That's just something we have to deal with."
The bottom of the fifth was indicative of the entire ballgame.
Will Frizzell and Austin Bost led off with back-to-back singles. Frizzell was eventually thrown out at the plate on a fielder's choice, and Brett Minnich was thrown out at second on a botched hit-and-run. Just like that, a promising inning resulted in zero runs.
"If we have two ground balls to second, it's a tie game," Childress said.
After A&M came up empty, Alabama added an insurance run in the sixth as Sam Praytor drove in Zane Denton on a two-out double, giving the Tide a comfortable 6-3 advantage in the sixth.
"We don't cash in there, we missed the sign, mismanagement on my part going back out in the top of the sixth, and just like that, it's a three-run game," Childress said.
After missing two starts due to COVID-19 protocols, Miller turned in the worst performance of his A&M career, lasting just 2.1 innings while giving up four runs in his abbreviated outing.
"Maybe he was a little bit revved up, but mechanically, he was very off the pitch," Childress said. "The only pitch he could command was the slider, which is really his fourth pitch."
Miller's struggles directly led to Alabama's four-run third inning. After hitting Jim Jarvis and walking both Peyton Wilson and William Hamiter to load the bases. Miller departed the contest trailing 2-0, but reliever Mason Ornelas allowed two inherited runners to score in the third.
"He's a great pitcher, great athlete, and he's going to bounce back next week," Ornelas said of Miller. "We know that for a fact."
Despite trailing 5-0 early, the Aggies pulled back into the ballgame. With two outs and the bases loaded in the fourth, Logan Britt scored on a wild pitch before Kalae Harrison drove in a pair on a single, cutting Alabama's lead to two.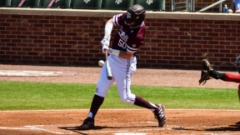 Jamie Maury, TexAgs
"I was just mentally prepared before that pitch, knowing that if there's a pitch in my zone, I was going to go and attack it," Harrison said.
Other than Harrison's two-run single, A&M failed to capitalize in any other key situations, resulting in the loss.
The five-game losing streak is Texas A&M's longest since joining the Southeastern Conference before the 2013 baseball season. However, the Aggies say this skid is not indicative of who this team is.
"This record does not reflect us," Ornelas said. "We're going to bounce back."
A&M concludes this weekend series with Alabama on Sunday afternoon as the Aggies look to avoid the sweep. First pitch is scheduled for 1:02 p.m. CT.
Never miss the latest news from TexAgs!
Join our free email list