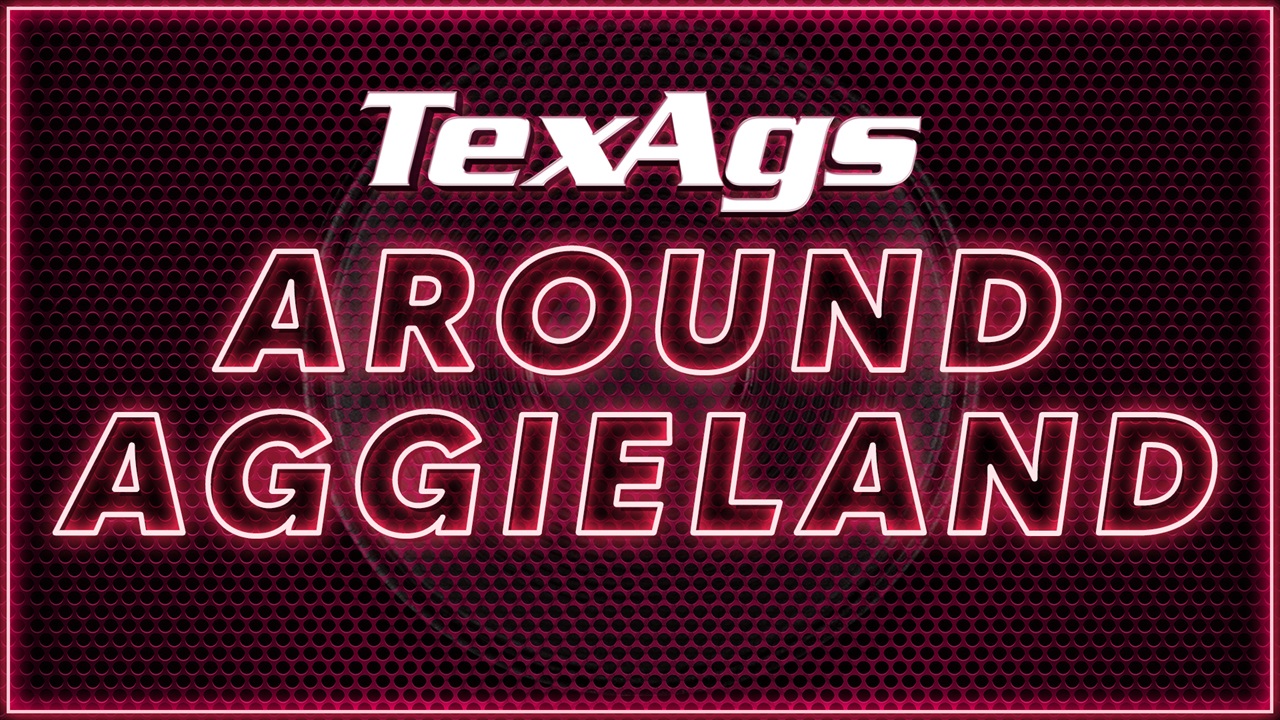 Texas A&M Football
Around Aggieland (4/2)
---
During Friday's edition of TexAgs Radio, the fish bowl's own Richard Zane joined to share updates from the latest in Aggie Athletics as there is plenty to run down from the diamonds, track, the tennis courts and much more.
---
Texas A&M Athletics Hall of Fame
The Class of 2021 was announced this week, and nine new members will join the Texas A&M Athletics Hall of Fame.
Swimming & Diving
Shaine Casas was named the 2021 College Swimming & Diving Coaches Association of America (CSCAA) Division I Men's Swimmer of the Year. He is the first Aggie ever to earn the distinction.
Casas won three individual National Championships and earned seven All-American honors at the NCAA Championships last week.
Casas owns nine different school records.
Men's Golf
Sam Bennett is playing in the Texas Open at TPC San Antonio this weekend, a spot he earned after winning the Cabo Collegiate at TPC San Antonio earlier in the year.
Bennett was +8 in the first round and is currently tied for 141.
Bennett was also named the SEC Golfer of the Week after winning the Old Waverly Classic in West Point, Mississippi.
The Aggie Invitational is set for April 9-11.
Women's basketball (25-3, 13-1 in SEC play)
Three Aggies have declared for the WNBA draft.
Kayla Wells announced that she will return to Aggieland for the 2021-2022 season.
Softball (25-6, 4-3 in SEC play)
Freshman outfielder Bre Warren was named the SEC's Player of the Week after her performance vs. South Carolina over the weekend.
Warren was 5-for-7 (.714) with a double and a home run on the weekend.
No. 24 Texas A&M swept a doubleheader from Texas A&M-Corpus Christi.
Game 1: Aggies 7, Islanders 0
Game 2: Aggies 9, Islanders 2
The Aggies dropped the series opener with No. 4 Alabama on Thursday night in Tuscaloosa.
Crimson Tide 11, Aggies 3
The series continues Friday and Saturday.

Friday: 5:00 p.m. CT on SEC Network+
Saturday: 11:00 a.m. CT on SEC Network
Baseball (19-9, 3-4 in SEC play)
Texas A&M defeated No. 5 Texas, 2-0, on Tuesday night in front of a COVID-19 capacity crowd at Olsen Field.
Nathan Dettmer: 7.0 IP, 3 H, 0 R, 2 BB, 6 K
Chandler Jozwiak earned a two-inning save.
Logan Britt and Mikey Hoehner each hit solo home runs.
Thursday night, the Aggies opened a road series at Missouri with a 16-2 blowout win.
Dustin Saenz: 7.0 IP, 3 H, 0 R, 3 BB, 10 K
Eight Aggies picked up an RBI - The only start not to register an RBI was Will Frizzell (2-for-3, with three runs scored).
A&M exploded for a nine-run sixth.
The series continues on Friday in Columbia, Missouri.
Friday: 6:30 p.m. CT on SEC Network+
Saturday: 3:00 p.m. on SEC Network
Track & Field
Freshman Devon Achane was named the SEC's Freshman of the Week.
This is the second time Achane has earned SEC honors.
Achane ran a 20.31 in the 200m, which ranks third nationally and sixth in the world.
Bryce Deadmon was named the SEC's co-Runner of the Week.
Deadmon posted a 44.62 400m to win the event at the Texas Relays.
He is the current world-leader in the 400m.
The Aggies run this Saturday, April 3, in a dual meet with the Texas Longhorns in Austin.
Men's Tennis (13-5, 5-3 in SEC play)
No. 6 Texas A&M dropped a match to No. 7 Texas on Wednesday night in Austin, 4-3.
The Aggies are back at the Mitchell Tennis Center this weekend as they host the LSU Tigers.
The action begins at 2:00 p.m. CT on Saturday.
Women's Tennis (12-4, 4-2 in SEC play)
No. 17 Texas A&M upset No. 20 Auburn, 4-1, on Thursday in Auburn.
A&M took the doubles point, 2-1.
Tatiana Makarova won her match in straight sets (6-2; 6-2)
Jayci Goldsmith won her match in three sets (4-6; 6-3; 6-2)
Renee McBryde won her match in three sets (5-7; 6-1; 6-2)
The Aggies are back in action on Saturday afternoon in Tuscaloosa as they take on the Alabama Crimson Tide.
The action begins at 12:00 p.m. CT.
Never miss the latest news from TexAgs!
Join our free email list