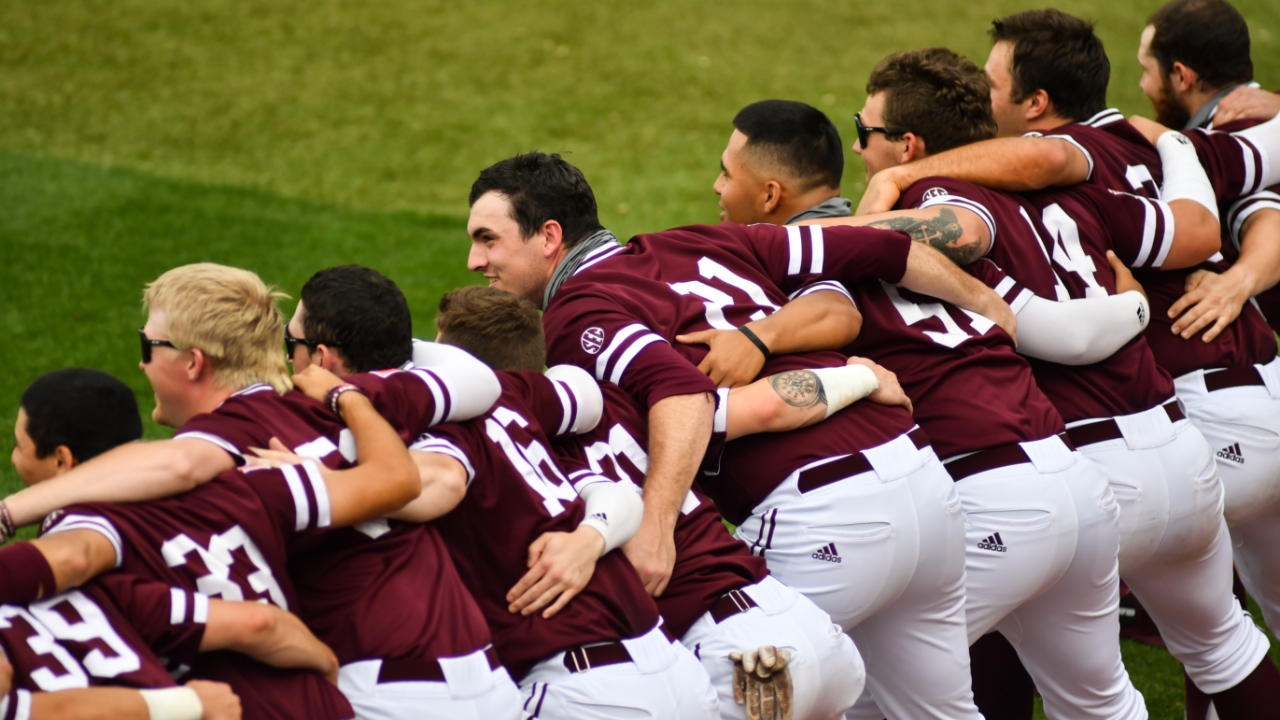 Photo by Jamie Maury, TexAgs
Texas A&M Baseball
Series Preview: Texas A&M at Missouri
---
Also included above is a radio segment with D1Baseball.com's Kendall Rogers from Thursday morning, previewing this weekend's series between Texas A&M and Missouri.
Who: Missouri (8-16, 1-5 SEC)
Where: Taylor Stadium – Columbia, Missouri
When:
Thursday: 6:30 p.m. CT (SEC Network+)
Friday: 6:30 p.m. CT (SEC Network+)
Saturday: 3:00 p.m. CT (SEC Network+)
Pitching matchups
Thursday: Dustin Saenz (LHP, 4-2, 3.07) vs. Spencer Miles (RHP, 1-4, 6.47)
Friday: Jonathan Childress (LHP, 2-2, 3.38) vs. Seth Halverson (RHP, 2-1, 7.52)
Saturday: Chris Weber (LHP, 1-0, 4.58) vs. Zach Hise (RHP, 0-3, 5.40)
Scouting Missouri
Missouri is one of the few SEC teams struggling in 2021. In fact, the Tigers are the only SEC team with a record below .500 at 8-16. It doesn't bode well for the season when you lose three of four to Grand Canyon on opening weekend. Follow that up with a four-game split on the second weekend at home against Omaha and an 0-4 effort in the Frisco Classic, and you see where this is going.
In SEC play, the Tigers sit at 1-5, swept last weekend by Vanderbilt after dropping a pair to Kentucky the previous weekend.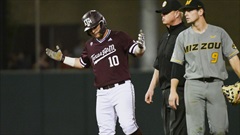 Tarah Cochran, TexAgs
Where is Missouri deficient? Let's try every component of the game of baseball. Just take a look at those ERAs for the starting pitchers. Not one of the starters has an ERA below 5.40, and that's the cream of the crop. Overall, Missouri's team ERA is a whopping 7.26 compared to Texas A&M's 3.10. That's no typo. That's not the only bad news for Tiger pitching as they walk a lot of batters as well. They've handed out 162 base-on-balls (A&M, 70) through 24 games so far. That's an average of 6.75 free passes per game. Add another 1.10 hit-by-pitches per game, and that's a lot of free base runners. The Aggies currently lead the nation in free passes earned, so that's not a good combination if you're Missouri.
How about offense? Can the Tigers offset a combustible pitching staff with run production at the plate? No. The offense is tepid at best, with a team batting average of .241 compared to Texas A&M's .277. The Tiger offense has scored 127 runs on the season while the Aggies have plated 171 runs.
Individually, Missouri's leading hitter is Andrew Keefer, with a .311 batting average and a team-high slugging percentage of .473. Joshua Day is the only other player hitting above the .300 mark at .306. The Tigers' leading power hitter is Luke Mann with four long balls and a team-leading 16 RBIs, but his average is right on the dreaded Mendoza Line at an even .200. Overall, Missouri has enough firepower to make A&M pitching work, but there's nobody in that lineup that any pitcher will want to pitch around or avoid.
The only area where Texas A&M doesn't have an advantage by the numbers is team defense. Both squads come into the weekend series with a solid .972 fielding percentage.
Texas A&M storylines to watch
Missouri is starting three right-handed pitchers this weekend against an Aggie lineup dominated with righty hitters. The one big left-handed bat in the lineup is Will Frizzell. Expect the big man to have a fruitful series against all of these struggling righties.
It will be interesting to see if head coach Rob Childress tries to get more left-handed bats like Brett Minich, Zane Schmidt or Ryan Targac in the lineup to combat the right-handed Missouri pitching staff. Guys like Hunter Coleman, Austin Bost and Logan Britt have drawn most of the recent starts, but all hit from the right side. Coleman got hot and found his way into the lineup last week, but he cooled off the last two games of the Georgia series, going 0-for-8 with six strikeouts. Britt had the huge home run on Tuesday against Texas, but in the past couple of weeks, he has seen his average drop 30-40 points, and he's second on the team in strikeouts (25).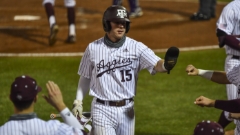 Jamie Maury, TexAgs
Pay close attention to Bryce Blaum over the weekend. He's starting to see the ball well and getting some good swings on the ball. On Tuesday, he hit two line shots that found gloves to go along with a single. Inserted back into the lead-off spot, Blaum reached base safely seven times in the Georgia series. I expect him to have a productive weekend against Missouri pitching. In fact, this match-up favors Texas A&M hitting, so I'm expecting a productive weekend from the bats.
On the mound, the Aggies will be without Bryce Miller for a second straight weekend, and it's a critical loss not only in the starting rotation but to the bullpen late in the weekend as Chris Weber has been thrust into a starting role. What hurt the Aggies more was an uncharacteristically short and erratic outing from Jonathan Childress, who managed to get just six outs while allowing five runs before being pulled. The left-hander saw his season ERA jump from 1.98 to 3.38 after the Georgia start. Even though A&M came back to win that contest, the staff also had to exhaust most of their resources that led in part to the late-inning collapse on Sunday.
Chandler Jozwiak had one of the best outings of his career to nail down the save against the Longhorns on Tuesday. Hopefully, that's a springboard to a dominant weekend. The big question mark going into the weekend is Mason Ornelas. He was ineffective against Georgia surrendering three earned runs in just 1.2 innings of relief. His stats have been creeping up recently. Given that Ornelas has been considered one of the four "go-to" relievers in the bullpen along with Jozwiak, Joseph Menefee and Alex Magers, the team can't afford for him to struggle in the heart of the SEC campaign. The bullpen can't survive a weekend with only three effective arms. Ornelas needs a solid bounce-back weekend.
What's at stake this weekend
The Aggies missed a huge opportunity last weekend to get back on schedule record-wise after that disastrous opening weekend at Florida. After winning the first two games against Georgia and the opponent staring at a road sweep down 4-1 in the seventh inning, Texas A&M's bullpen could not hold the lead and allowed the Bulldogs to sneak out of town with a win. In a conference where every win is valuable and the difference between third and ninth place could come down to a single game, this one hurt. Success in this league is to avoid the weekend sweep while earning a few sweeps of your own. That's where this series comes into play.
If there is an opponent that is ripe for a sweep, it's Missouri. You can't look at many other series on the SEC schedule and point to a good opportunity for a sweep. That's why this weekend is so important. It's not a marquee match-up by any means, but a sweep gets A&M back over .500 in SEC play and feeling good about themselves going into a home series with Alabama. Winning two of three is the stated goal, but even winning the series doesn't get the Aggies back to .500. Realistically, A&M needs to rack up some wins these next two weeks and get several games over .500 before the gauntlet of Arkansas, Mississippi State and Ole Miss in a few weeks.
It's hard to expect a sweep in any conference series, even one against a weak SEC opponent like Missouri, but losing that last game to Georgia still puts A&M in desperate need of a sweep, and those opportunities are quickly running out.
Never miss the latest news from TexAgs!
Join our free email list