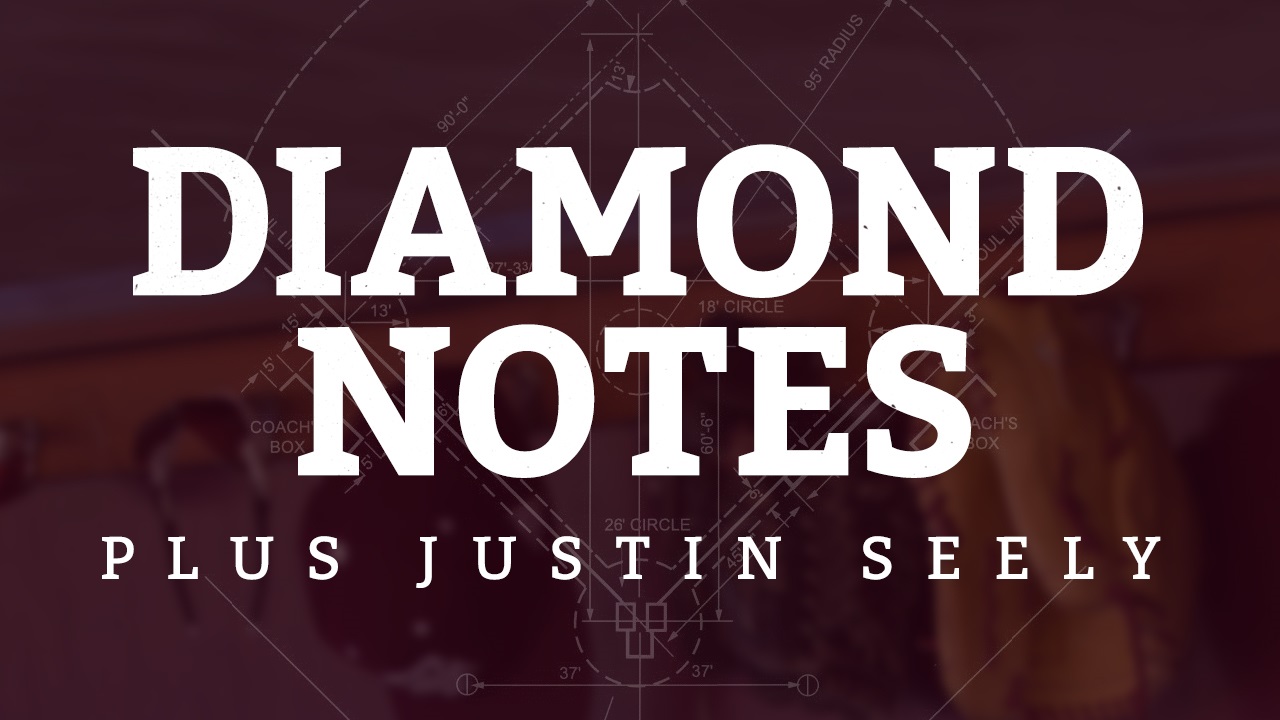 Texas A&M Baseball
Diamond Notes: Aggies take two from Georgia to earn series victory
---
I have to hand it to Aggie Baseball; this team deserves a lot of credit for bouncing back from getting swept at Florida and dropping a game against a bad Rice team in the midweek to take an SEC series win over Georgia over the weekend at Olsen Field at Blue Bell Park. A&M was not going well at all offensively during the four-game losing skid, and it wasn't much better on the mound. And then entering the series, we found out that the Ags would be without veteran right-hander Bryce Miller for the series due to COVID protocols. There was just a lot going against A&M on the field and off of it entering the series with the Dawgs.
But then Rob Childress handed the baseball to lefty Dustin Saenz, and the fourth-year junior was impressive to get the Ags off to a great start. That set a new tone for A&M, and they found a way to pull off a 6-3 win in game one and then came back in the late innings and utilized a little Olsen Magic on Saturday to walk off against UGA, 7-6, on an RBI wall banger from Ty Coleman. The Ags dropped a 6-4 decision on Sunday, falling to 17-9 overall and 2-4 in SEC play, but overall a really strong weekend for the Maroon & White. A&M did some things very well and had some great moments in the series, and in the process, re-installed some much-needed life into the clubhouse moving forward with the Longhorns coming over from Austin on Tuesday and then a trip to Missouri on the docket this weekend.
Each week, we look back on the week that was with a "Good, Bad and Ugly" spin-off and breaking it down in four categories: Good, Average, Bad, Excellent.
Here is this week's G.A.B.E. looking specifically at the three-game series win over Georgia.
Good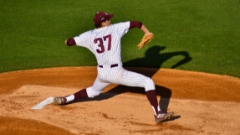 Jamie Maury, TexAgs
Dustin Saenz. The fourth-year junior lefty had a strong to quite strong effort to get the series started on Friday night, going 5.2 innings and allowing 3 runs (all earned) on 6 hits. Saenz walked just one hitter and punched out 11. He had tremendous command of his entire pitching mix, throwing 64 strikes in 95 pitches (crazy good 67.4 percent strike rate). Saenz located the mid-90s fastball well to his arm and glove side and had that back-foot slider cooking and kept it low and under the hands of the right-handed hitters. A really nice bounce-back game for Dustin after the lopsided affair last Thursday at Florida.
Chris Weber. Tip of the cap to the junior lefty for coming back from recent mound struggles to give the Aggies a very strong spot start on Sunday against UGA. Weber allowed just a run on 5 hits in 4.1 innings. He didn't walk a man and struck out 4. It was by far his best outing of the season, and despite the Aggies losing that game, Coach Rob Childress has to feel very good about what he got from Weber as he sets up his plan for this weekend's trip to Missouri, assuming that Bryce Miller will not be available.
The A&M Bullpen. A total of 9 arms ran out of the pen this weekend and combined to allow 7 runs on 16 hits in 16 innings of work. Lefty Chandler Jozwiak was incredible on Friday night, working the final 3.1 innings of scoreless relief to pick up his second save of the season. Joz gave up just 2 hits in the stint, walking just one and fanning 5. The fourth-year junior from Brenham now has a ridiculous 43 strikeouts and 3 walks allowed in 24.1 innings of work. Saturday's game saw lefty Jonathan Childress exit one hitter into the third inning, and the bullpen needed five arms to toss 7 innings and keep the game close in an effort to pull off a dramatic late-game comeback. The A&M pen gave up just a run on 5 hits in game 2. They did walk 6 but struck out 7. Right-handers Alex Magers, Nathan Dettmer and Trevor Werner were particularly good in the game. Magers tossed 2.2 scoreless innings after coming in for Childress. Dettmer went scoreless and hitless in the 6th and 7th innings. Werner came on with the bases loaded and two outs in the 8th and got a huge strikeout to get the Ags out of a major jam and then tossed a scoreless 9th to keep the game tied heading into the bottom of the 9th, allowing the heroics from Ty Coleman and Co. On Sunday, the Aggies' stable of relievers allowed 5 runs on 9 hits in 4.2 innings with 2 walks and 4 Ks. After Sunday's up-and-down relief effort, you certainly can't slot this in the excellent category but the stable of relievers did a good and solid job with being extended all weekend.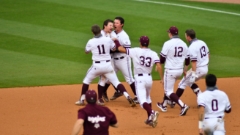 Jamie Maury, TexAgs
The Coleman Brothers. What a week for the Coleman Brothers, Hunter and Ty. Hunter hit a pinch-hit homer in the 9th inning of an otherwise miserable game against Rice on Tuesday, and that netted him a spot in the four-hole this weekend against Georgia. On Friday, Hunter went 2-for-2 with 2 walks and 3 RBI in a 6-3 win. Unfortunately, he had the ol' golden sombrero with four strikeouts on Saturday and went 0-for-4 with 2 Ks in game 3. Meanwhile, Ty homered in Friday's win and again on Saturday early in the game and then delivered a little Olsen Magic in the 9th inning of game two, smoking the baseball off the wall in left field to give the Aggies a 7-6 walk-off win. On Sunday, Ty went 2-for-4 with a double and a run scored and is now hitting .328 in '21. The Coleman Brothers combined to go 7-for-22 (.318) with 3 extra-base hits, 7 RBI and 6 runs. Not bad for a couple of lifelong Ags that started the season on the end of the bench. Good for these guys. You can't help but be thrilled to see them having success of late.
Bryce Blaum and Will Frizzell at the top. The veteran duo combined to go 8-for-23 (.348) in the series, with 2 doubles, 2 RBI and 4 runs. Blaum got another crack at the leadoff role and made it count, scoring 2 runs in Friday's win, going 2-for-3 on Saturday and turning in a 1-for-4 effort in game 3. Meanwhile, Frizzell did a fine job against UGA's over-shift (why would they over-shift against Frizzell, who is known as a guy with pole-to-pole ability?), going 2-for-4 with a double and a run scored on Friday, ripping a double down the left field line in the 9th inning to help the Aggies win it in walk-off fashion on Saturday and going 1-for-4 with an RBI on Sunday.
Kalae Harrison. As the weekend wore on, the freshman from The Big Island got better and better. After going 0-for-4 with 3 Ks on Friday night, Harrison enjoyed a 2-for-3 performance in game two, with a pair of doubles — one down each line — and 2 runs scored. On Sunday, the Aggie shortstop went 1-for-2 with an RBI and a run scored. Kalae also contributed on defense in a big way, flashing the leather time and time again in the series in which he produced 7 assists and no errors. Solid, solid, solid, and getting better and better.
Average
Pitching with runners on base. The A&M pitching staff did some really nice things against UGA, but the Bulldogs hitters were able to deliver and do some damage with runners on base. It started by getting on base at a .407 clip to lead off innings. Then the Dawgs were able to rack up 17 hits in 59 at bats with runners on (.288). Not overpowering numbers for UGA, but that's certainly a number that Rob Childress would like to see dwindle.
Pitching in the strike zone. It was hit and miss in the free passes category this weekend. The Saenz-Jozwiak duo combined to walk just 2 and hit one batter on Friday night, but it got away from the Aggies on Saturday with 7 walks allowed and 3 hit batsmen. You just don't see A&M under Childress allowing 10 free passes in a game. The arms came back on Sunday and were much better in that category, allowing just 2 walks and no HBP.
Bad
Jonathan Childress. With Bryce Miller out (illness), Childress moved up to start game 2 against UGA but was actually going on regular rest since game three at Florida was on a Saturday. It didn't go well, as the A&M lefty struggled with his command of the zone and left too many pitches out over the plate. The Bulldog bats didn't miss 'em either, tattooing the third-year freshman to the tune of 5 runs (all earned) on 5 hits in just 2-plus innings of work. Childress walked a man, hit another and struck out 3 in his short stint, leaving the game trailing 5-2 and forcing the Aggie pen to have to work 7 innings.
Excellent
With runners on, the Aggies collected 18 hits in 46 opportunities (.391) and were 13-for-30 (.433) with RISP.
Hitting with runners on base. I'll give you the full numbers below in this week's "Five Factors" section, but the Aggie bats, after going 0-for-6 with runners on and 0-for-2 with runners in scoring position against lowly Rice on Tuesday, were incredible in those two critical categories against Georgia. With runners on, the Aggies collected 18 hits in 46 opportunities (.391) and were 13-for-30 (.433) with RISP. A&M did a good job of putting pressure on UGA pitching throughout the series and then delivering in those high-leverage situations. Great to see after the dip in production that we saw in the four games immediately preceding the series with the Bulldogs.
The Five Factors: Offense
Here's a look at what the Aggie bats did in five critical situational areas in the loss to Rice:
Two-outs: .200 (2-for-10)
Runners on: .000 (0-for-6)
Runners in scoring position: .000 (0-for-2)
Leadoff OBP: .111 (1-for-9)
Two-out RBI: 1
Here are the five key split stats in the series win over Georgia:
Two-outs: .273 (9-for-33)
Runners on: .391 (18-for-46)
Runners in scoring position: .433 (13-for-30)
Leadoff OBP: .308 (8-for-26)
Two-out RBI: 2.0 PG (6 total)
Here are A&M's updated season totals to this point in all five areas:
Two-outs: .264 (75-for-284)
Runners on: .302 (133-for-441)
Runners in scoring position: .303 (86-for-284)
Leadoff OBP: .391 (86-for-220)
Two-out RBI: 2.5 PG (66 total)
The Five Factors: Pitching
Here are the raw numbers from what the Aggie pitching staff did in five critical situational areas vs. Rice:
Two outs: .308 (4-for-13)
Runners on: .231 (3-for-13)
Runners in scoring position: .125 (1-for-8)
Leadoff OBP: .222 (2-for-9)
Two-out RBI: 1
Here are the five key split stats vs. Georgia:
Two-outs: .282 (11-for-39)
Runners on: .288 (17-for-59)
Runners in scoring position: .231 (9-for-39)
Leadoff OBP: .407 (11-for-27)
Two-out RBI: 2.0 PG (6 total)
Here are the updated season totals for Aggie pitching to this point in all five areas (last updated post-UGA game 2):
Two outs: .228 (66-for-289)
Runners on: .229 (93-for-406)
Runners in scoring position: .219 (56-for-256)
Leadoff OBP: .374 (86-for-230)
Two-out RBI: 1.5 PG (39 total)
Parting Shots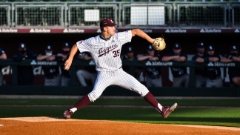 Jamie Maury, TexAgs
I'm pretty interested to see how Coach Childress will adjust to the likelihood of not having Bryce Miller this weekend. As good as Nathan Dettmer has been recently, does Childress stick with Dettmer on Tuesday against Texas and consider Saturday's impressive 35-pitch performance against UGA his bullpen day, or does Dettmer skip his start on Tuesday and instead work out of the pen with a plan of starting him against Missouri this weekend? I could definitely see Rob start Dettmer but put him on a pitch limit of about 80 in case he's needed in relief at Mizzou. I could also see someone like Mason Ornelas get the nod in a starting capacity against the 'Horns. My gut feeling is that Dettmer will start and that Childress saw enough from Chris Weber in Sunday's spot start against Georgia to roll with him again this weekend if indeed Miller can't make the trip. We'll talk with Rob about that when he joins me Tuesday on TexAgs Radio for a gameday edition of Around the Horn.
This is the first time I've said this all year, but I wouldn't change much about the lineup this week. Stick with these 9 guys in this exact order and let them continue to gel and get comfortable in their roles. Here's the lineup we've seen of late, which I expect to remain very close to the same this week:
1. Blaum - 3B (R)
2. Frizzell - 1B (L)
3. Bost - LF (R)
4. H. Coleman - DH (R)
5. Ty Coleman - 2B (R)
6. Britt - RF (R)
7. Alejo - CF (R)
8. Hoehner - C (R)
9. Harrison - SS (L)
That's a very right-hand dominant lineup, but it's the group getting it done at this point. Adjust as needed but these are the 9 for the here and now.
It's Texas coming to Olsen tomorrow and then a trip to Missouri for three games. The Longhorns are ranked in the top 10 in several polls and come in with a record of 17-7 overall and 4-2 in the Big 12. They'll feature several good bats, including Mitchell Daly (.389 with 5 doubles), Eric Kennedy (.270 with 10 steals) and Cam Williams (267 with 6 homers). Texas will likely start second-year freshman lefty Pete Hanson, who is 2-0 with a 2.75 ERA and a 16/7 K/BB ratio in 19.2 IP. It's always a big game when you get a chance to play the 'Horns in any sport. Last year's contest was canceled when the season was cut short, so it's your first crack at those suckers in two years. Saw 'em off and BTHO t.u.
TexAgs will have full in-game and post-game coverage of the game against Texas and the Missouri series, so keep it right here on the site for all of your baseball insight and analysis this week.
---

Key notes from Justin Seely interview on TexAgs Radio
We have had a lot of self-induced adversity lately. To the compliment of our guys, we have done a great job being resilient to that. We've gotten off the mat and shown some fight. We still need to play better. If we play better, then we won't have to be so resilient. I thought we played hard on Sunday, but the execution just wasn't quite there.

Dustin Saenz walking out to the mound, I always feel great. I know he had the rough outing in Gainseville, but he's been fantastic every other time out. He is more than holding his own out there, and he goes out there every time and sets the tone for us on the weekend.

We believe in Chandler Jozwiak, that's why we keep putting him out there. His character, his want to; they are both through the roof. He continues to get stronger and a better athlete every week. He has also done a great job in understanding his role. He's been going out there with his hair on fire, ready to do what he can to help us.

Ty Coleman has played really good defense, not just been good at the plate. Both of those brothers, Hunter and Ty, have a really cool dynamic in-game. It is very unique. They are not only playing together but hitting next to each other in the lineup. Hunter brings a presence to the lineup. Hopefully, we can keep both of them rolling for our offense. We don't need them both to be white-hot at the same time, but we need them both contributing.

Bryce Blaum is just a baseball player. The play he made this weekend in the field was nice. You don't have to hold his hand out there; he is a locked-in veteran guy who has seen a lot. We have him and Ray Alejo who can move around the lineup and are ready to contribute wherever needed.

Friday was tough for Kalae Harrison, and I was really interested to see how he responded on Saturday. The way he bounced back solidified how I think of him as a baseball player. To bounce back and play really well, almost winning the game for us himself between his play at the plate and in the field; that was incredible. He, as a freshman, is executing plays in the field at an extremely high level.
Never miss the latest news from TexAgs!
Join our free email list