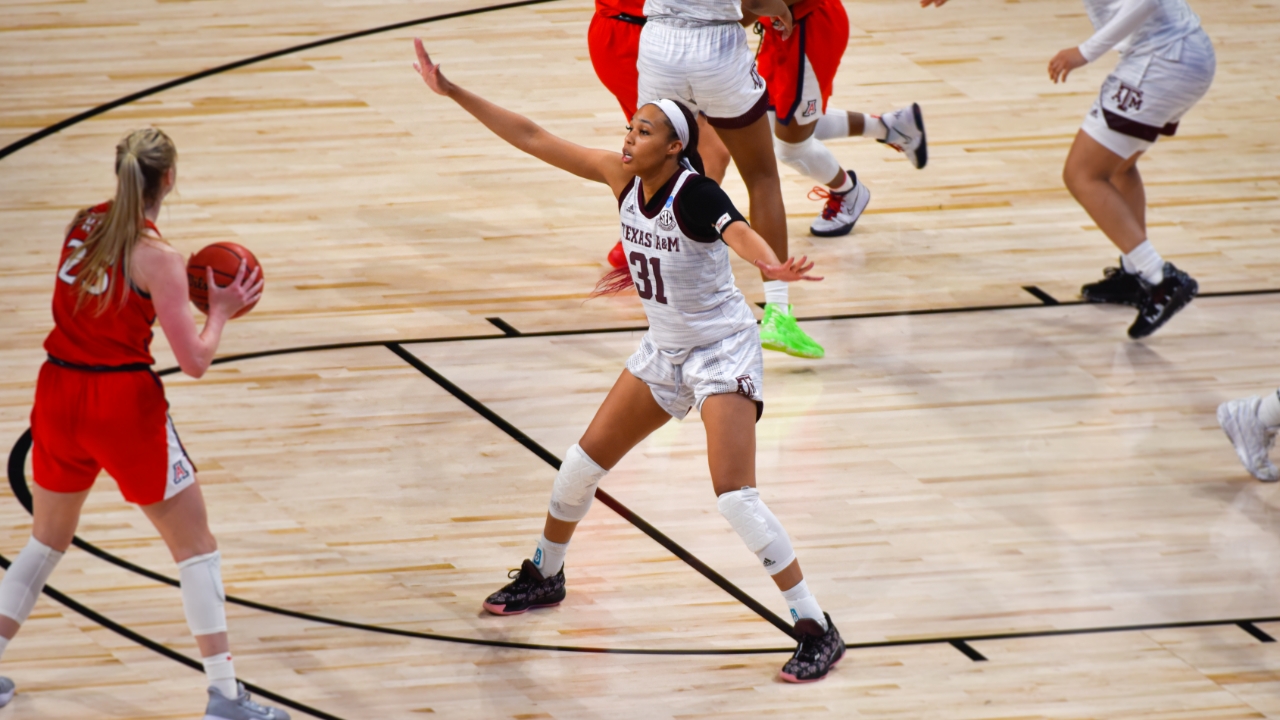 Gary Blair
Aaliyah Wilson
Texas A&M Women's Basketball
Texas A&M's season ends in Sweet 16 with 74-59 loss to Arizona
---
Coming off a thrilling second-round win in overtime, Texas A&M was unable to overcome three-seeded Arizona in the Sweet 16 at the Alamodome, 74-59.
The Aggies finish the season with a final record of 25-3 (13-1).
Defense wins games. The Wildcats proved that tonight as they forced 19 turnovers and swiped 13 steals on their way to an Elite 8 berth.
Riding their defense and team speed, Arizona overwhelmed the Aggies, taking control of the game in the second quarter and never looking back. Led by All-American Aari McDonald, the Cats set forth a suffocating tempo that disrupted both guard and post play for the Aggies. McDonald led all scorers with a career-high of 31 points, including six behind the arc. The Wildcats drilled 13 threes total in the ballgame.
Head Coach Gary Blair spoke on the pressure Arizona applied on the Aggies.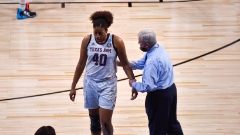 Lia Musgrave, TexAgs
"Arizona had their hands in everything," said Blair. "Sometimes you gotta play through contact because they let you play more in the NCAA tournament. As a coach and as a player you got to learn how to play through it and we didn't, but Arizona did."
The Maroon and White took advantage of their size in the paint, with Ciera Johnson outsizing Arizona's post-players. Despite grabbing more rebounds, 37-29, the Aggies lost the turnover battle 19-8. Arizona scored 28 points off of turnovers.
Blair acknowledged that the Aggies were pushed out of the style of play that has been the bedrock of their success this season.
"Our strength is getting four people in double-figures and sharing the basketball," said Blair. "We were doing it early. We got out of that. We started playing too much one on one basketball and that's on me."
Senior guard Aaliyah Wilson praised her teammates even in the loss.
"This team was probably my favorite team in the four years I've been here," said Wilson. "It was a really special year and a really special group of girls. We accomplished a lot of things that people didn't expect us to. We remained the underdog the whole year and kept proving people wrong. I wish we could've kept doing it here in the tournament.
"We made history this year here on and off the court," Wilson continued. "I don't think I could sum up in a sentence what this year meant to me, as a team and a family."
The Aggies also enjoyed significant fan support in San Antonio. Wilson described how much the support of the 12th Man meant to her team.
"When we first came here and heard how many fans were here before the game started, we were so happy," said Wilson. "Jordan [Nixon] talks about the 12th Man and the spirit of Aggieland and that's one thing. But when the fans are actually there and you're able to feel their support and hear them cheering, it's a whole different experience. I wish we could've had a different outcome, but hearing their yells and cheering was a good feeling."
Never miss the latest news from TexAgs!
Join our free email list