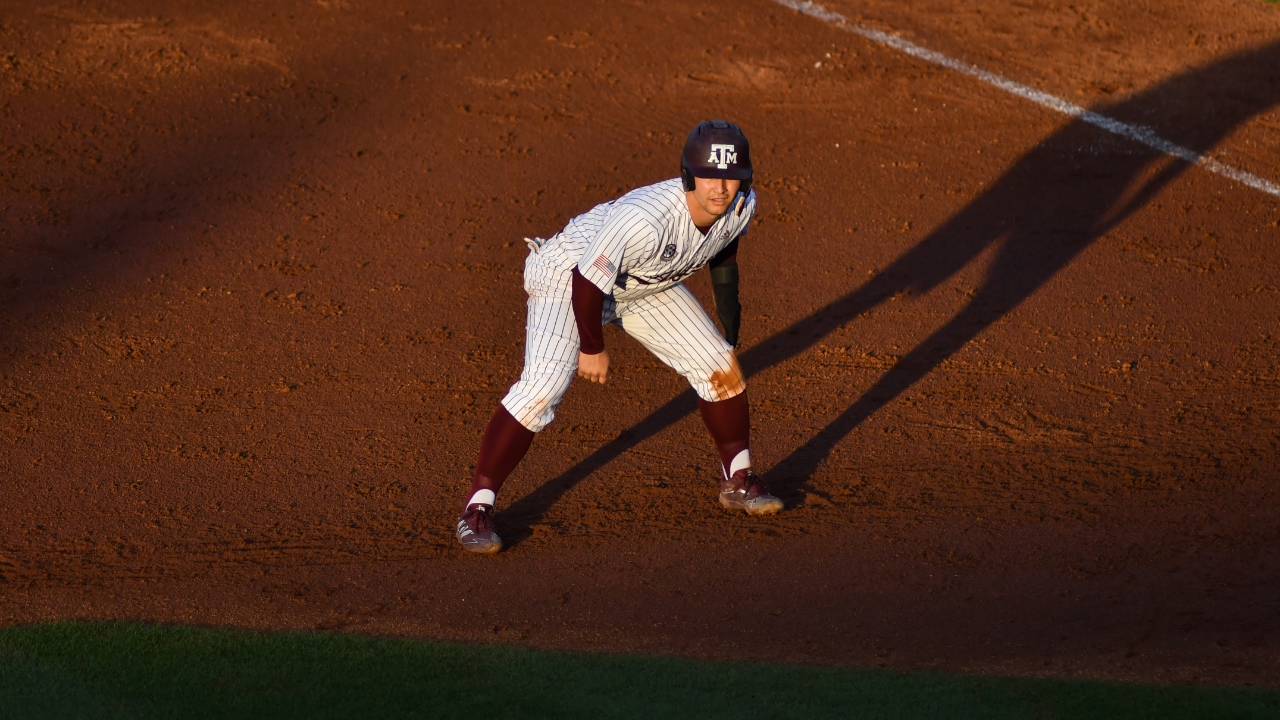 Rob Childress
Chandler Jozwiak
Hunter Coleman
Dustin Saenz
Texas A&M Baseball
Texas A&M breaks four-game skid, topples Georgia at home, 6-3
---
Game #24: Texas A&M 6, Georgia 3
Records: Texas A&M (16-8, 1-3), Georgia (15-6, 1-3)
WP: Dustin Saenz (4-2)
LP: Luke Wagner (3-2)
Box Score
---
The Coleman show.
In Texas A&M's 6-3 Friday night victory over Georgia, Hunter and Ty Coleman accounted for all six runs as the Aggies took the series opener and notched their first SEC win of the season. Hitting fourth and fifth in A&M's order, Hunter scored two runs and drove in three, while Ty launched a two-run homer that proved to be the game-winner.
"Wins in the SEC are hard to come by," Hunter Coleman said. "To win on Friday nights sets you up great for the weekend. Celebrate this one tonight and be ready to go do it again tomorrow."
"Just to get this first SEC win is the best feeling we can ask for, all 38 of us."
Coming into the ballgame, Hunter Coleman had seen limited action, hitting .500 with four home runs in just 10 at-bats. He earned the start as the A&M designated hitter on Friday and made the most of it, finishing the game 2-for-2 with two walks and three RBIs.
"You talk about the definition of writing yourself in the lineup," said Texas A&M head coach Rob Childress. "[Hunter] certainly did that and validated it again tonight with a great performance."
With A&M up 4-3 and the bases loaded, Hunter Coleman delivered his biggest swing: A two-run single up the middle for some much-needed insurance.
"We got the first three guys on base and had the bases loaded for me," Hunter Coleman said. "I was just looking for a pitch out over the plate to hit and score those guys and keep moving the line along."
That clutch hit came right after Chandler Jozwiak struck out clean-up hitter Connor Tate to escape a bases-loaded jam and preserve the lead.
"I kept the momentum on our side," Jozwiak said. "That's my job is to keep the momentum and get us off the field when our starter comes out or when we need to get the job done."
Ty Coleman finished the night 1-for-4, but his lone hit was a two-run shot that rang off the left-field foul pole during a three-run third inning. The blast brought home his older brother.
"I remember being halfway between second and third, yelling at the ball to get up and stay fair; thank god it did," Hunter Coleman said of Ty's home run.
The Coleman brothers won't be receiving a call from Midland as their parents were on hand to witness their standout showings.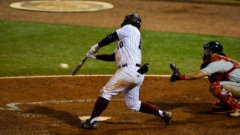 Jamie Maury, TexAgs
"I get to go see them both in person," Hunter Coleman said of his parents. "They came down to watch this weekend, and I'm glad Ty and I can make it worth their trip a little bit."
On the mound, starting pitcher Dustin Saenz allowed three runs on six hits while striking out 11 over 5.2 innings in a gritty performance as his offense did enough to earn Saenz the victory.
"Just to get this first SEC win is the best feeling we can ask for, all 38 of us," Saenz said.
Chandler Jozwiak got the last 10 outs, which helps an Aggie pitching staff that is a bit short-staffed this weekend in Bryce Miller's absence.
"We are a little bit light, and that's why we let Joz finish the game," Childress said. "Those runs in the seventh inning proved to be huge, and had we not chased in right there, we're probably going to use two more pitchers to get through those last six outs."
The Aggies and Bulldogs will resume the series on Saturday afternoon. First pitch is scheduled for 2:02 p.m. CT, and Jonathan Childress will assume the Saturday starter role as Miller sits out due to COVID-19 protocol.
Never miss the latest news from TexAgs!
Join our free email list