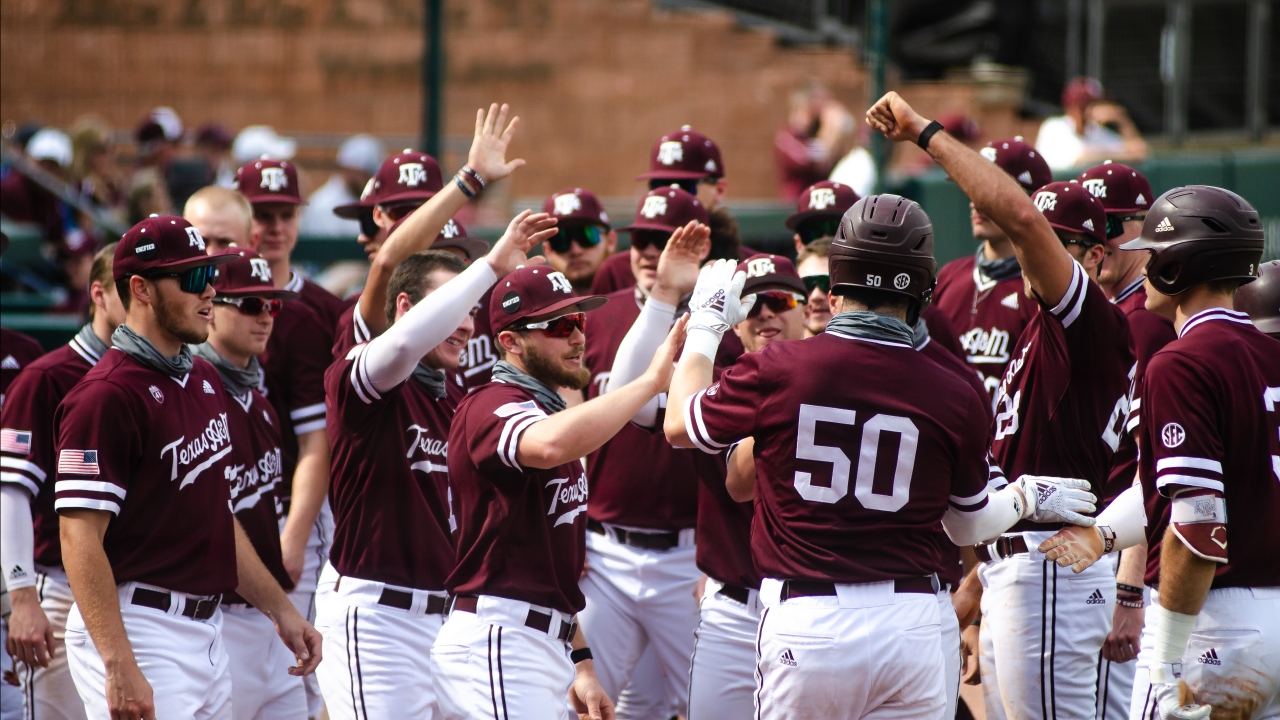 Photo by Travis Whitesell, TexAgs
Texas A&M Baseball
Series Preview: Texas A&M vs. Georgia
---
Also included above is Diamond Talk with Gabe Bock, Ryan Brauninger and Scott Clendenin from Friday's edition of TexAgs Radio.
Who: Georgia (15-5, 1-2 SEC)
Where: Blue Bell Park – Bryan-College Station, Texas
When:
Friday: 6:00 p.m. CT (SEC Network)
Saturday: 2:00 p.m. CT (SEC Network+)
Sunday: 1:00 p.m. CT (SEC Network+)
Pitching matchups
Friday: Dustin Saenz (LHP, 3-2, 3.07) vs. Luke Wagner (LHP, 3-1, 1.17)
Saturday: Jonathan Childress (LHP, 2-1, 1.98) vs. Ryan Webb (LHP, 2-0, 0.52)
Sunday: Chris Weber (LHP, 1-0, 5.28) vs. Jonathan Cannon (LHP, 1-1, 1.96)
Scouting Georgia
There are a lot of questions surrounding Georgia heading into this weekend series with Texas A&M.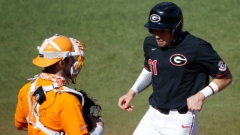 Joshua L. Jones via Imagn Content Services, LLC
First, head coach Scott Stricklin tested positive for COVID-19 a week ago and has been away from the team. Associate head coach Scott Daeley has taken over managerial duties in the interim. The Bulldogs have been fighting other illnesses and injury issues as well. Most notably, leading hitter and run producer Corey Collins in the three-hole pulled a hamstring last Friday, and he has missed the last three games. His status is unknown for this weekend. Several players, including starting pitchers Ryan Webb and Jonathan Cannon, have missed some starts with illnesses. Senior reliever C.J. Smith has been out of action for the past two weeks with arm soreness.
Almost a month into the 2021 season, there are still a lot of questions about this Georgia Bulldog team. For those complaining about the Aggies' soft non-conference schedule, look at some of the Bulldogs' early-season opponents. Names like Evansville, Gardner-Webb, Georgia State, Georgia Southern and Lipscomb pop-up on the early season schedule — not to mention a couple of losses to North Florida and Kennesaw State.
It's not a complete surprise that Georgia struggled in its first SEC series against Tennessee, going 1-2. Going into last weekend, the Bulldogs had the second-lowest ERA in the SEC and ranked No. 1 in fielding percentage. Nineteen runs, 20 walks allowed and six errors later, the Bulldogs' season statistics don't look so sparkling after the first weekend of league play.
In fact, team statistics are quite similar to the Aggies.
Georgia's batting average is .285 compared to Texas A&M's .271. The Bulldogs' slugging percentage is .428 versus the Aggies' .439. There is a difference in runs per game, with Texas A&M holding a 7.17 runs per game to 5.55 runs per game advantage. That doesn't correlate with the other offensive numbers, and there's a huge reason why. The biggest disparity in offense comes via the base-on-balls. The Aggies have collected a whopping 130 walks in 2021 to Georgia's 56 free passes.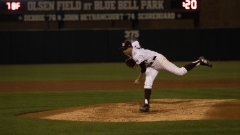 Angelina Alcantar, TexAgs
On the flip side, A&M pitching has surrendered 68 base-on-balls compared to 94 issued by Georgia hurlers. Remember, 20 of those freebies came last weekend against Tennessee. That is the telling statistic.
The only other statistic of note revolves around the strikeout. Aggie hitting whiffs a lot more than Georgia at a 200 to 120 clip. Those numbers are reversed on the mound, with Texas A&M holding a significant 273 to 196 advantage in striking out opposing hitters.
On paper, the weekend starters look ominous. They will pose a challenge, but the numbers are a bit deceiving given the limited action and the caliber of competition. Against Tennessee, none of the three starters (Wagner, Webb, Cannon) completed the fifth inning. Combined, the group threw 10.1 innings, allowing five runs on nine hits and six walks. That's certainly a solid line, but it's not dominating by any stretch. The bullpen was roughed up a bit, surrendering 14 runs in 16.2 innings of work against Tennessee.
With top hitter Corey Collins (.368, 4 HR, 16 RBI) questionable for the weekend, the Bulldogs will rely on Connor Tate (.364, 13 RBI) and Josh McAllister (.362, 3 HR, 7 RBI) in the middle of the order to produce runs. Georgia has solid .290-.300 hitters throughout the lineup, guys that will put the ball in play and chip away at a pitcher. Still, there are few big bats A&M pitching should worry about. The Bulldogs are not fast on the basepaths and rarely steal bases. It's a solid offense, but not necessarily a dynamic offense.
Texas A&M storylines to watch
I'm not going to spend much time on the A&M storylines because they remain the same from week-to-week with this club: Hitting.
You can't go 8.2 innings against a mediocre Rice team with one bloop single and expect to compete in an SEC weekend. Something has to change.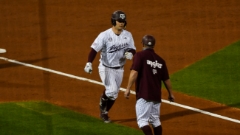 Jamie Maury, TexAgs
There's been a lot of talk about inserting Hunter Coleman into the lineup after his pinch-hit home run in the ninth inning on Tuesday. He now has four homers in 10 at-bats. He has a long body of work at Texas A&M that is solid, but it doesn't reflect a home run rate of 40 percent. He can definitely provide some spark, but adding Hunter Coleman to the batting order doesn't cure all of the ills for this offense.
At this point, we only have three knowns with this offense. The first two are WIll Frizzell and Austin Bost, who've been the most productive and most comfortable everyday hitters in the lineup. The third known is A&M's ability to draw walks when they want to. Last week, given that Florida's elite starting pitchers allowed very few walks, the staff decided to be ultra-aggressive early in the count. Well, that didn't work out. We'll see what the approach is this weekend, but Georgia's propensity to give up free passes indicates A&M hitters should be more patient at the plate this weekend.
For all the talk about this team's offensive woes, the pitching really let down the Aggies last weekend in Gainesville. With the exception of Bryce Miller, the rest of the staff had no answers for the Florida bats. Miller will miss his start this weekend as Jonathan Childress will slide into the Saturday role with Chris Weber taking the ball in the finale. The task for Dustin Saenz, Childress and Weber appears to be more manageable with a capable-but-less-intimidating Georgia lineup. Can the A&M arms collectively shake off last weekend's struggles and get back in form this weekend? That's probably the biggest storyline of the series for the Aggies.
What's at stake this weekend
The margin for error gets smaller and smaller with each passing series.
Looking at the numbers, getting swept in an SEC weekend is devastating. For discussion sake: If the Aggies were to win the next three series 2-1, their conference record would still be 6-6. The pressure is on, and Texas A&M must respond immediately if they expect to fight their way back to .500 in the SEC.
When you look at the top of the SEC with teams like Florida, Arkansas, Vanderbilt, MSU and Ole Miss, and then you see Georgia on the schedule, the first reaction is to breathe a sigh of relief.
On paper, Georgia isn't as strong as Florida, but they are ranked No. 12 in one poll. Aside from Florida, the Bulldogs will be the best team the Aggies have faced so far. This will be no walk in the park.
However, if Texas A&M expects to climb out of this early SEC hole, this is the opportunity.
Georgia is good but not elite. The Bulldogs are leaving the state of Georgia for the first time this season, and they have to play at Olsen Field. Georgia is without its head coach, and their leading hitter is questionable for the weekend. The Bulldog pitching staff struggled in their SEC opening weekend, and they've been known to walk some batters.
If the Aggies are going to make up some ground in SEC, this is the match-up to do it. If they can't take care of a wounded Bulldog bunch at home, it's hard to envision them winning series against the four top-five teams remaining on the schedule. Texas A&M cannot lose this series and expect to be a serious contender to make the NCAA Regionals.
Never miss the latest news from TexAgs!
Join our free email list