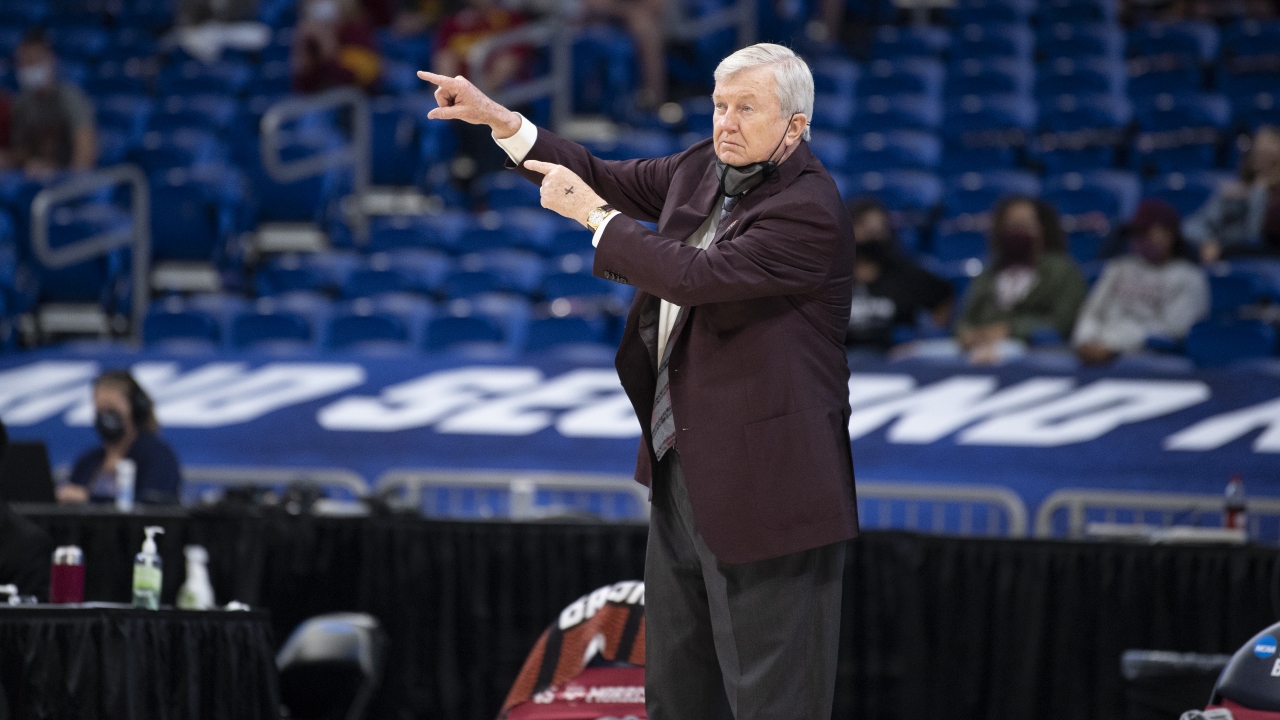 Photo by NCAA Photos
Texas A&M Women's Basketball
Back in the Sweet 16, Gary Blair looks ahead to showdown with Arizona
---
Key notes from Gary Blair interview
We're ready. We're fixing to go watch a little bit of film before we go over and get tested for COVID-19 today for the tenth day in a row. We'll have practice today, and we'll ride a riverboat at 2:30 this afternoon.

Size-wise, we're in good shape vs. Arizona. They're a 6-2 and under team with a 6-5 player off the bench. They have good guard play. They share it, and the offense is created off of their defense. They force you into turnovers in the press and half-court. We didn't see that vs. Iowa State, but every game is different. Arizona is more like an SEC team.

Aarion McDonald is an All-American and will be taken in the first 10 picks of the WNBA draft, but I like mine. I think we'll be just fine against the All-American.

People thought we underplayed against Troy, but we had a 14-point lead. Give them credit for coming back. They did a lot of things well, but we executed down the stretch. The Iowa State matchup was a hard one. They're well-coached and play a different style than we have seen all year. We pulled it out.

People ask why we didn't let Jordan Nixon shoot more during the regular season. The point guard's role is to facilitate for others, but the way Iowa State was guarding her opened up the jumpers and the drive. Ciera Johnson cleaned up everything inside.

This event is a surreal thing watching these 64 teams follow each other like ducks. We walk down to the convention center in a line. We have so much staff and security around us. It has been unreal. We're looking forward to the riverboat cruise because we haven't done anything outside the hotel, convention center and games in 10 days. It has been a trial but a very rewarding experience.

Nixon played 45 straight minutes. I knew by the pace of play that we could use her there. How she has handled the media is unbelievable. It goes back to when Johnny Manziel busted on the scene, and people couldn't get enough of him. People cannot get enough of Jordan. We will have to restrict her from taking some of these media calls later today. Everybody wants a piece of her because she's the hottest thing going in the tournament. She is representing herself, her family, her team and Texas A&M as well as I've seen any kid thrust into this type of situation.

Nixon is a redshirt sophomore, and she could be here for a long time if the pros don't get her. She's loving this, and she was built for this moment. How she was raised in New York City and being around a big-time atmosphere has taken a lot of pressure off her. We're going to be fine, and everybody is spreading the love. The team is loving Nixon in the media because she's talking about them and not herself.

I think Aaliyah Wilson is a player that could step up. Teams in the NCAA Tournament are usually guard-driven. Wilson has to give me the complete package. She will score in double-figures, but how many shots will it take? It's about efficiency, and she's also our best defensive player. Nixon will spread the ball around and find the hot player. Iowa State took Destiny Pitts away, but she created about 20 screens that opened up everybody else. We will have to find that matchup.
Never miss the latest news from TexAgs!
Join our free email list