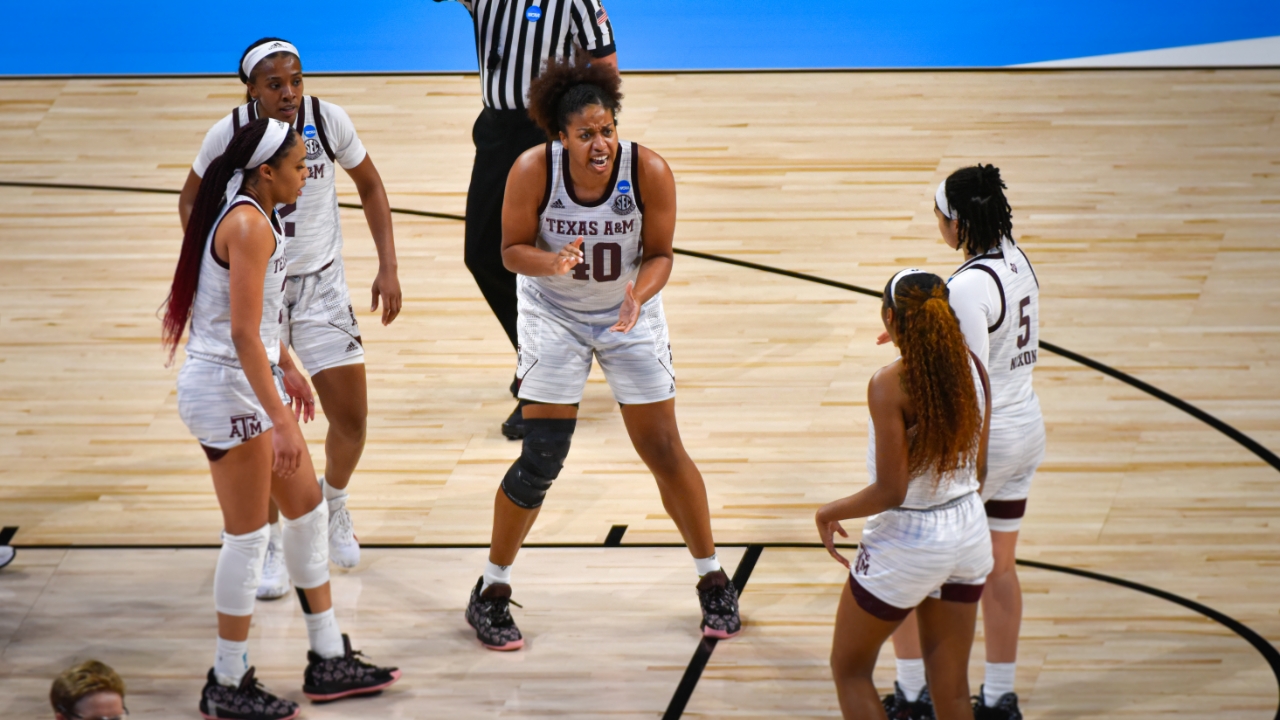 Gary Blair
Jordan Nixon
Adia Barnes
Aaria McDonald
Texas A&M Women's Basketball
The Dance Continues: No. 2 Aggies take on No. 3 Arizona in Sweet 16
---
Coming off a thrilling 84-82 overtime victory over Iowa State, the Texas A&M Aggies look ahead to the Sweet 16 in the NCAA Tournament to play Arizona. Sophomore guard Jordan Nixon became an overnight sensation, winning the game on a buzzer-beating floater in the lane.
The 2-seed Aggies will face the 3-seed Wildcats in the Sweet 16 on Saturday night at the Alamodome in San Antonio. Tip-off is scheduled for 7:00 p.m. CT on ESPN2.
Nixon has humbly responded to the new-found fame, crediting her teammates for her success.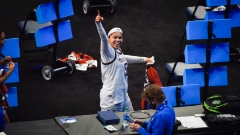 Lia Musgrave, TexAgs
"These last few games, my teammates have put me in positions to thrive," Nixon said. "Yesterday, in the Iowa State game, Destiny Pitts, our best percentage shooter, was not open. For that reason, she acted as a screener solely. I was able to come off the screen, Aaliyah [Wilson], Kayla [Wells], whoever is in that position, and that was okay with her. That's what this team is all about."
Nixon shared credit for what went into scoring the game-winning shot.
"That game-winner wouldn't have happened if Aaliyah hadn't pushed the ball left, pushed her into Ciera [Johnson], where Ciera was able to get a block or deflection, and now we're off to the races," Nixon said. "I didn't do all those things."
Texas A&M head coach Gary Blair's team has walked on the edge in their first two tournament games.
"Troy and Iowa State have played us to the last possession," Blair said. "Is that because they have played us so well or because we have underplayed? I think it's just March."
Nixon says the Aggies' unselfishness has been key to their success this season and will continue to be as they advance.
"We are selfless people off the court, so on the court, it's never a question of whether or not we're going to move the ball or feed the hot hand," Nixon said.
"They don't give championships for getting to the Sweet 16. Our best basketball is in front of us."
As A&M heads into the Sweet 16, Blair's team is not finished yet.
"They don't give championships for getting to the Sweet 16," Blair said. "Our best basketball is in front of us."
In the first round, Arizona beat down Stony Brook, 79-44, with Aari McDonald pouring in 20 points. Trinity Baptiste put up 18, and Cate Reese had 16. The Wildcats knocked off BYU in the Round of 32, 52-46. McDonald led the Wildcats with 17 points, and Reese put up 12.
As A&M gears up for Arizona, Blair believes it should be a nice match-up.
"I think our teams match up very well," said Coach Blair. "We're going to put our emphasis on practice on Friday, trying to get ready for Saturday."
The Wildcats are 18-5, 13-4 in Pac-12 play. This will be the first time the two face each other since 2010. Texas A&M won the last matchup, 87-78.
Never miss the latest news from TexAgs!
Join our free email list
PRESENTED BY