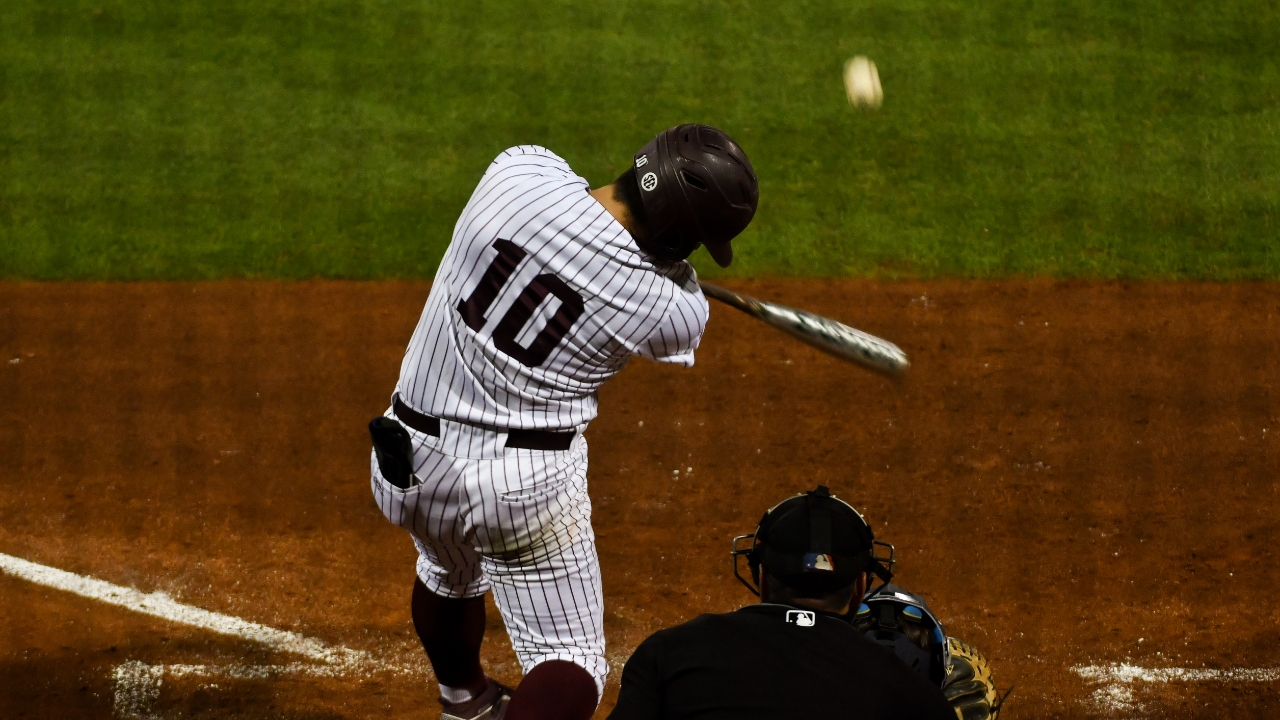 Rob Childress
Nathan Dettmer
Texas A&M Baseball
Aggie offense sputters in home loss to Rice, 2-1
---
Game #23: Rice 2, Texas A&M 1
Records: Texas A&M (15-8), Rice (11-9)
WP: Garrett Zaskoda (1-1)
LP: Nathan Dettmer (2-1)
Box score
---
Two hits.
That was all Texas A&M's offense could muster in a 2-1 loss to Rice on Tuesday night in College Station. The Aggies have now lost four games in a row and are still struggling to find their identity at the plate.
"Give Rice pitchers all the credit," said Texas A&M head coach Rob Childress. "They were so much better than we were offensively tonight, and it wasn't even close."
An Austin Bost single in the first was A&M's lone hit until there were two outs in the ninth. Rice starter Garrett Zaskoda, who entered the game with an ERA near 10.00, held A&M scoreless over 5.1 innings of work before Drake Greenwood continued to stymie Aggie batters.
"[Zaskoda] landed enough of his curveball to make his fastball just a tick better," Childress said. "He was better than our hitters tonight, certainly."
In A&M's final at-bat, Hunter Coleman hit a pinch-hit home run off Guy Garibay with two outs to spare the Aggies the shutout. In his last seven pinch-hit opportunities, Coleman has five hits, four of which have left the yard.
Adding to their offensive woes, the Aggies failed to take advantage of the free passes they were issued. Combined, Zaskoda and Greenwood allowed five walks and hit a batter while refusing to cough up a run.
"I thought, by far and away, it was his best performance of his career at Texas A&M, he certainly deserved a better fate tonight."
Worse, the Aggies made a trio of outs on the basepaths as Rice catcher Justin Long threw out three would-be-base-stealers.
"Appreciate our guys playing fast and being aggressive, but their catcher made plays," Childress said.
Texas A&M starter Nathan Dettmer's brilliant performance was wasted by the lack of run support. The only run against Dettmer in his six innings of work was unearned after Mikey Hoehner committed a throwing error while trying to nab Guy Garibay stealing second in the fourth.
"It's very frustrating and really disappointing," Dettmer said of the hard-luck loss. "The hitters just couldn't get a rhythm tonight, and it didn't go well for us."
Dettmer allowed just five hits and one walk while punching out six Owls as the freshman right-hander lowered his ERA to 1.19.
"I thought, by far and away, it was his best performance of his career at Texas A&M," Childress said. "He certainly deserved a better fate tonight."
Tuesday's loss is A&M's first to Rice since 2016, and the club must quickly right the ship in what is a pivotal part of the season.
"We need to have a great practice on Thursday and get ready for a really good Georgia team coming in and play a little bit better in every facet," Childress said.
Texas A&M begins a three-game series with Georgia in College Station on Friday night. First pitch of the opener from Olsen Field at Blue Bell Park is scheduled for 6:02 p.m. CT.
Never miss the latest news from TexAgs!
Join our free email list