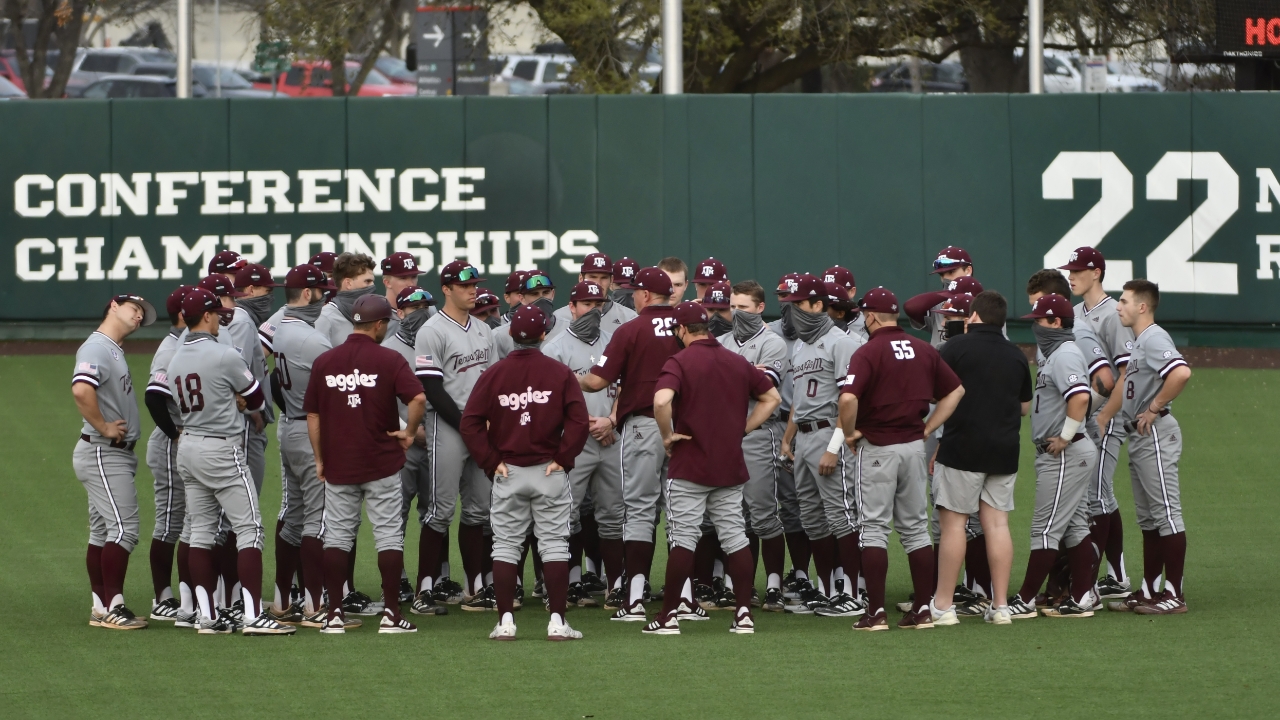 Photo by Jamie Maury, TexAgs
Texas A&M Baseball
Series Preview: Texas A&M at No. 5 Florida
---
Also included above is a radio segment with D1Baseball.com's Kendall Rogers from Thursday morning, previewing this weekend's series between Texas A&M and No. 5 Florida.
Who: Florida (13-5, 0-0 SEC)
Where: Florida Ballpark – Gainesville, Florida
When:
Thursday: 6:00 p.m. CT (SEC Network)
Friday: 5:30 p.m. CT (SEC Network+)
Saturday: 12:00 p.m. CT (SEC Network+)
Pitching matchups
Thursday: Dustin Saenz (LHP, 3-1, 1.71) vs. Tommy Mace (RHP, 3-0, 1.96)
Friday: Bryce Miller (RHP, 2-0, 2.75) vs. Jack Leftwich (RHP, 2-0, 1.82)
Saturday: Jonathan Childress (LHP, 2-1, 1.11) vs. Hunter Barco (LHP, 2-1, 5.95)
Scouting Florida
The SEC schedule makers didn't do the Aggies any favors in 2021.
In the opening series of conference play, the SEC is sending Texas A&M on the road to face preseason No. 1 Florida. The Gators have stumbled slightly with a pair of losses to No. 21 Miami and have lost to nationally-ranked Florida Atlantic, Jacksonville and Florida State to begin the season. Still, their strength of schedule is enough to hold their current ranking at No. 5 in the D1Baseball poll coming into this weekend's series.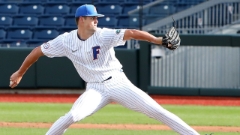 Brad McClenny/The Gainesville Sun
Florida received those high preseason accolades based on elite starting pitching returning in 2021. Thus far, the three-headed monster rotation of All-American juniors Tommy Mace and Jack Leftwich, along with second-year freshman Hunter Barco has been as good as advertised. Mace and Leftwich have been nearly spotless so far, combining to go 5-0 with ERAs of 1.96 and 1.82, respectively. These guys are elite and consistent. Through eight combined starts, the pair has made it through the fifth inning in every outing and haven't surrendered more than two runs. That is the model of consistency in the college game, and it doesn't get any better than that.
At first glance, Aggie fans will see Hunter Barco as their opportunity to score some runs on a Gator starting pitcher. He holds a bloated ERA of 5.95. However, 11 of the 13 earned runs on his ledger came in his first two starts. He has won his last two starts, giving up just two runs in 11.1 innings of work.
A&M hitters haven't faced anything like this rotation, but there are some signs of hope.
The Gator bullpen has been a mess so far. Remember all of those sparkling stats I presented to you about Mace and Leftwich? Florida lost two of those eight starts because the bullpen couldn't hold the lead and gave up runs in bunches, losing a 10-9 contest to Miami and a 10-9 loss to Jacksonville.
At the plate, the Gators have some dangerous bats in the middle of the lineup. Interestingly enough, after the Aggies' offensive surge in the past couple of weeks, the team statistics for both units are very similar. Florida has a team batting average of .294 (A&M .286) with a slugging percentage of .478 (A&M .469), 23 home runs (A&M 27) and 140 runs scored (A&M 155).
Nathan Hickey leads the run production with 21 RBIs and a .328 average. For comparison sake, A&M's Will Frizzell and Logan Britt lead the Aggies with 17 RBIs.
Jacob Young has been a mainstay in the Gator lineup for several years, and he's one of the best returning hitters in the SEC. He's a capable table-setter at the top of the lineup with speed. He currently leads the team in hitting at .358.
It's not hard to see why national college baseball pundits fell in love with the Gators this offseason.
Jud Fabian is in the two-hole behind Young, and he's driven in 19 RBIs. Finally, in the clean-up spot is veteran senior Kirby McMullen hitting .340 with four homers and a .681 slugging percentage.
As you can see, the Gators' batting order is front-loaded with some dangerous hitters.
It's not hard to see why national college baseball pundits fell in love with the Gators this offseason. They have experienced, elite starting pitching and experienced, elite hitters at the top half of the order. The one weak link so far has been the bullpen that is talented but hasn't found its groove yet.
Texas A&M storylines to watch
Typically, Texas A&M looks to be aggressive at the plate against top-line pitching, hoping to get a fastball over the plate to start an at-bat. Given the experience and ability of Mace and Leftwich, the approach should be patience. Even though the A&M offense has shown some life recently, the adage still holds that elite pitching will stop good hitting. I think the best approach is to be patient and extend the pitch count with the goal of getting into the Gator bullpen by the sixth inning.
Maybe the offense can manufacture or scratch a run here or there off Gator starting pitching, or maybe Frizzell, Bost or Britt can land a big swing and send a ball out of the yard. In recent seasons, the Aggies couldn't rely on the long ball in tight match-ups like this. That's the biggest difference of the 2021 offense compared to recent seasons, and that's what should give the Aggies a little more hope in SEC series against top pitching.
History indicates that Mace and Leftwich won't give up many free passes, and they won't give up hits and runs in bunches. The gameplan here is to chip away slowly at Florida's starting pitching and have some faith in an A&M starting staff that has been every bit as good as Florida's All-Americans. In fact, the Aggie starting rotation has equal and better statistics on paper, but what the A&M starters don't have is SEC experience. That's where Florida has the edge. However, that is countered by Texas A&M's advantage in the bullpen, with the likes of Mason Ornelas (0.00 ERA), Chandler Jozwiak (2.95), Alex Magers (1.74) and closer Joseph Menefee (2.08).
In the end, these games will be decided by a handful of swings and will likely come down to a few plays defensively. The team that plays the cleanest will likely fare the best.
What's at stake this weekend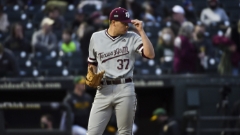 Jamie Maury, TexAgs
Opening Weekend in the SEC is big in any season. In a brutal conference where the nation's top five teams all play in the league makes for a 2.5-month meat grinder. Getting off to a good start on that first weekend is a big momentum booster for any team. However, it's essential for the Aggies.
This team definitely answered the bell after a brutal first week. It's been impressive to see the Aggies fight back to 15-4 after looking so bad at 1-3. There's always been the caveat that those wins didn't come against nationally-ranked competition, and there's been a "We'll believe it when we see it against SEC teams" mantra. This is A&M's chance to prove to themselves and others that they belong in the SEC title hunt.
If A&M can find a way to win two games this weekend, the entire trajectory of this season changes. The perception changes, and I can promise you the weeks of being unranked will also change.
The Aggies are on a difficult stage playing one of the nation's best teams at their place. Conventional thinking is to hope they steal a game and come out alive at 1-2. That wouldn't be ideal, but the Aggies would leave Gainesville on-track and feeling decent going forward. However, win a pair, and the team's confidence skyrockets. Guys like Kendall Rogers take notice, and you'll see the Aggies in the national discussion once again. Play poorly and leave Florida at 0-3, and the same drumbeat will be heard: "This team isn't good enough to play with the big boys."
There's a lot at stake this weekend. Honestly, this could be one of the most important series in Rob Childress's head coaching career.
---

Key notes from Kendall Rogers interview on TexAgs Radio
I'm going to lay low this weekend and watch as much as possible this weekend via streaming. I usually go on the road for the first weekend of SEC play, but there are so many good matchups that I want to watch them all.

This weekend should be fun, and we should learn a lot about Florida and Texas A&M. Florida hasn't played like that No. 1 team. That bullpen has struggled, contrary to what has been a hallmark of Kevin O'Sullivan's teams. They've struggled behind the plate as well. A&M is catching them at the right time.

If you had told A&M fans they'd have this record after opening weekend, they'd be surprised. I don't think anyone is surprised the pitching has picked it up because of what is expected from Rob Childress. The offense has really picked it up this week, but there is definitely a difference between the teams they've been playing and the Florida Gators.

Offensively, I'm not buying the Aggies yet. I really like Ray Alejo, and he was an electric player at UCF. I feel like he's finally doing that at A&M. With Will Frizzell, he has been fantastic so far, but it'll be interesting if he can continue it.

Dustin Saenz has been really consistent. He has never been too high or too low and should be that guy every weekend. Bryce Miller is the interesting one this weekend. Jonathan Childress has also been outstanding, perhaps the best of any of them. I'm interested to see him on the road against an elite team this weekend.

Jonathan Childress should help A&M fans feel good, but with Florida, their #3 starter is the No. 2 prospect in next year's draft class. I think Hunter Barco will be fine, but he has not been the pitcher we have expected. Right now, we should give the edge to A&M in the series finale.

If you can go on the road to Florida and get one game, you can call that weekend a success. Especially with the schedule that the SEC is going to throw at you this year.

If Bryce Miller is on, he is better than Jack Leftwich. It boils down to whether or not Miller is dialed in. With it being SEC play, I'll give Florida the edge. It's a fascinating series. Say Florida loses tonight, then the Gators are scuffling. Tonight's game is really interesting, and if A&M can jump on them early, I'll be interested to see what happens.

I am not very interested in South Carolina-Vanderbilt this weekend. I saw the Gamecocks vs. Texas last weekend, and Texas handled that right-handed lineup. Now they're going against Kumar Rocker and Jack Leiter. I think Vanderbilt will dominate that series.

LSU is a total unknown. I have no idea what to expect from them this weekend, but we will learn a lot about the Tigers over this series.

I'm keeping an eye on Arizona-UCLA, and I have no idea what to think of the Pac-12. UCLA has lost two series to inferior opponents. Arizona can hit with anybody in college baseball. There is so much uncertainty in this series.
Never miss the latest news from TexAgs!
Join our free email list