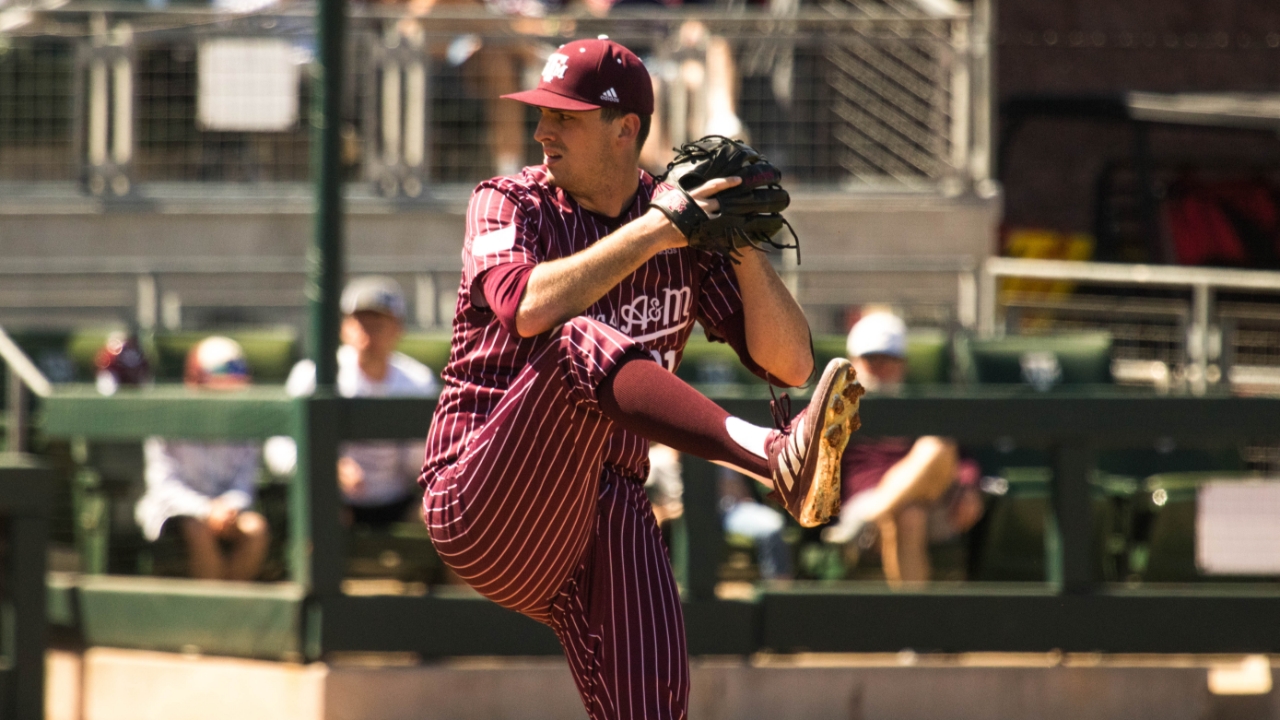 Rob Childress
Jonathan Childress
Mikey Hoehner
Logan Britt
Texas A&M Baseball
Pitching shines again as Texas A&M completes sweep of New Mexico State
---
Game #13: Texas A&M 7, New Mexico State 1
Records: Texas A&M (9-4), New Mexico State (1-6)
WP: Jonathan Childress (1-1)
LP: Chris Jefferson (1-1)
Box score
---
Stingy.
That's the best way to describe the performance of Texas A&M's pitching staff this weekend as they completed the sweep over New Mexico State on Sunday, 7-1. A&M arms gave up just two runs and struck out 43 batters in the three-game series.
"Certainly, the pitching was very, very good for us this weekend," said Texas A&M head coach Rob Childress.
"Certainly, the pitching was very, very good for us this weekend."
Jonathan Childress started on the mound and picked up where Dustin Saenz and Bryce Miller left off. The lefty made just one mistake — a solo home run in the fifth — and racked up 10 punchouts over six innings of one-run ball. The Aggie starter allowed just five hits and issued one walk.
"Top-to-bottom, we all pitched really well, and we even didn't get a lot of guys in there that are really good as well," Jonathan Childress said. "Punching out however many we did this weekend shows a lot about our staff."
Tied 1-1 in the sixth, A&M's offense came through. Mikey Hoehner drove in Ryan Targac. Later in the frame, Will Frizzell walked with the bases loaded to give the home nine a 3-1 advantage.
"I'm glad we scored there in the sixth and were able to get (Jonathan Childress) out of the game at 92 pitches," Rob Childress said. "He was really good."
New Mexico State made two pitching changes in the sixth, and the long layover meant Jonathan Childress's day was done. His ERA sits at 1.03 through three starts in 2021. After losing a pitcher's duel a week ago, Jonathan Childress earned his first victory of the season.
"I always want to compete, and I think that goes for every single pitcher here," Jonathan Childress said. "We always want to go nine innings."
Mason Ornelas worked two scoreless innings, and Alex Magers tossed a perfect ninth. Having those two available this afternoon is a testament to the dominance of A&M's pitching staff in the first two games of the season.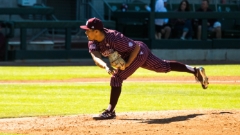 Angelina Alcantar, TexAgs
"(Our starting pitchers) keep getting better with each week," Rob Childress said.
While the ballgame was tight early, the A&M bats provided run support late thanks to timely hitting. In addition to the two-run sixth, the Maroon & White scored one in the seventh and added three in the eighth.
"Just knowing my team is behind me and our offense is going to produce runs is huge," Jonathan Childress said.
After not starting the first two games, Logan Britt finished 3-for-5 with a trio of singles and three RBIs.
"You got to take those days that you're not in the lineup and stay prepared for any moment you could go in," Britt said.
The victory put a bow on a perfect five-game week for Texas A&M. Now on a five-game winning streak, the Maroon & White have won eight of their last nine, and the ballclub is beginning to feel the momentum.
"We're just trying to get the train moving," said A&M catch Mikey Hoehner. "With a rocky start, it's always good to win five games in a week."
A&M looks to run their streak to six-in-a-row on Tuesday as Texas A&M-Corpus Christi comes to Bryan-College Station. First pitch between the Aggies and Islanders is scheduled for 6:32 p.m. from Olsen Field at Blue Bell Park.
Never miss the latest news from TexAgs!
Join our free email list