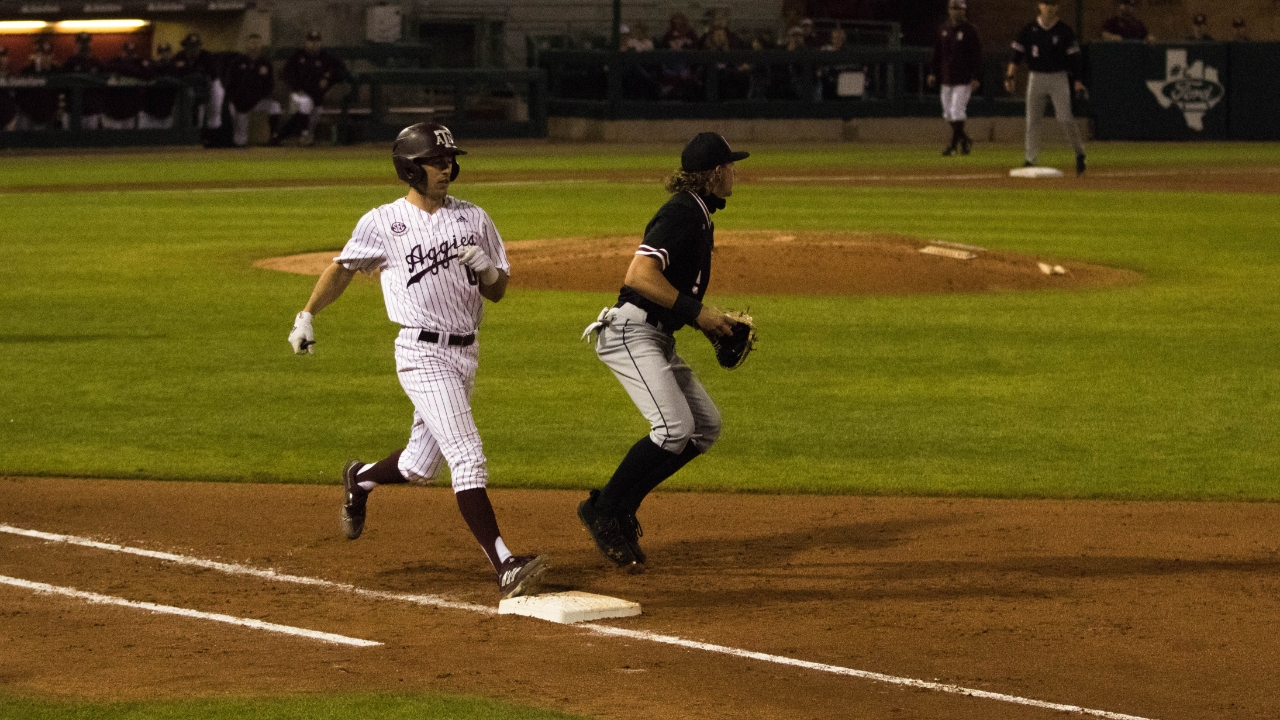 Photo by Angelina Alcantar, TexAgs
Texas A&M Baseball
Saenz dazzles as A&M beats NMSU, 4-1, in Childress's 600th win
---
Game #11: Texas A&M 4, New Mexico State 1
Records: Texas A&M (7-4), Incarante Word (1-4)
WP: Dustin Saenz (2-1)
LP: Chris Barraza (0-1)
Box score
---
Advantage: Texas Aggies.
In the first of a three-game series, Texas A&M defeated New Mexico State, 4-1, on Friday night at Olsen Field at Blue Bell Park. Dustin Saenz's brilliant outing allowed the hometown club to take the first step toward establishing Aggie superiority and improve to 7-4 on the year.
"Our message before tonight was it was going to be a Friday night fight, and it certainly was," said Texas A&M head coach Rob Childress. "Saenz was just absolutely amazing."
The night belonged to Saenz, who worked 7.2 innings and struck out nine while giving up just one unearned run on three hits. The lefty departed with a pair of runners on when his pitch count reached 111. It was the furthest into a game an Aggie starter has pitched in 2021.
"It's just time to look back and be thankful and appreciative of all the great people that are surrounding this place."
"I have all my trust in coach Childress calling the pitches," Saenz said. "I also got full trust in my catcher."
After walking the first batter he faced, reliever Joseph Menefee battled back from a 3-0 count to punchout Connor Laux, leaving the bases loaded.
"It brought momentum back into our dugout," Menefee said. "It was a big spot to get out of that in that situation."
Menefee would ultimately nail down the save - the first of his career - with a perfect ninth inning.
New Mexico State's lone run scored as the result of an odd sequence in the fourth inning. After a leadoff single, Saenz appeared to have picked off a runner at first, but a review showed obstruction on Will Frizzell and moved the runner to second base. The run would eventually cross on a passed ball assessed against Mikey Hoehner.
"I didn't think I was blocking the base. I've never been called for obstruction before," Frizzell said. "That was surprising."
Saenz did enough on the mound to give his offense time to finally come around on a windy night in Aggieland.
"Dustin did everything you can ask from a Friday night guy, and it was great to see him thrive in that role tonight," Frizzell said.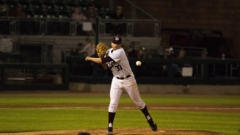 Angelina Alcantar, TexAgs
Tied 1-1 in the bottom of the sixth, Zane Schmidt laid down a safety squeeze that scored Bryce Blaum. In the seventh, Frizzell drove home a pair to give A&M a three-run cushion.
"It was great what [Schmidt] came in and did. It really sparked us, I think," Frizzell said.
The win is Texas A&M's sixth out of their last seventh. It is also Rob Childress's 600th career victory. After the game, he touched on the milestone.
"It's just time to look back and be thankful and appreciative of all the great people that are surrounding this place," Childress said.
Texas A&M and New Mexico State continue the series on Saturday with a 2:02 p.m. start from Olsen Field at Blue Bell Park. Bryce Miller (1-0, 4.15 ERA) starts for the Texas Aggies.
Never miss the latest news from TexAgs!
Join our free email list