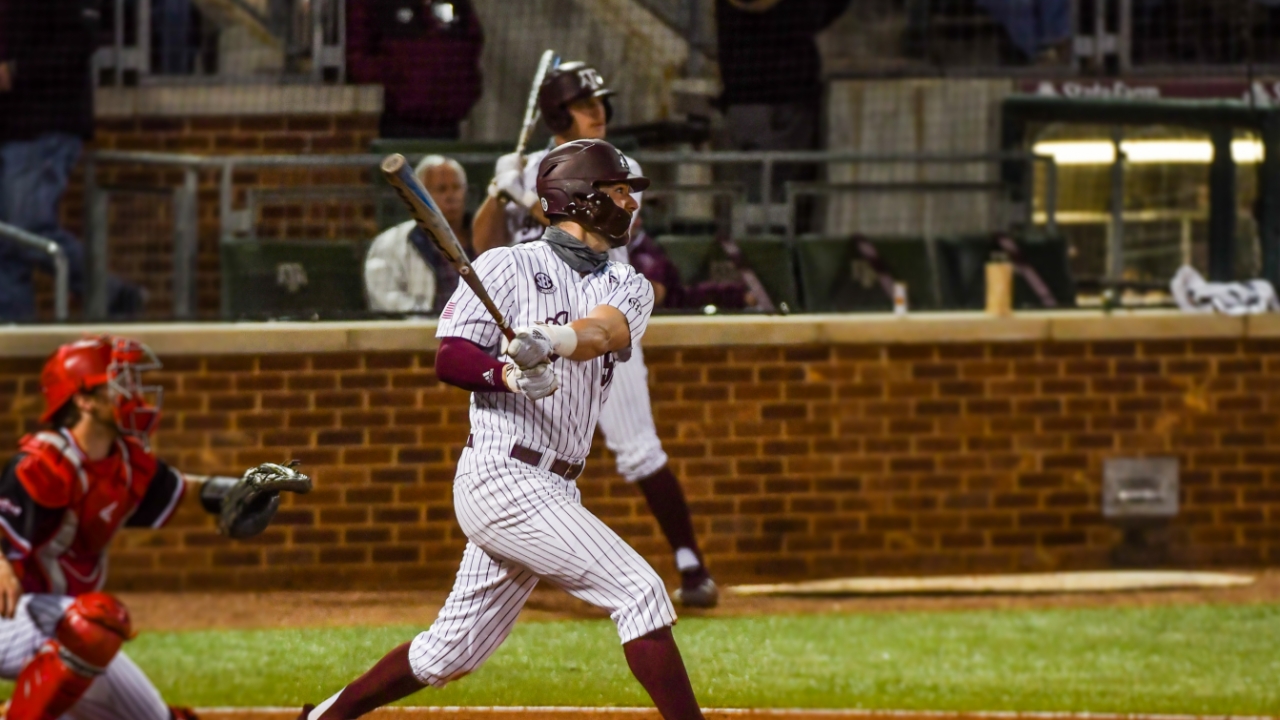 Rob Childress
Ray Alejo
Joseph Menefee
Will Frizzell
Texas A&M Baseball
Texas A&M comes back to defeat Incarnate Word, 6-4, in midweek matchup
---
Game #10: Texas A&M 6, Incarnate Word 4
Records: Texas A&M (6-4), Incarante Word (3-1)
WP: Joseph Menefee (2-1)
LP: Steve Haywood (0-1)
Box score
---
Don't be fooled. There was nothing magical in this late-inning victory.
Texas A&M escaped a close call with Incarnate Word on Wednesday night, 6-4. Strong pitching overcame squandered offensive opportunities as the Aggies were pushed to the brink, flirting with yet another non-conference loss.
"We're certainly being tested, but I'm glad we were able to overcome that tonight," said Texas A&M head coach Rob Childress.
Tied 4-4 in the eighth, Brett Minnich led off the frame with a single, but he was quickly erased as Will Frizzell grounded into a 1-6-3 double play.
"We need to be better offensively. We're much more capable offensively than we've shown through the first ten games."
UIW's Steve Hayward then issued three consecutive two-out walks to load the bases before the Cardinals made a pitching change. Ray Alejo cashed on a 3-2 pitch, roping a two-run single to left off the new arm, giving the Aggies the lead.
"I was just looking for something I could put a barrel on," Alejo said.
Incarnate Word hurlers issued 12 walks on the evening and allowed nine hits. Texas A&M left 14 men on base, including at least one in every inning except for the fourth.
"The balls just weren't falling, and we just had to keep going," Alejo said. "Baseball pays you back for some of the things you don't get rewarded for sometimes."
After his offense spotted him a run in the bottom of the first, A&M starter Chris Weber seemingly lost his command in the second, walking the first two Cardinal batters of the inning. Three hits in the inning plated four runs as the visitors took a 4-1 edge.
"The slider was way too big; he was having trouble landing that," Childress said of Weber's early struggles. "He tightened that thing back up, and that's what got him going."
Weber settled down and grinded through three more innings before handing things over to the bullpen.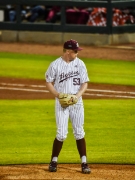 Travis Whitesell, TexAgs
"For (Weber) to get it back together and get us through five, it is awful hard to do," Childress said.
Texas A&M's bullpen was perfect. Alex Magers retired all six batters he faced in order. Joseph Menefee did the same, striking out all six hitters. In total, A&M arms punched out 15 Cardinals on the night.
"The slider was really good," Menefee said. "I was laying it in for strikes early in the count."
Once again, it wasn't pretty, but the Aggies came away with the victory, improving to 6-4 on the season.
"Are we happy with where we are right now? Certainly not," Childress said. "We need to play better. We need to be better offensively. We're much more capable offensively than we've shown through the first ten games."
Their next chance to get better comes on Friday as the Aggies begin a three-game series with New Mexico State at Olsen Field at Blue Bell Park.
Never miss the latest news from TexAgs!
Join our free email list