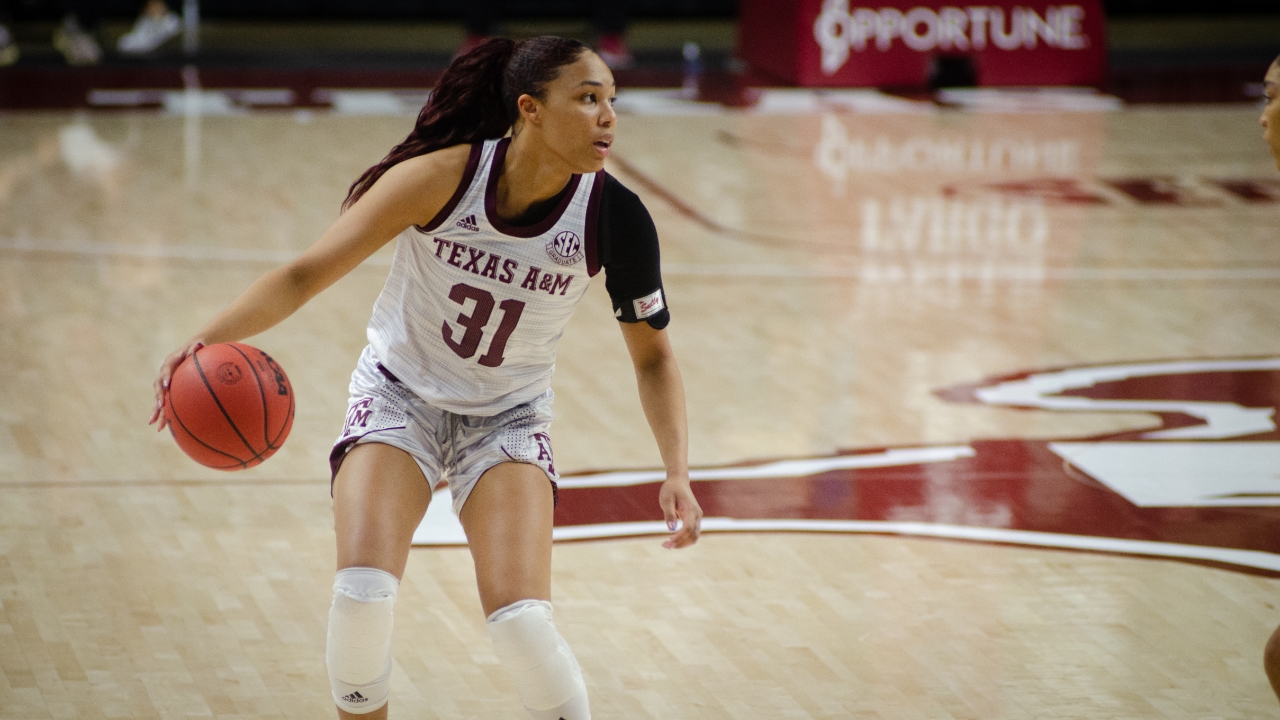 Photo by Lia Musgrave, TexAgs
Texas A&M Women's Basketball
Pass it Back: Aggies up to No. 2 as N'dea Jones earns SEC POTW honors
---
Years that end in "-1", am I right?
A day after clinching their first SEC regular-season championship, the good news kept coming for Texas A&M women's basketball (22-1, 13-1).
In the latest AP poll that was released at noon, the Aggies moved up to No. 2. In addition to the high ranking, senior forward N'dea Jones has been named the SEC's Player of the Week.
After defeating No. 5 South Carolina in the regular-season finale on Sunday afternoon, Gary Blair's Aggies jumped from No. 3 to No. 2, earning the program's highest in-season ranking in history. Texas A&M sits behind only powerhouse UConn, and the Maroon & White received two first-place votes in the Associated Press' latest rankings installment.
On Monday morning, the Southeastern Conference announced that N'dea Jones had been selected as the league's top player over the last week. This is the second time this season that Jones has held such an honor, earning the co-SEC POTW award for the week of Nov. 25.
In Sunday's championship-clinching victory, Jones scored 16 points to go along with 14 rebounds for her 14th double-double of the season and 40th of her career — a record Jones broke earlier this year.
Speaking of records, with her seventh rebound vs. the Gamecocks, Jones moved into the top spot on Texas A&M's all-time rebounding leaderboard, surpassing Anriel Howard's mark of 1,002. Jones has amassed 1,010 board in her illustrious career, which is not over just yet.
By defeating South Carolina, the Aggies have wrapped up the #1 seed in the Southeastern Conference Tournament and have likely cemented their spot as a #1 seed in the big dance as well.
Texas A&M's first SEC tournament game will be Friday against either tournament 8-seed LSU - who handed the Aggies their only loss this season - or 9-seed Mississippi State. Tip-off is scheduled for 10 a.m. CT and will air on the SEC Network.
Until the Ags hit the court in Greenville, South Carolina, let's enjoy that championship feeling once again...
Never miss the latest news from TexAgs!
Join our free email list