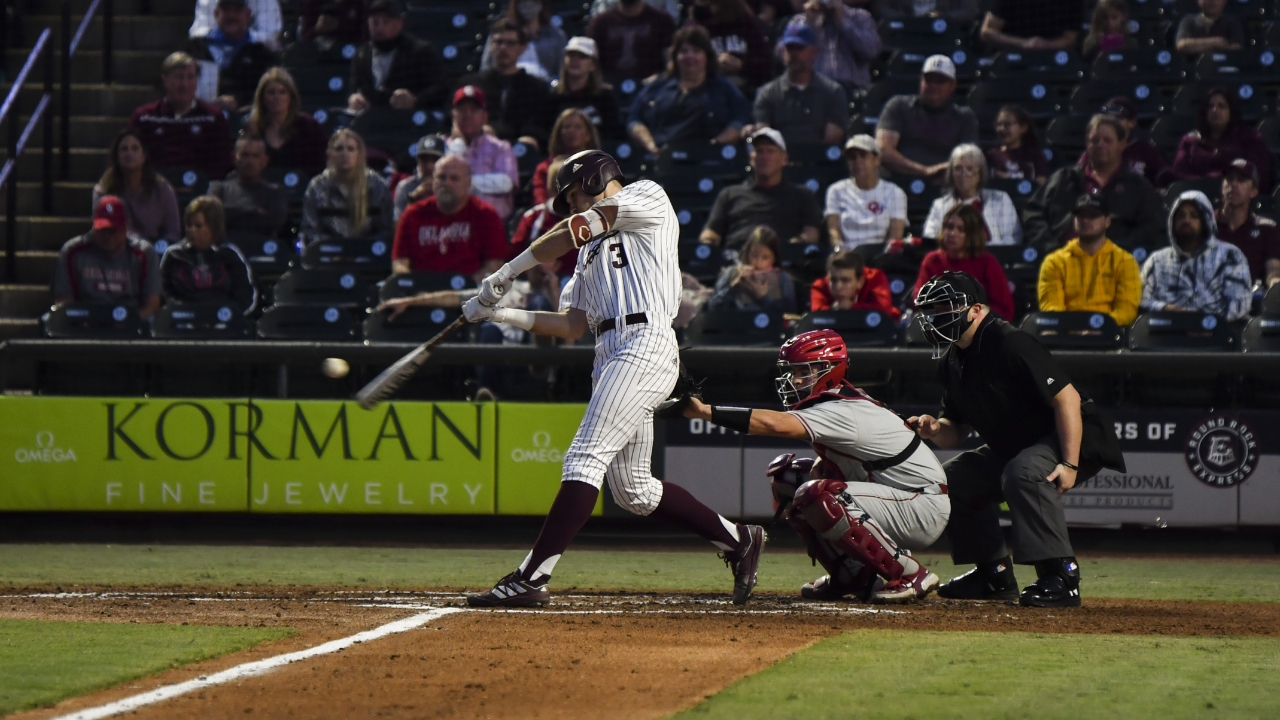 Rob Childress
Logan Britt
Zane Schmidt
Bryce Miller
Texas A&M Baseball
Aggies ride seven-run first inning to 8-1 win over Oklahoma
---
Game #7: Texas A&M 12, Baylor 4
Records: Texas A&M (4-3), Oklahoma (3-3)
WP: Bryce Miller (1-0)
LP: Dalton Fowler (1-1)
Box score
---
Over as soon as it started.
Texas A&M posted a seven-spot in the bottom of the first inning, allowing the Aggies to coast to an 8-1 victory over Oklahoma in the Round Rock Classic on Saturday night. Bryce Miller earned his first career victory as a starting pitcher, pushing the Maroon & White to 4-3 on the year.
"It feels outstanding and gives you some breathing room right out of the gate," said Texas A&M head coach Rob Childress of his team's huge inning.
Oklahoma's Dustin Fowler got off to a dreadful start, throwing eight consecutive pitches outside the zone. The two walks and a hit batter loaded the bases for Bryan Sturges, who broke the seal with a sacrifice fly to right field.
"We didn't come here to win two...We came here to sweep, so that's what we're going to do."
A&M followed with two RBI singles before Logan Britt cleared the bases with a three-run bomb to dead center, giving the Aggies a 6-0 advantage with just one out.
"It was a lot of electricity," Britt said of the rally. "Getting it down the line and getting it to the next guy allowed us to get seven on OU, a pretty good team."
The Aggies tacked on one more run in the first, sending 12 men to the plate in the inning. Having a sizable lead allowed Miller to work with less pressure on the mound.
"Any time you jump out and get runs and get on their starting pitcher, it definitely helps," Miller said. "You know you got to get out there and pound the zone. You don't got to nibble."
In the fourth, Zane Schmidt ripped a triple to left-center, scoring Austin Bost to give A&M an 8-0 lead. It was the Aggies' last run of the night.
"We put together a lot of good at-bats throughout the game, and I think that kept the momentum on our side," Schmidt said.
With his pitch count at 98, Miller departed after five scoreless innings. The Aggie starter struck out five Sooners and allowed only one hit.
"It felt good to finally see it coming together," Miller said.
Despite getting the win, Miller said he was unhappy with his command, allowing three walks and plunking a pair.
"He was a little bit more consistent tonight," Childress said of his starting pitcher. "We've seen him better. I know he expects better of himself."
Still, Miller gave the Aggies enough length to get it done before Alex Magers took over in the sixth.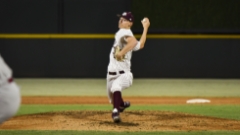 Jamie Maury, TexAgs
"Bryce was very good tonight," Childress said. "You can't ask for much more than that except maybe one more inning."
Oklahoma scratched across their only run in the sixth off Magers, who went 2.1 innings before giving way to Joseph Menefee for the final five outs.
Texas A&M is now 2-0 in the Round Rock Classic, but they insist their weekend is not done just because they've secured the tournament championship.
"We didn't come here to win two; we didn't come here to win one," Britt said. "We came here to sweep, so that's what we're going to do."
The Aggies wrap up their stay at Dell Diamond on Sunday with No. 21 Auburn, who is winless in Round Rock. First pitch is scheduled for 11 a.m. CT.
Never miss the latest news from TexAgs!
Join our free email list