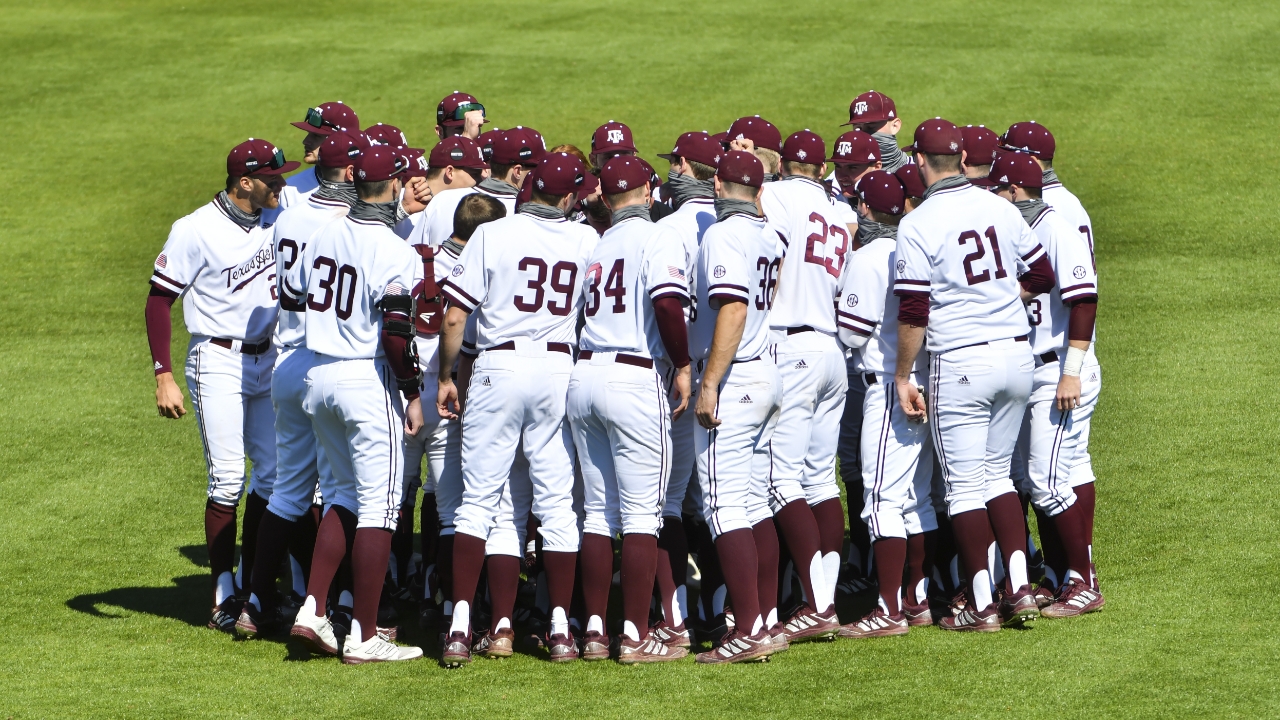 Photo by Jamie Maury, TexAgs
Texas A&M Baseball
Diamond Notes: Aggie baseball opens 2021 with series loss to Xavier
---
It feels good to finally get a chance to dust off this weekly in-season feature for the first time in about 11 months. We're changing up the format just a little bit to make it even easier to read and hopefully more enjoyable for seamheads that love the game as much as I do.
Each week, we'll look back on the week that was with a spin-off of the old "Good, Bad and Ugly" categorical commentary. We'll do four categories: Good, Average, Bad and Excellent.
That's right: the "G.A.B.E."
Here is this week's G.A.B.E. coming off of a disappointing season-opening series loss to Xavier this weekend at Olsen Field at Blue Bell Park:
Good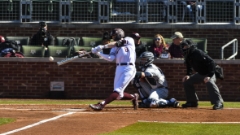 Jamie Maury, TexAgs
Logan Sartori in the leadoff spot. The fourth-year junior started at second base and hit in the two-hole in both games of the doubleheader. Sartori got on base five times in Saturday's pair. After Logan Britt struggled in the lead-off spot in both games, Sartori got the opportunity to move up on Sunday and did not disappoint. He went 1-for-2 and on base three times. More than anything, Sartori looked quite comfortable in that role. Sartori seems like the right fit for a team that doesn't have a prototypical leadoff spot (what is that anyway in today's baseball?). I expect him to remain in the one-hole moving forward in the early portion of the season.
Veteran bats stepping up on Sunday. Xavier's pitching went downhill in game three, but give credit to the Aggie bats for capitalizing on it to the tune of 15 runs on 15 hits, including six extra-base hits. Three of those XBHs left the yard and all three from veteran Aggies. After not getting a single at-bat on Saturday, senior Bryce Blaum made the most of his Sunday start, depositing the first pitch he saw over the wall in left field. Fellow A&M vets Will Frizzell and Hunter Coleman followed with dingers later in the game. It was great to see, and here's hoping Blaum and Coleman don't get lost in the shuffle in the Aggies' quest to find the right nine hitters that work best together as one lineup. I don't think their college story is finished being written.
Average
Infield defense. A&M made some good plays on the dirt, but it could have been much cleaner than what we saw in the first three games. The Aggies were charged with three infield errors in the series against Xavier, but there were at least as many misplays that were not ruled errors. However, I'm not panicking at all when it comes to A&M's infield D, as we saw flashes of elite defense from the freshman shortstop Kalae Harrison, and third baseman Trevor Werner started last season at short as a freshman and is solid at the hot corner. A healthy Will Frizzell can be a plus-defender at first base. Logan Sartori at second base has better range and a stronger arm than Blaum but had some throwing issues on Sunday that need ironing out.
Starting pitching. We saw some good things over the weekend, certainly. You don't go 18 innings allowing just two runs to close the series without something good going on on the bump. Still, this group needs to be much better than what it showed on the first weekend, especially when it comes to the free passes.
• RHP Bryce Miller was removed Friday after just 3.2 innings, allowing four runs on four hits while walking three. He hit 99 mph on the in-stadium radar gun seven times in his first 10 pitches and was clearly amped up early. Miller had difficulty sustaining it and made a few mistake pitches that got him in trouble. It appeared that he was still pitching with a closer's mindset and must learn how to sustain his success two and three times through a lineup and adjust to hitters so they can't time his fastball better and better as his start goes along.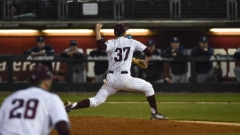 Jamie Maury, TexAgs
• LHP Dustin Saenz was pretty good and left me wanting to see more. The fourth-year junior punched out eight and walked three in 5.0 innings in game two, allowing a pair of runs on three hits. Still, you don't like to see those three walks in 5.0 innings. Trim that number down, and Saenz has a shot at staying in the weekend rotation long-term. The stuff is there, and he's added the maturity to go with it.
• LHP Jonathan Childress was the best of the starters to me and did an excellent job of mixing in his secondary pitches to go with a low-90s fastball. He punched out a team-high nine batters in just 4.2 innings, blanking the Musketeers on Sunday while allowing just three hits. The only knock on Childress's start is that he allowed a few at-bats to get away from him, walking four Xavier hitters, which elevated his pitch count and forced an exit before five-full innings of work. He left the game right at 100 pitches and flashed the "ace" potential he always had.
Bad
The offense overall on Saturday. The Aggies hit just .248 with eight XBH (only two in 18 innings on Saturday) in the series. A&M mustered just a single run in the last 16 innings of the doubleheader on Saturday. Way too much swing-and-miss against Xavier. A lot of slow bats and elevated strikeout rates during the doubleheader. It was much better on Sunday, but the Musketeers' pitching was far inferior in game three than that of the opening two ball games. All in all, 27 strikeouts in 27 innings against a Big East team certainly falls in the "bad" category. Taylor Smith entered the season as A&M's best pure power hitter and started in the DH spot and hit cleanup in game one but went 0-for-4 with four strikeouts in the game. He was 0-for-6 with six Ks in the series. Trevor Werner was 0-for-7 with three Ks. Logan Britt was 0-for-7 with three Ks. All three guys came into the season among A&M's five best hitters, and all three were on my list of the five best players on the roster. The Aggies desperately all three to bounce back.
Situational hitting (See "The Five Factors" section below). A&M managed to get the leadoff man on base exactly half the time (very strong rate) but hit a paltry .143 with two outs, netting just three two-out RBI in the series. The Aggies were just as bad with guys on base, hitting .233 with runners on and .200 with runners in scoring position. That won't get it done. Ever.
Excellent
Bullpen after game one. Second-year freshman Mason Ornelas was outstanding in relief of Saenz in Saturday's nightcap, allowing no runs on one hit over 4.0 innings of work, walking just one, and punching out six. He mixed up his pitches and used a lethal changeup and a well-commanded fastball to keep Xavier hitters off-balance. That led to a game three performance where the combination of Alex Magers, Will Johnston, Gabe Craig and Kobe Andrade combined to close out the shutout with 4.1 scoreless frames, allowing just two hits and one walk, striking out five. Magers, a right-handed side-winder, and tall, talented lefty Johnston will likely factor into the bullpen mix in a big way in '21. All-in-all, the Aggies did not allow a single run over the final 14 innings of work in the series and gave up just two runs in the final 19 frames.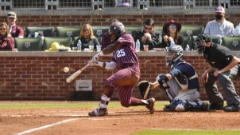 Jamie Maury, TexAgs
Newcomers Brett Minnich and Bryan Sturges. The duo each hit .429 with an OPS over 1.000 against Xavier. Two of Minnich's three hits were doubles. They walked a combined five times and struck out just once. Minnich looked very good against right-handed pitching and will get a chance to hit in the middle of the A&M lineup vs. righties in the early going. Sturges has a slump-free swing, mature approach and real plan at the plate. The fifth-year senior from UTSA began his career at TCU before transferring to Howard College in 2018, where he hit .403 with 19 homers and 32 steals. In his last full season, he hit .316 with 19 doubles, seven homers and 48 RBI with 40 walks in 2019 at UTSA. Sturges is a fifth-year guy that really knows how to hit, and I would like to see him get an extended look in the two-hole between Sartori and Frizzell.
Best thing that happened vs. Xavier
The Blaum Bomb
I can't imagine what it felt like for Bryce Blaum to watch A&M struggle to produce much of anything for 18 innings in two season-opening losses. But the veteran spark plug saw his name in the lineup on Sunday, and he made the most of it with a leadoff homer on the first pitch of the second inning. Blaum went 1-for-2 with two RBIs on the day, which could lead to continued playing time for him.
The Five Factors: Offense
Here's a look at what the Aggie bats did in five critical situational areas vs. the Musketeers...
Two-outs: .143 (4-for-28)
Runners on: .233 (14-for-60)
Runners in scoring position: .200 (9-for-45)
Leadoff OBP: .500 (13-for-26)
Two-out RBI: 1.0 PG (3 total)
The Five Factors: Pitching
Here's a look at what the Aggie pitching staff did in five critical situational areas vs. Xavier...
Two outs: .257 (9-for-35)
Runners on: .170 (9-for-53)
Runners in scoring position: .125 (4-for-32)
Leadoff OBP: .407 (11-for-27)
Two-out RBI: 2.0 PG (6 total)
Parting Shots
Was it a rough and disjointed weekend at Blue Bell? No doubt. Is it time to panic? I don't think so.
Some of you have concluded that this is a "here we go again" moment under Rob Childress and have already mailed it in for the season.
I hope that we'll look up, and A&M will have put together a great season. Obviously, this weekend was an indicator to the contrary playing out into the '21 season, but it's certainly not a guarantee of future results.
I am going to choose to watch the remaining 53 games play out in front of me and make judgments along the way but hopefully without getting too polar in my emotions as we maneuver the highs and lows of any baseball season together.
I hope that we'll look up, and A&M will have put together a great season. Obviously, this weekend was an indicator to the contrary playing out into the '21 season, but it's certainly not a guarantee of future results.
Don't panic, Aggies. This happens in baseball more than any other sport ... really good teams losing to vastly inferior opponents. Take this weekend for an immediate example:
No. 2 UCLA dropped two of three to San Francisco.
No. 12 LSU split with Air Force.
No. 14 West Virginia split a four-game series with Georgia State.
No. 22 Arizona lost two games to Ball State.
Virginia, Wake Forest and Florida State dropped games to directional schools.
So yes, the series loss to the Musketeers is concerning, but it's not time to throw in the towel.
Five game week coming up, and the competition really heats up this weekend in the Round Rock Classic.
The Aggies will see double mid-week action as A&M hosts Abilene Christian on Tuesday night and Tarleton State on Wednesday. I fully expect lefties Chris Weber and Will Johnston to start those games, in that order, but I suspect Wednesday might still be up in the air as Childress looks to get a lot of arms into the next two games to see what he has heading into a big non-conference weekend.
This weekend, Texas A&M will travel to the Austin area for the Round Rock Classic.
Friday: Baylor at 6:00 p.m.
Saturday: Oklahoma at 6 p.m.
Sunday: No. 23 Auburn at 11 a.m. (Non-conference - A&M travels to Auburn May 14-16 for a three-game SEC series)
Auburn is the only team in the field currently ranked by D1Baseball.com, but the elevated competition will certainly give us a better feel for what this team has moving forward in the early part of the season.
TexAgs will have full in-game and postgame coverage of the Round Rock Classic so keep it locked to TexAgs.com throughout the weekend.
Never miss the latest news from TexAgs!
Join our free email list
PRESENTED BY