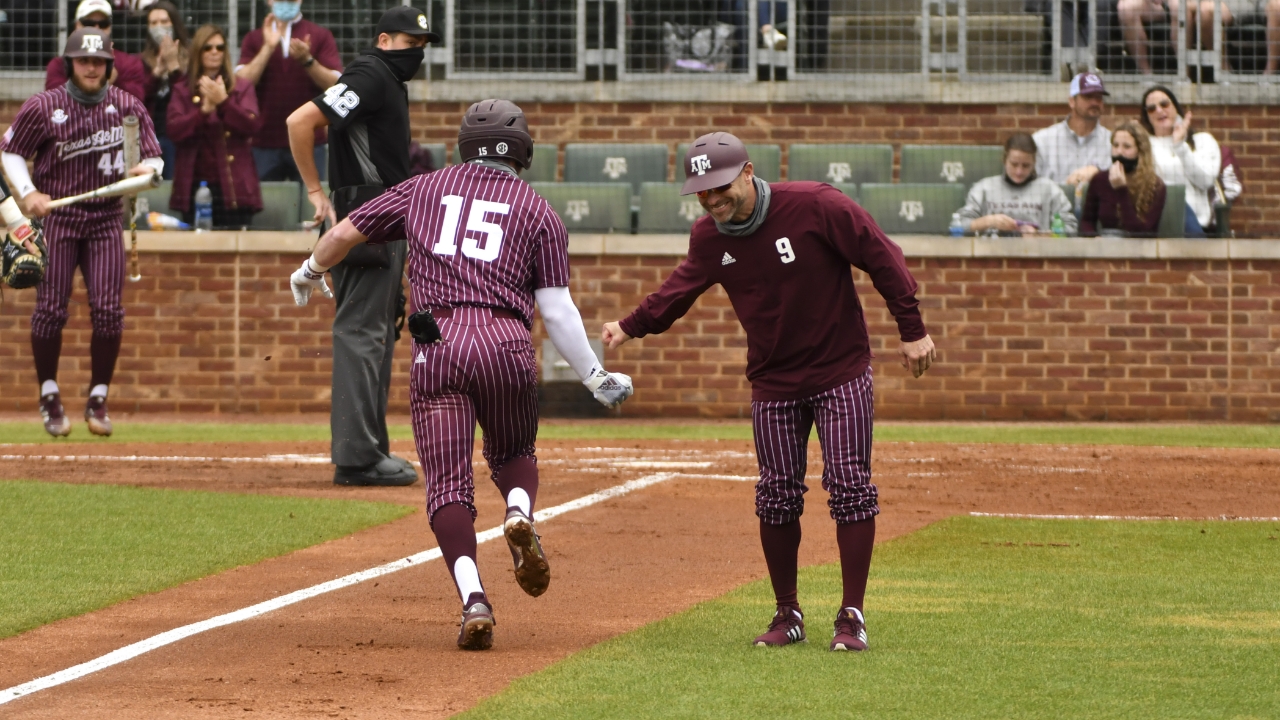 Rob Childress
Jonathan Childress
Bryce Blaum
Bryan Sturges
Texas A&M Baseball
Offense comes up big as the Aggies salvage series finale with Xavier, 15-0
---
Game #3: Texas A&M 15, Xavier 0
Records: Texas A&M (1-2), Xavier (2-1)
WP: Alex Magers (1-0)
LP: Griffin Lanoue (1-0)
Box score
---
Better, to say the least.
After dropping two games on Saturday, Texas A&M baseball responded with an emphatic 15-0 victory over Xavier on Sunday at Olsen Field. The Aggies scored 15 runs on 15 hits to salvage the finale.
"To be able to respond the way we did with such an exclamation point says a lot about the character of our group," said Texas A&M head coach Rob Childress.
After Saturday's debacle, Rob Childress and his staff got 16 position players and five pitchers into Sunday's action as the Aggies continue to search for their best lineup.
"To be able to empty the bench together, it's a feel-good day for the locker room. Guys are leaving here feeling like they contributed and they're a part of things. It's good."
"To be able to empty the bench together, it's a feel-good day for the locker room," Rob Childress said. "Guys are leaving here feeling like they contributed and they're a part of things. It's good."
Only left fielder Bryan Sturges (3-for-5 with an RBI) and catcher Mikey Hoehner (2-for-4 with three RBIs on two doubles) played the entire game.
"I saw a lot of good pitches and saw the ball well," said Sturges. "We moved the ball and was able to get the offense rolling, and that's all I'm about is getting the team going and touching home plate."
The Aggies started hot, scoring a run in the first inning and adding three more in the second. A&M scored in every single inning except for the fourth and ultimately blew the game open with a seven-run seventh.
"There was never a doubt today," said third baseman Bryce Blaum. "I think it was a statement that we're a lot better than a lot of people made us out to be as of last night."
Making his first start of the year, Blaum led off the second with a solo shot to left, the first of three Texas A&M home runs in the game.
"It was a great feeling," Blaum said. "It was more important that it got the offense going."
Will Frizzell launched a solo homer to right-center to begin the sixth, and Hunter Coleman added the 15th and final run of the day with a solo job of his own in the eighth.
Despite scoring 15 times, the Aggies stranded 12 runners in the game. Rob Childress believes that could actually be a positive sign for his offense.
"When you have that many opportunities to drive in runners and you score 15 and leave 12 more out there, that means you've got a lot of traffic in a lot of innings," said Childress. "I couldn't be more proud of our offense today."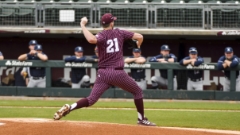 Jamie Maury, TexAgs
Starting pitcher Jonathan Childress shined, tossing 4.2 innings of scoreless ball while punching out nine Musketeers. Now over a year removed from Tommy John surgery, the lefty reached the century mark in pitches for the first time since his injury.
"When I was healthy my freshman year, we were still building up, and I was getting cut off at 70 pitches," Jonathan Childress said. "Throwing 100 pitches was great and really good for my mental state because I know I can still do it."
In total, Aggie arms struck out 14 batters and held Xavier to just five hits, two of which came in the last three innings of the affair. Alex Magers earned the win, going 1.1 innings, striking out two.
"You always want to get the win, but the biggest thing is the team's getting the win," Jonathan Childress said. "If going to Alex Magers was the best option, then I think that's what we should go with."
While it wasn't the weekend they envisioned, the lopsided win on Sunday provides the Maroon & White with much-needed momentum heading into their first midweek games this week.
"Yesterday was an eye-opener for us that we can't take any games off," said Blaum. "We just have to play our best baseball, and we believe our best baseball can compete with anybody in the country."
The Aggies return to Olsen Field at Blue Bell Park on Tuesday night as they host Abilene Christian. First-pitch is scheduled for 6:30 p.m. CT, and left-hander Chris Weber will make his first start of the season for A&M.
Never miss the latest news from TexAgs!
Join our free email list