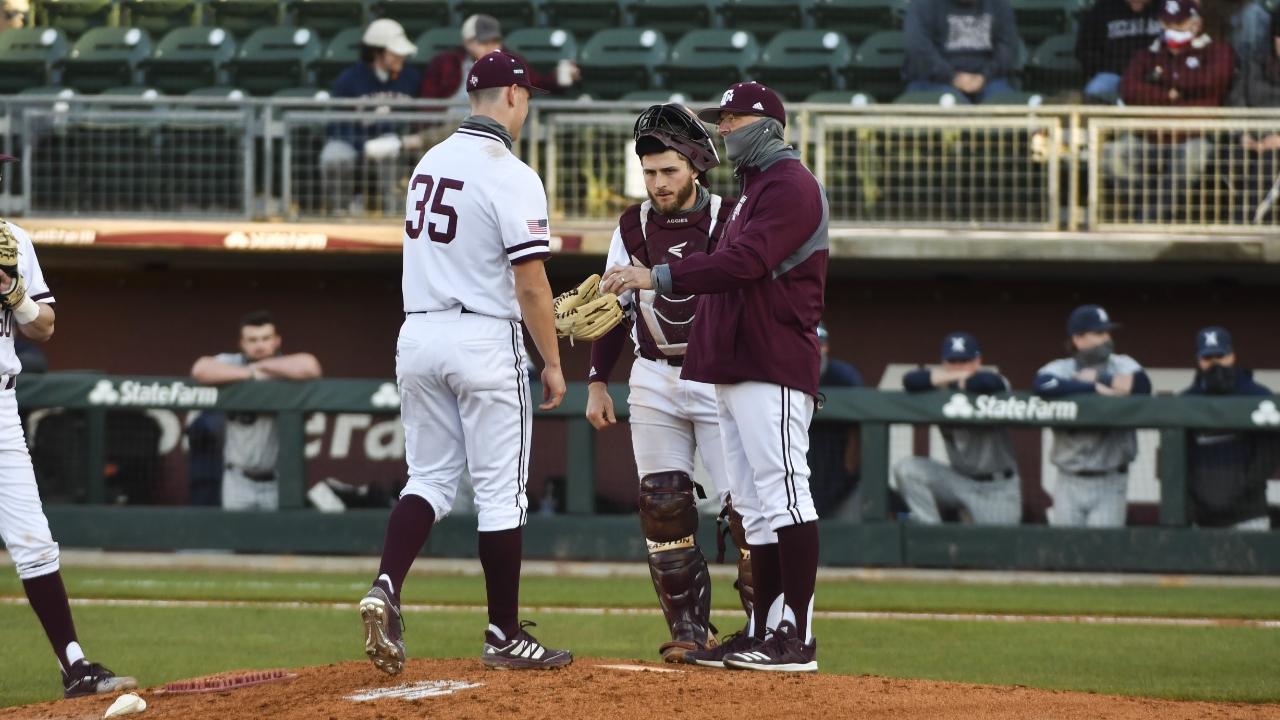 Rob Childress
Mason Ornelas
Ray Alejo
Texas A&M Baseball
Xavier takes two in doubleheader as A&M starts 0-2 for first time since 1996
---
Game #1: Xavier 10, Texas A&M 6
Records: Texas A&M (0-1), Xavier (1-0)
WP: Xander Rojahn (1-0)
LP: Chandler Jozwiak (0-1)
Save: Trey Schramm (1)
Game #2: Xavier 2, Texas A&M 0
Records: Texas A&M (0-2), Xavier (2-0)
WP: Nick Zwack (1-0)
LP: Dustin Saenz (0-1)
Save: Jonathan Kelly (1)
---
A long layoff ended with what seemed like an even longer Opening Day for Texas A&M.
In a double-header to begin their season, the Aggies dropped both to Xavier, falling 10-6 in a four-hour opener before being shutout in the nightcap, 2-0. For the first time since 1996, Texas A&M has opened a season 0-2.
"For us, it's about finding the nine that play the best together, and we're going to do that. The sun's going to come up tomorrow, and we have an opportunity to respond at high noon."
"It's an awful tough day," said head coach Rob Childress.
After scoring five runs in the first two innings of the new campaign, A&M mustered only one run over their final 16 chances on Saturday. In the second game, the Aggies' sputtering offense accumulated just three hits en route to a goose egg in the run column.
Xavier's Nick Zwack kept Aggie hitters off-balance throughout the first five innings of the second game, striking out eight before departing without allowing a hit.
In the first game, the Aggies jumped out to an early 5-1 lead after two innings, but Bryce Miller struggled in the third, coughing up three runs and letting Xavier hang around. Miller gave up four runs in 3.2 innings while striking out seven in his first collegiate start.
"He'll have the opportunity to start next weekend," Childress said of Miller. "He has been too good the last eight months not to get that opportunity, I can assure you of that.
"Once they grabbed the momentum, we were 0-for our last 10 with runners in scoring position in that first game," said Childress.
Trailing 5-4 in the fifth, Xavier tied the game on an Alex Helmin bases-loaded single. Jared Cushing then grounded into a double-play, but Jonathan Kelly came home to give the visitors the lead. The Musketeers would not look back.
"We couldn't get off the field in game one," Childress said. "We gave up six runs with two outs, and that just sucks the momentum out of your dugout."
In the sixth, Luke Franzoni launched a 2-0 pitch from Chandler Jozwiak, hitting the Rec Center on the fly for a solo homer, giving Xavier a 7-5 lead. Franzoni added a wall-scrapping two-run home run in the eighth, providing the Musketeers with a 9-6 edge. A throwing error later in the inning gave Xavier another run.
"Xavier's bullpen flat out-pitched our bullpen to the tune of 6-1," Childress said. "That was the true difference in the game."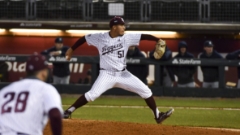 Jamie Maury, TexAgs
A&M was forced to use six different arms in the first game but only needed two in the second, thanks to Dustin Saenz and Mason Ornelas's masterful performances.
A single mistake bit Saenz in the fourth as Kelly hit a two-out, two-run homer. Saenz finished his five innings of work with two runs, three hits and eight strikeouts. Ornelas tossed four scoreless frames and struck out six while along just one hit.
"This whole pitching staff can say we trust our offense," Ornelas said. "There's nothing to be down about. We'll be back tomorrow, and this offense is going to turn it around tomorrow."
Offensively, the Aggies stranded 12 runners and were 3-for-17 (.176) with runners in scoring position in game one, and only Logan Sartori and Brett Minnich recorded multi-hit outings. A&M hit safely just four times in the second game, including a Ray Alejo single in the seventh.
"As an offense, I think we learned a lot about ourselves," Alejo said. "There's no excuses there. We just got to go out there and attack more tomorrow."
The Aggies are confident they'll be able to bounce back as the coaching staff continues to tinker with finding the right lineup.
"For us, it's about finding the nine that play the best together, and we're going to do that," Childress said. "The sun's going to come up tomorrow, and we have an opportunity to respond at high noon."
Texas A&M and Xavier will conclude the three-game series on Sunday when first-pitch is scheduled for 12 p.m. Jonathan Childress will start on the mound for the Aggies.
Never miss the latest news from TexAgs!
Join our free email list