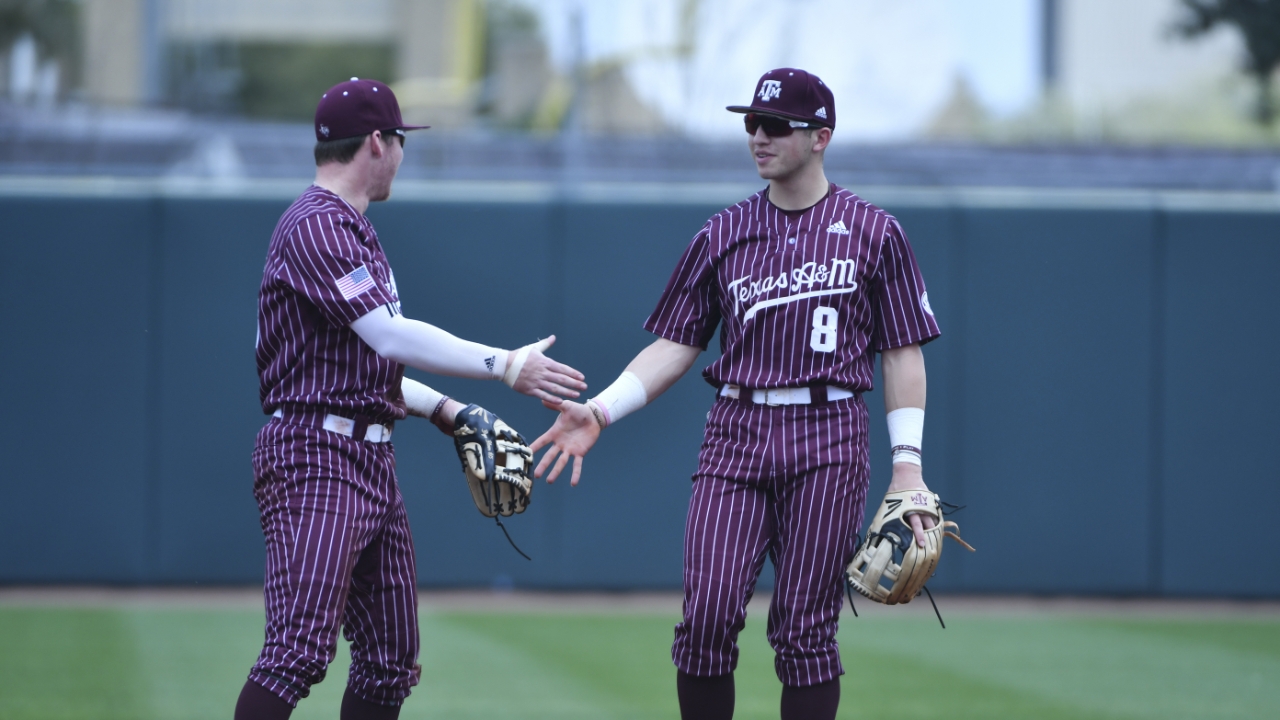 Photo by Tarah Cochran, TexAgs
Texas A&M Baseball
Series Preview: Texas A&M vs. Xavier
---
Also included above is Diamond Talk with Gabe Bock, Ryan Brauninger and Scott Clendenin from Friday's edition of TexAgs Radio.
Who: Xavier (0-0, 0-0 Big East)
Where: Olsen Field at Blue Bell Park – Bryan-College Station, Texas
When:
Saturday 2:00 p.m. CT (SEC Network+)
Saturday 5:00 p.m. CT (SEC Network+) OR 30 minutes after the conclusion of Game 1
Sunday 12:00 p.m. CT (SEC Network+)
Pitching matchups
* 2020 stats
Friday: Bryce Miller (RHP, 1-2, 3.27) vs. Lane Flamm (RHP, 0-3, 5.73)
Saturday: Dustin Saenz (LHP, 2-1, 4.60) vs. Nick Zwack (LHP, 2-2, 2.31)
Sunday: Jonathan Childress (LHP, 2-0, 1.84) vs. Griffin Lanoue (RHP, 0-2, 7.15)
Scouting Xavier
Let's get this out of the way: Any preview on Opening Weekend of the 2021 college baseball season coming off an 11-month layoff in a pandemic-shortened 2020 season is worth the paper (in this case: digital bandwidth) it's written on. Throw in a prolonged winter storm that kept both teams off the outdoor practice fields this week, and what I can say with certainty is this: Expect the unexpected.
Still, here are some aspects of this Xavier team to give you a preview of what to watch for this weekend.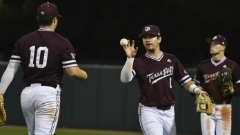 Tarah Cochran, TexAgs
Let's continue with some housecleaning items before we look at the baseball match-ups. Xavier has two official mascots. You may know Xavier as the Musketeers, and specifically D'Artagnan. Aside from this swashbuckler, there's also the Blue Blob, a blue furry creature with a friendly smile. As the story goes, some administrators were concerned that the Musketeer was scaring little children at sporting events, so they wanted to add a more jovial, child-friendly ambassador at games.
So yeah, the best this Jesuit university of 7,000 students could come up with is a fat, furry, blue blob with no real meaning or attachment to the university. So they have that going for them.
The Big East media picked Xavier to finish fifth in the conference after going 5-10 in 2020 and 27-31 in 2019.
First, when looking at Xavier's abbreviated 2020 stats, take into account their brutal schedule that was the No. 2 strength of schedule in the country when play halted. Being in the weak Big East, Xavier must load up the non-conference schedule with quality opponents, and they did just that in 2020.
The Musketeers played No. 11 Ole Miss, No. 3 Louisville, No. 17 Long Beach St., College of Charleston and USC — all on the road. In fact, all 15 games played in 2020 were on the road. If you think we had it bad with no Aggie baseball for 11 months, Xavier fans haven't been to a home game since May 5, 2019. The Musketeers have played 25 straight games away from home, and they are scheduled to play their first 16 games on the road in 2021. That's 41 straight road games and almost two years since Xavier has played in front of the home fans. Yikes!
If you are looking at 2020 stats to get some feel for how well the Musketeers pitch and hit, those numbers are skewed.
On the mound, Xavier will throw three veterans at the Aggies, led by 2020 preseason All-Big East right-hander Lane Flamm. The junior went 0-3 with a 5.73 ERA as in 2020, but he was 3-2 and had a 2.68 ERA as a freshman in 2018. He'll be a tough match-up for A&M's Bryce Miller. The Game 2 starter, Nick Zwack, was one of the lone Musketeers to pitch well against the stiff competition with a sparkling 2.31 ERA and a salty 23/10 innings-pitched-to-hits ratio. He made the 2021 preseason All-Big East team. The lefty could cause some problems for the Aggies at the plate. Griffin Lanoue is scheduled to throw in Game 3, and his 2020 stats were very forgettable at 0-2 coupled with a 7.15 ERA and opponents hitting .347 against him.
At the plate, the Blue Blobs were abysmal last season, hitting .191 as a team, albeit against elite competition. Still, the team's leading batter, Luke Franzoni, hit just .241. He did show some power with three home runs and a team-leading 12 RBI, but Franzoni also struck out in 45 percent of his plate appearances. Again, we really don't know if their hitters have turned the corner over the past 11 months or if they brought in some promising newcomers. But on paper, Xavier doesn't appear to have much horsepower at the plate.
Their .965 fielding percentage is about average for a college baseball squad. Typically, high-level Power 5 coaches would like to see that average in the .975-.980 range.
In recent weeks, the winter has been brutal in the upper midwest as well, so the Musketeers have faced some of the same challenges of practicing indoors with limited outdoor work that hit the Aggies. Still, A&M has the advantage of practicing outside for two weeks prior to the winter storm while Xavier was not.
Texas A&M storylines to watch
I'm not going to spend a lot of time discussing the Aggies heading into this first weekend. If you are reading this preview, I'm assuming you've been following the extensive preseason coverage the TexAgs staff has put out, so I'll be repeating what you have already heard from Gabe, Brauny, Richard and me.
Ideally, you want to see all aspects of the team get off to a fast start. That may be too much to ask given the past year's circumstances and what has happened weather-wise this week. Most of these players live in apartments, and they've been subject to the power outages, harsh cold and overall disruption the weather has caused. Baseball players are creatures of habit, and they like a consistent daily routine. This past week was the complete opposite of routine.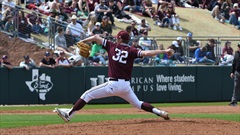 Bradley Countie, TexAgs
Specifically, we've heard a lot about Bryce Miller adding a couple of new pitches to his arsenal that allowed him to successfully slide into a Friday night starter's role. Naturally, his ability to throw all four (or five) of his pitches with command will be a big storyline. He has the velocity, and he has nasty stuff. He needs to show 'pitchability' and manage his outings, something he wasn't asked to do as much coming out of the bullpen.
Dustin Saenz has been a middle reliever for most of his three-year career at Texas A&M. Does he have the fortitude to take that next step to weekend starter?
Jonathan Childress was one of the highest-rated prospects on this roster coming out of high school, and he showed it as a true freshman making weekend starts. However, he suffered a major arm injury in 2019, and Childress still needs to answer the bell after the short 2020 season, although he did look good in limited action.
Moo Menefee was also a highly-touted pitcher in the same class as Childress. He proved it, earning SEC All-Freshman honors in 2019. However, his 2020 season was as bad as our 2020. He struggled. Can he regain that old form?
There has also been a lot of buzz coming from the program about true freshman Nathan Dettmer from San Antonio. He should get the ball at some point this weekend, and it will be interesting to see how he performs in his first collegiate action in front of the Aggie faithful.
At the plate, there are so many veterans coming back. There are too many to mention here, but overall, the team needs to show more firepower and more confidence at the plate than in recent years.
I'm particularly interested in seeing transfer Taylor Smith, the top JUCO catcher in the nation last season. The buzz has been substantial this spring, and the staff is projecting him as a run producer in the middle of the batting order. If he is as good as advertised, this will solve what I feel has been A&M's biggest shortcoming in recent years — the lack of a truly dangerous power bat in the 3-4-5 holes.
Along those same lines, Will Frizzell has dropped some weight and is back to 100 percent healthy after significant knee problems in 2019. If he can add to a 1-2 punch in the middle of the lineup, then the 2021 offense could be a much bigger factor than in recent seasons.
There will be a lot of competition for starting jobs at second base, third base and left field among guys like Bryce Blaum, Logan Sartori, Trevor Werner, Zane Schmidt, Austin Bost and others. That competition starts on Saturday.
What's at stake this weekend
With only four weekends before the start of SEC play against top-ranked Florida, players will have to produce immediately to get Rob Childress and the staff's attention.
College baseball doesn't give players time to ease into the season. If this team wants to prove the pollsters and national media wrong, they need to come out hot and aggressive. Xavier provides some challenges, but the Aggies should handle business. Aside from the specific match-ups with the Muskies, these Aggies need to make a statement of some kind to indicate this season will be different from the previous 2-3 years.
I'm not saying that statement has to be a lopsided three-game sweep, winning each game by double-digit runs. I see this weekend's opponent being the Aggies themselves. They have to prove this 2021 team is different. That means a statement of some kind should be made this weekend. A player or players have to break out and show they will lead this team by performance and production. Who will that be? What's at stake is more than wins on paper against the Musketeers.
Never miss the latest news from TexAgs!
Join our free email list