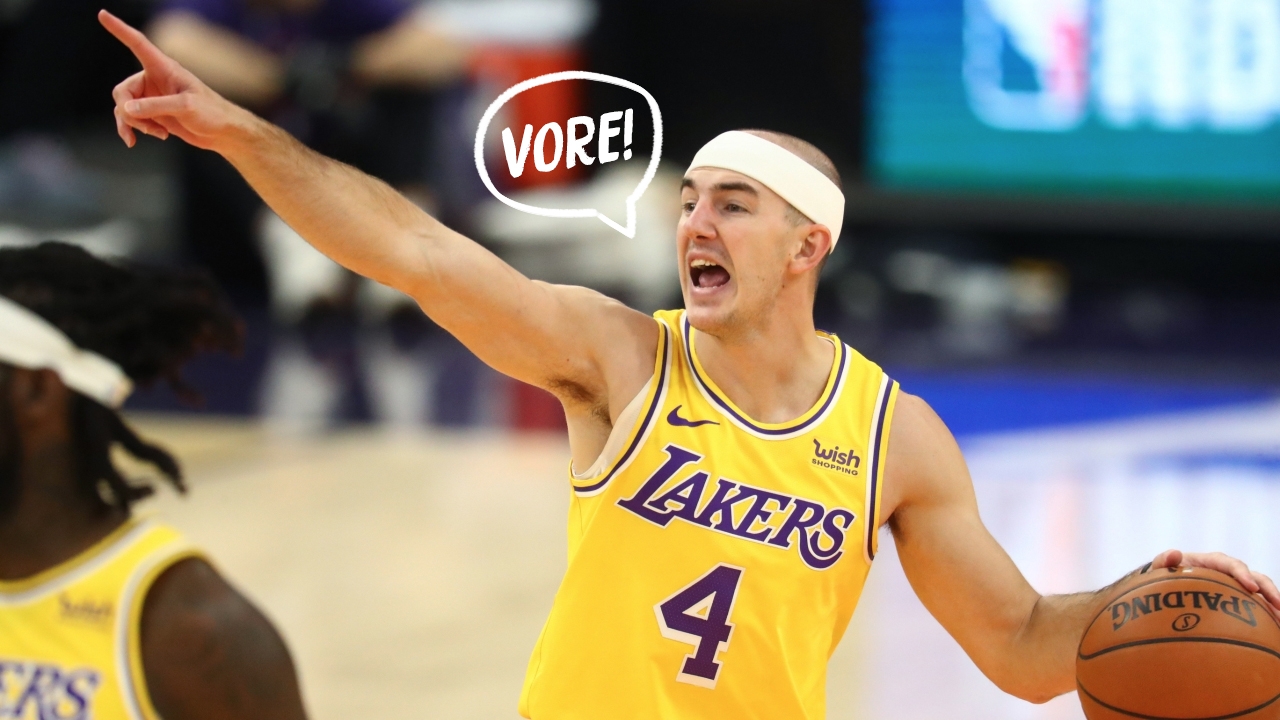 Photo by Mark J. Rebilas-USA TODAY Sports
Texas A&M Basketball
Vote for Alex Caruso: Help get ACFresh to the 2021 NBA All-Star Game
---
Ball boy. Aggie hoops legend. Cult hero. NBA Champion.
Alex Caruso has held many titles over his basketball career but "NBA All-Star" not been one of them.
Yet.
On Thursday afternoon, the National Basketball Association released its second fan vote returns for the 2021 All-Star game. In tenth place among Western Conference guards sits Alex Caruso with 214,997 votes.
Only ten players (two frontcourt players and three guards from both conferences) will be elected through fan voting, and those players will be designated as starters for the March 7 exhibition contest. The reserves will then be selected by NBA head coaches as well as commissioner Adam Silver.
You know what you must do, Ags: vote VORE for Alex!
Through 19 appearances this season, Caruso has averaged 5.5 points, 2.4 rebounds, and 2.1 assists per game. He has shot 45.9 percent from the field and 47.6 percent from three.
His numbers might be modest, but you know what can't be given a numerical value? Heart.
This isn't just "scrub love," as some might say. As most Aggies know, Caruso is actually an incredibly talented hooper. Remember last year when he dunked all over EVERYBODY?
ACFresh can also shoot it. Just last Saturday, he hit a key 3-pointer in overtime vs. Detroit. Without that bucket, the Lakers would have likely suffered an embarrassing loss to the lowly Pistons.
The goal is simple Ags: Get Alex Caruso to the 2021 NBA All-Star Game in Atlanta.
You can vote online on NBA.com once per day, and if you're feeling like a Good Ag while voting, I'm sure Khris Middleton, Deandre Jordon, Robert Williams, and Danuel House would appreciate some love, too.
Fans can also vote via Twitter once a day by tweeting "#AlexCaruso #NBAAllStar."
Fan voting is open until Tuesday, Feb. 16, at 11 p.m. CT. Starters will be announced on Feb. 18, and the reserves will be announced on Feb. 23. There is still plenty of time to cast votes for the CaruShow!
Oh, and did you know he used to be a ball boy?
Never miss the latest news from TexAgs!
Join our free email list