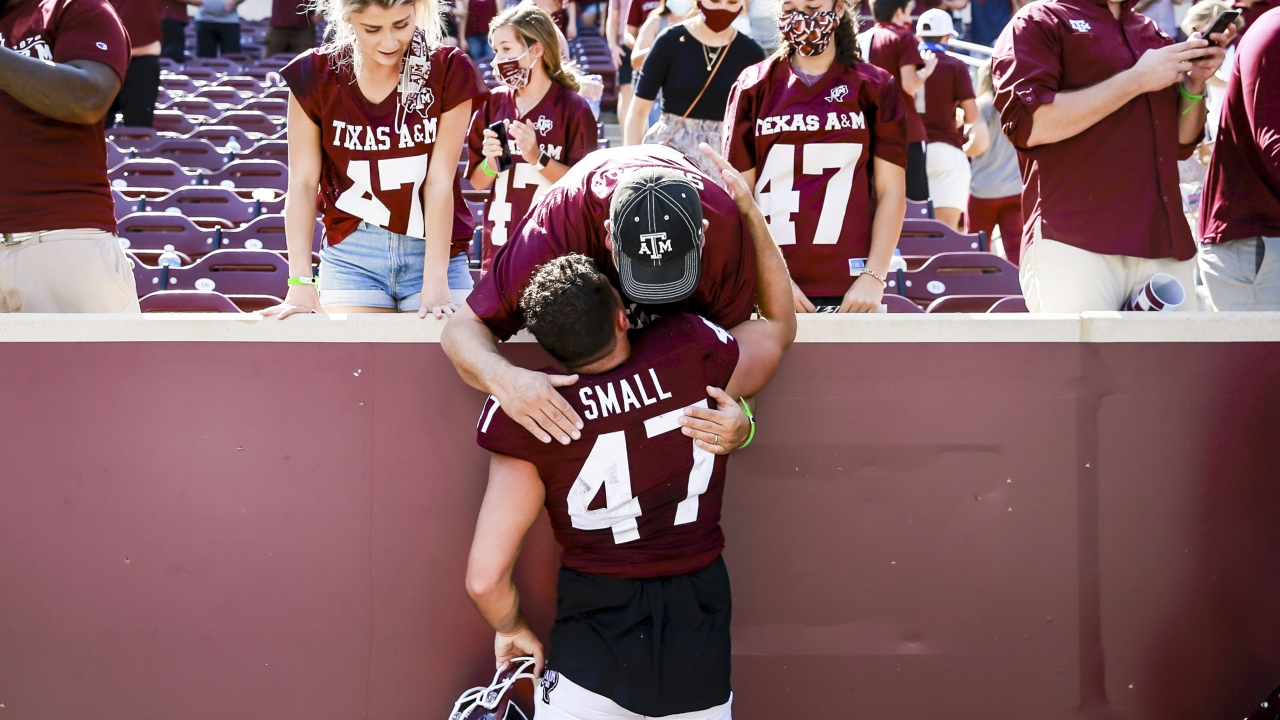 Photo by Craig Bisacre/Texas A&M Athletics
Texas A&M Football
A&M's 41-38 upset of Florida provides answers, staves off skeptics
---
One sweep of Seth Small's powerful right leg simultaneously clinched a victory and unleashed a flood.
Small's final play, a 26-yard field goal, on Saturday clinched A&M's 41-38 Southeastern Conference football victory over No. 4 Florida. At the same time, it opened the gates for a maroon flood of euphoric Aggies pouring onto the manicured green turf of Kyle Field.
Not everybody was lost in the celebration, though. Every party needs a pooper. And to some degree, that was Texas A&M coach Jimbo Fisher.
"I'm not happy," Fisher said in a postgame press conference. "I mean, we won a big game, but we didn't play as well as we could play."
"I'm not happy. I mean, we won a big game, but we didn't play as well as we could play."
That might be the biggest reason to celebrate. Not only did the No. 21 Aggies defeat Florida, which is widely viewed as a legitimate national championship contender, but A&M made it harder than it had to be.
Poor clock management hurt A&M at the end of the first half. Costly penalties aided three Florida touchdown drives. One nullified an A&M interception. A fluke gave Florida a second chance to convert a missed field goal. An A&M fumble enabled Florida to take a lead midway through the fourth quarter.
Yet, the Aggies never flinched. They weren't lucky. They were good.
Still, they can be better.
"We left a lot of plays out there," Fisher said. "We had a lot of different things we let out there. There's a lot of things we've got to clean up. We can get better."
The Aggies have already gotten a lot better.
They performed poorly in an opening victory over Vanderbilt. They failed to make clutch plays in a 52-24 loss at Alabama last week.
Still, the Aggies made giant strides against Florida. In doing so, they answered more than a few doubters and detractors that have questioned quarterback Kellen Mond's passing ability, Fisher's coaching prowess and whether A&M could ever become an elite program.
The answers: Yes, Mond can play at an elite level. He had the best game of his career. He passed for 338 yards and three touchdowns while not committing a turnover. His performance featured three passes of at least 30 yards, including a 51-yard touchdown strike to Caleb Chapman that forged a 38-38 tie.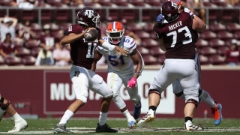 CourtneyCulbreath
No, the game has not passed A&M coach Jimbo Fisher by. The Aggies rolled up 543 yards of total offense with a balanced attack. The Aggies running game produced 205 yards — 160 in the second half — to complement Mond's passing.
Yes, Texas A&M can become an elite football team. Defeating No. 4 Florida might vault the No. 21 Aggies back into the Top 10.
Surely, the doubters — many of whom are among the national media — felt smug when Florida quarterback Kyle Trask connected with Kadarius Toney for a 37-yard touchdown pass that provided Florida a 28-17 lead midway through the third quarter.
At that point, A&M's defense had shown no indication that it could contain Florida's high-octane offense. A&M didn't appear capable of keeping up.
But then Fisher turned to sophomore running back Isaiah Spiller, who erupted for 174 rushing yards, 139 of which came in the second half. Bursting through big holes, Spiller had a 3-yard touchdown run late in the third quarter.
He capped A&M's next series with an incredible 19-yard touchdown run — a mix of power and finesse —to stake the Aggies to a 31-28 lead early in the fourth quarter.
Florida almost missed an opportunity to tie. Kicker Evan McPherson missed a 43-yard field goal attempt, but the play clock had run out before the kick, giving him another chance. He made the second kick.
Soon afterward, disaster appeared to strike.
Ainias Smith lost a fumble at the 37-yard line. Florida capitalized for a touchdown and a 38-31 lead with 6:14 left.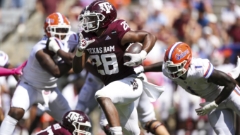 Craig Bisacre/Texas A&M Athletics
It appeared the Aggies would settle for another moral victory. Valiant efforts against Clemson in 2018 and Georgia last season had come up short. The Aggies would come up empty again.
Except, then Mond started shooting down Gators like Troy Landry.
He hit Chapman for the game-tying 51-yard touchdown pass.
Three plays later, Buddy Johnson forced Florida's Malik Davis to fumble. DeMarvin Leal recovered at the Gators' 48-yard line.
"We needed to finish that job, we needed to win," Spiller said. "We just knew we had to get it. It was no other options, so you knew you were going to score. There was no doubt in my mind."
Mond sneaked one yard for a first down. He completed a 16-yard pass to Chase Lane to the Florida 19-yard line. Spiller then ran 11 yards to the 8.
Then Small came on, and the flood started.
Never miss the latest news from TexAgs!
Join our free email list