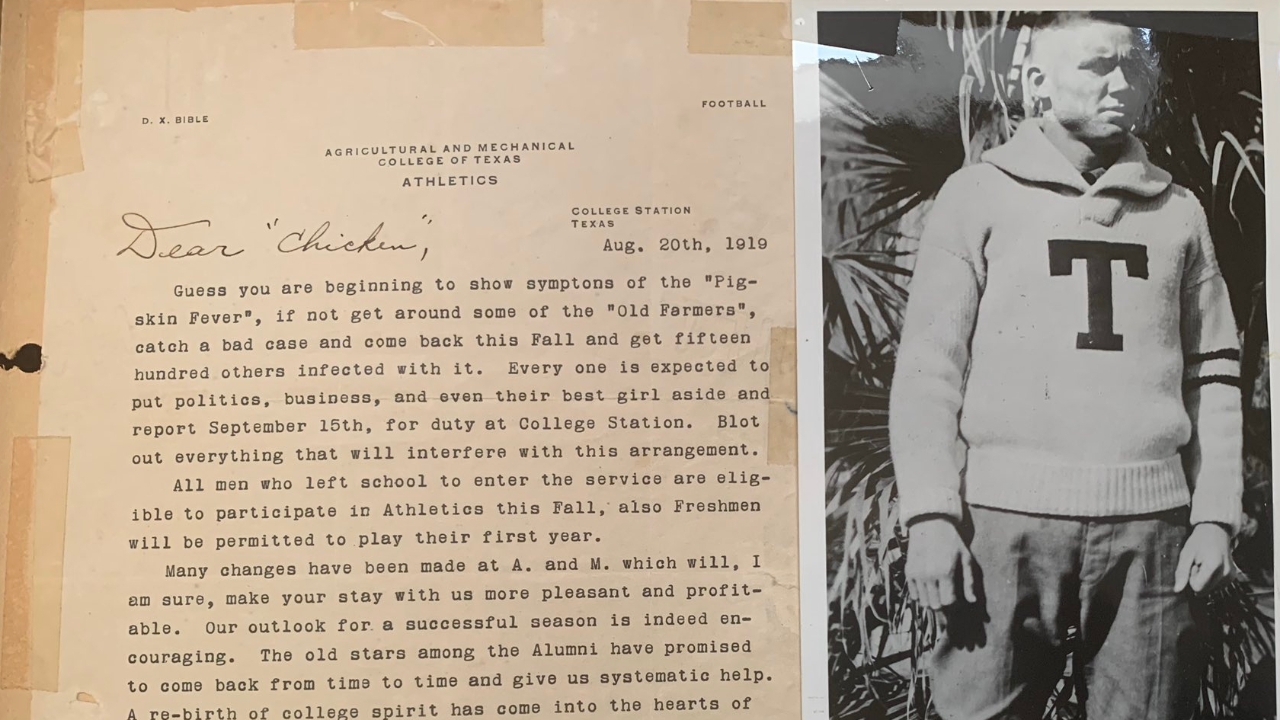 Photo by Sam Harrison
Texas A&M Football
Legendary A&M coach D.X. Bible writes to his players after the Spanish Flu, WWI
---
In 1918, the United States and the world were ravaged by both the Spanish Flu pandemic and the end of World War I. By the summer of 1919, it was time for life to return to normal.
It was also time for Fightin' Texas Aggie football to make its return.
Sam Harrison, a local physician and friend of TexAgs, shared a letter legendary Texas A&M coach Dana X. Bible wrote to one of his players, Sam's grandfather Chick Harrison, in which Bible urges Chick to return to College Station for the 1919 football season.
In the letter dated August 20, 1919 and addressed to "Chicken," Bible wrote the following:
Guess you are beginning to show symptoms of the "Pigskin Fever", if not get around some of the "Old Farmers", catch a bad case and come back this Fall and get fifteen hundred others infected with it. Everyone is expected to put politics, business, and even their best girl aside and report September 15th, for duty at College Station. Blot out everything that will interfere with this arrangement.
The 1919 season was also Bible's return to Aggieland. Following an undefeated and unscored-upon campaign in 1917 that yielded the Aggies their first Southwest Conference title, Bible left College Station to serve his country as an Army lieutenant in France. Along with Bible, about 2,200 Aggies served their country in The Great War, and 55 of them made the ultimate sacrifice.
Even during wartime (and with their head coach overseas), football was still in the plans for the Aggies in 1918. But when the Spanish Flu made its way to the Brazos Valley, the schedule had to be altered. According to The Eagle, 55 people in College Station died from complications of the Spanish Flu.
The 1918 football season was perhaps the oddest in school history. For instance, the Maroon & White were coached by then-baseball coach D.V. Graves and didn't start until mid-October. Most of A&M's football team was still overseas as World War I as Kaiser Wilhelm did not surrender until November 9, with the Treaty of Versailles signed two days later. Further, the Aggies only played three teams from colleges or universities and filled the scheduling gaps with squads from military camps in the region.
Graves coached the rag-tag Aggies to a 6-1 record (1-1 in Southwest Conference play), with their only blemish being a 7-0 loss to the University of Texas on Thanksgiving.
Similar to the NCAA's March 30 decision to grant spring sport athletes an extra year of eligibility following cancellations due to today's COVID-19 pandemic, changes were made to allow more individuals to play in 1919.
"All men who left school to enter the service are eligible to participate in Athletics this Fall, also Freshmen will be permitted to play in their first year," wrote Bible.
After the war and the pandemic cleared up, it was business as usual and the Aggies were looking to reclaim their SWC crown. All of the stops were pulled out to make sure the 1919 squad had all the support necessary to compete for the title. Bible wrote:
Our outlook for a successful season is indeed encouraging. The old stars among the Alumni have promised to come back from time to time to give us systematic help. A re-birth of college spirt has come into the hearts of every A. and M. man, and I am convinced that the team that beats us will be champion of the Southwest.
However, nobody beat the Aggies in 1919. Nobody even managed a point.
For the second time in three seasons, A&M put together an undefeated and unscored-upon season, winning their second Southwest Conference championship. The Aggies were retroactively named the 1919 National Champions.
While the current pandemic is still creating more questions than answers, this is certain: Whenever life does return to normal, Aggie football will be there "ready to fight for victory, fair and square, hard but clean." Farmers Fight.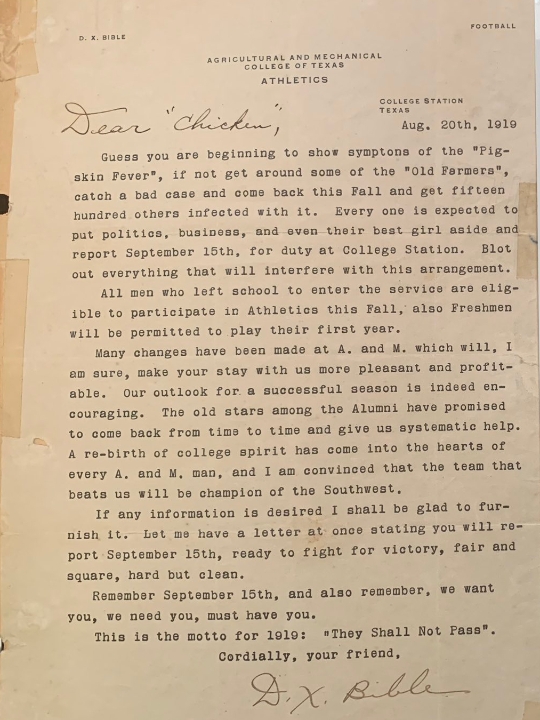 Sam Harrison
Never miss the latest news from TexAgs!
Join our free email list