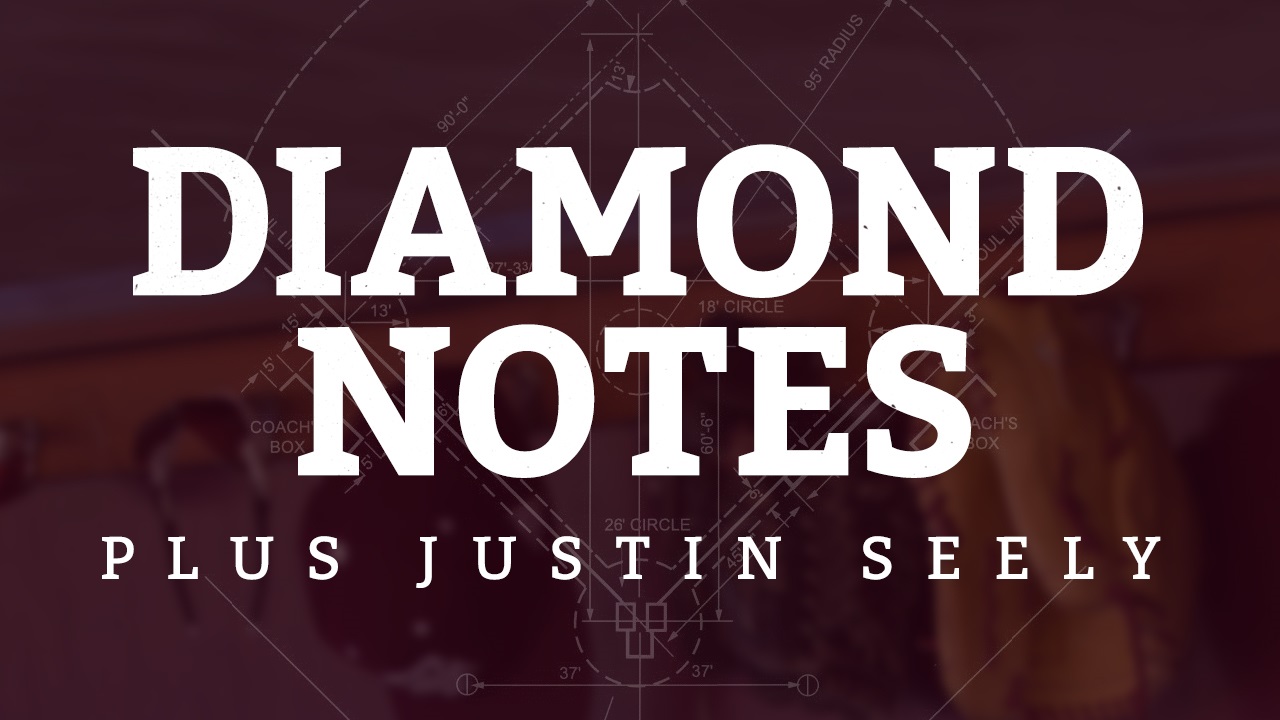 Texas A&M Baseball
Diamond Notes: Aggies stay hot, improve to 8-0 after another strong week
---
The 18-ranked Aggies are 8-0 out of the gate in 2020 and are coming off of a series sweep over an Army team that has a ton of veterans back after consecutive trips to the NCAA Tournament. The Black Knights, as you might have expected going into the series, fought like heck all weekend and showed the type of on-field toughness that gives you just a small glimpse into the types of character on that roster. As Aggie coach Justin Seely mentioned today during TexAgs Radio (video above; notes below), America is in good hands with guys like this training to be officers in the U.S. Military.
There was certainly quite a bit of good and a little bit of bad sprinkled into the series against West Point.
Among the items in the "good" category:
• Offense scored 32 runs, including eight runs in the first inning and 13 runs combined in their last three innings of each game.
• Offense produced eight "crooked numbers" in the series, including a four-run first, a five-run sixth and a two-run eighth in game one, a five-run fifth in game two and a three-spot in innings one, four, five and seven in game three.
• A two-homer game from Zach DeLoach on Friday night, including five RBI.
• A three-hit game from Ray Alejo on Sunday.
• Asa Lacy's 14-strikeout, one-walk performance in a 12-3 win on Friday.
• Christian Roa's 10-strikeout, no-walk game on Saturday.
• Bryce Miller earned saves in back-to-back games to slam the door on Army in games two and three (in fact, a travel curfew did just as much to close the book on any thought of a Black Knights comeback on Sunday).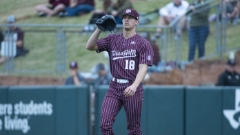 Tarah Cochran, TexAgs
As for the "bad" that immediately comes to mind:
• Six defensive errors in the series, including three from the left side of the infield. It's early, but the Aggies are fielding at a .955 clip right now. You want to be above .970, and closer to .975 is optimal.
• Chandler Jozwiak allowed six runs (five earned) on nine hits in just 3.1 innings on Sunday.
• The A&M bullpen allowed nine earned runs in 12.2 innings. They did have an 18/5 strikeout-to-walk ratio (which is tremendous), but they also got hit hard at times over the three days, and some pretty big questions linger after the opening two weeks of the '20 season.
All in all, it's important to not overreact on either end of the spectrum to anything that has happened thus far. Army was a way better opponent than any team the Aggies have faced to this point, and A&M rose to the occasion with a blowout win and two nail-biting victories. The Ags were challenged in a big way and answered the challenge with a ton of grit and toughness. But a much tougher slate of games is fast approaching, starting this weekend at the Frisco College Classic against Illinois (3-3), No. 10 UCLA (7-0) and Oklahoma State (5-2). We continue to learn more and more about this new-look Aggie squad, and I personally can't wait to watch five more games over the next six days and continue to gain more and more knowledge about this group as we get more data on them.
Hitter of the Week
INF Bryce Blaum
The junior hit .500 (7-for-14) in five games last week and got at least one hit in every game, earning SEC co-player of the week honors for week two (a "make up" call for the Zach DeLoach snub in week one, possibly?). That included five doubles, 10 RBI, 12 runs scored and five stolen bases. Blaum displayed elite-level ability at the leadoff spot last week after a rough go of it in the Miami series, reaching base nine times via a walk and two via hit batsmen in the five games. You can't ask for much more out of Bryce at the one-hole than getting on base 20 times in five game. He's currently hitting .346/.571/.538 in the early going this season.
Pitcher of the Week
LHP Asa Lacy
The junior was overpowering throughout most of his five-inning start Friday against the Black Knights, allowing just one run on four hits. He used a high-90s heater, a ridiculous slider with bite and command and a decent mix of his changeup and curve ball to keep Army off-balance all night. Lacy struck out a career-best 14 and walked only one on the night. He hit a man and threw a wild pitch on strike three to get into a mini-jam in the opening frame, but his immense talent allowed him to pitch out of it. The issue is that with the high strikeout rate – which you love – and the semi-regular "labor inning" due to walks and hit batsmen, Lacy has a tendency to see his pitch count become elevated to the point that he typically goes between five and seven innings. You love the strikeouts, but you would also like to see Lacy get to the point as the season rolls along where he's getting closer and closer to seven-plus innings rather than five. That better allows Rob Childress to go straight to Bryce Miller to close out game one of a series (or to insert someone like Moo Menefee for an inning to bridge the gap to Miller) and not extend Menefee unless he's a "10" and left in to close out the game so you can save Miller for Saturday. But this is nitpicking a truly elite left-handed arm and one of the very best pitchers in all of college baseball. Lacy is 1-0 with a 1.64 ERA. He's allowed just seven hits and three walks in 11 innings, punching out 22 and allowing a minuscule .171 opponent average. The guy is an animal.
Who's Hot?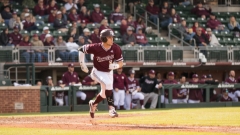 Angelina Alcantar, TexAgs
OF Zach DeLoach - The junior isn't hitting .800 anymore, but I wouldn't describe last week as "cooling off" after hitting .500 (7-for-14) with two doubles, two home runs, six RBI and seven runs scored. DeLoach also walked four times with no strikeouts. In fact, he has yet to strikeout this entire season in 33 plate appearances. The All-SEC candidate is currently hitting a robust .609/.688/1.261 with a team-leading four homers, 11 RBI and a club-best 16 runs scored. Eleven A&M hitters have at least 13 official at bats. Among those, DeLoach is the only guy that has not struck out. Nobody else with that many ABs has fewer than two Ks through eight games.
OF Ray Alejo - The fifth-year senior enjoyed an outstanding week at the plate, hitting .462 (6-for-13) with his first triple and seven runs scored. Alejo reached base 10 times in five games, and he's such a tough guy to deal with when he's on the base paths making things happen with his phenomenal speed. The former Ole Miss and UCF product is hitting .381/.552/.524 with three steals and 10 runs scored thus far.
DH Will Frizzell - The junior hit .385 (5-for-13) last week while battling midweek sickness. The power numbers didn't quite show up like they did on opening weekend, as Frizzell enjoyed just one extra-base hit (a double in Sunday's game) and only two RBI. But it's been a tremendous start for Will, hitting .400/.531/.760 with a pair of homers and eight RBI.
1B/C Hunter Coleman - The senior hit .353 (6-for-17) with a dinger, five RBI and seven runs scored in five starts last week. Coleman has been a mainstay in the middle of the Aggie lineup throughout his four years on campus, and it's great to see him get off to such a hot start in his final season. Hunter is hitting .333/.486/.556 with two homers, six RBI and 11 runs scored. Plus, he's 2-of-2 in stolen base attempts in '20 and is playing exceptional defense at first base and plus defense behind the plate on days that he catches. What a piece to have on a college baseball team.
RHP Christian Roa - The junior dazzled once again in Saturday action, allowing one earned run on three hits over five innings of work. He punched out 10 without issuing a walk in his 95-pitch start (65 strikes). Like with Lacy, the suddenly elevated strikeout rate has caused the pitch count to climb, but you'll always gladly take a 10-strikeout, no-walk performance from your Saturday starter. Roa has continued to get better and better, and those inside the program honestly feel that the Aggies have a co-ace situation between Lacy and Christian. He's 2-0 with a 2.45 ERA and has fanned 22 batters against just one walk in 11 frames, allowing just six hits thus far. Roa will draw the start against undefeated and 10th-ranked UCLA this Saturday. A great challenge in the next step in his development into a true, week-by-week go-to starter for the Maroon and White.
RHP Bryce Miller - The junior was outstanding, closing out back-to-back games and earning the save in each against Army on Saturday and Sunday. Both outings were in air tight situations against a hooked up Black Knights offense that was swinging a very, very hot bat. But when Miller came in the game, any notion of an Army late-inning rally was stopped dead in its tracks. Bryce is off to a great start in his draft year. He's given up no runs on two hits over five innings of work, punching out five and walking just one thus far.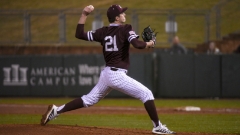 Anna Peterson, TexAgs
LHP Jonathan Childress - The redshirt freshman saw his first game action in eleven and a half months on Wednesday, drawing the start against Prairie View A&M in less-than-stellar conditions. With temps in the low-40s and a sideways rain, Childress was very sharp and worked a relatively clean three innings while being limited to a 50-pitch limit in his return from Tommy John surgery. The problem is that he had to sit about 30 minutes while the A&M offense racked up 10 first inning runs. Then after his second inning, he sat nearly 45 minutes while the Aggie bats produced a 17-spot in the second. On a night when the Ags plated 30 runs, the story of the game was Childress, who allowed no runs on one hit in three frames, fanning three with just one walk. His pitch count will continue to climb by five-percent over the next few starts, and the hope is that eventually Jonathan will be ready to slide into the weekend rotation at some point in SEC play.
Who's Cold?
OF Cam Blake - The senior hit .182 (2-for-11) in week two. However, both hits went for extra bases, including a home run in Sunday's win over Army. Blake continues to hit either second or third, which tells you the confidence that coaches Chad Caillet and Justin Seely have in him. It's just beyond time to prove it on the field in real games.
LHP Chandler Jozwiak - The junior failed to get out of the fourth inning in start number two on Sunday, giving up six runs (five earned) on nine hits over 3.1 innings of work. He fanned two and didn't walk a man but allowed a ton of barreled-up balls to all fields before being removed from action. Jozwiak has the natural ability to be a mainstay in the weekend rotation, but it just hasn't quite all come together for him. We'll see moments of brilliance but not the consistency that you need to be a weekend starter in the SEC. It'll be interesting to see if there will be a shakeup heading into Frisco or if Joz will get another crack at it on Sunday versus OSU.
5 Key Factors on Offense:
Here's a look at what the Aggie bats did in five critical situational areas vs. Army:
Two outs: .296 (8-27)
Runners on: .352 (19-54)
Runners in scoring position: .256 (10-39)
Leadoff OBP: .708 (17-24)
Two-out RBI: 1.3 PG (4 total)
Here's the updated season totals to this point in all five areas:
Two outs: .410 (41-100)
Runners on: .389 (65-167)
Runners in scoring position: .344 (42-122)
Leadoff OBP: .565 (35-62)
Two-out RBI: 4.6 PG (37 total)
5 Key Factors on the Mound:
Here are the raw numbers from what the Aggie pitching staff did in five critical situational areas vs. the Black Knights:
Two outs: .243 (9-37)
Runners on: .351 (20-57)
Runners in scoring position: .233 (7-30)
Leadoff OBP: .346 (9-26)
Two-out RBI: 0.7 PG (2 total)
Here's updated season totals to this point in all five areas:
Two outs: .200 (18-90)
Runners on: .239 (28-117)
Runners in scoring position: .157 (11-70)
Leadoff OBP: .333 (23-69)
Two-out RBI: 0.6 PG (5 total)
By the (Season) Numbers:
.202 - Opponents average against A&M pitching. That includes seven different arms with an opponents batting average under .172. Among starters, Jonathan Childress' OBA sits at .100, Christian Roa is at .158 and Asa Lacy is at .171.
1.061 - Team OPS so far in '20 (.489 OBP; .572 SLG). That includes 99 hits, 56 walks, 21 hit batsmen, 22 doubles, 2 triples and 11 home runs. The Aggies have 13 hitters over .420 in OBP, led by DeLoach at .688, and 11 hitters over .400 in slugging, led by DeLoach at 1.261.
3 - Number of Aggies with over 10 hits through eight games. DeLoach has 14, Trevor Werner has 11 and Frizzell has 10.
4 - Number of hitters who have scored at least 10 runs so far. DeLoach has 16, Blaum has 14, Hunter Coleman has 11 and Alejo has 10.
6 - The number of half innings out of 10 in which A&M scored immediately after Army plated at least one run. To score in the bottom half of an inning 60-percent of the time following Black Knight scoring frames is phenomenal
11/1 - Strikeout-to-walk ratio for the Lacy-Roa duo. Lacy has struck out 22 and walked three in 11 innings of work, while Roa has fanned 22 with just one free pass in 11 frames. That's 11 strikeouts for every base on balls and an average of two strikeouts per inning in 2020.
13 - Number of A&M offensive players hitting over .308 so far. That includes seven guys over .400 in the early going.
18 - Stolen bases for the Aggies in 20 attempts. The only guys that have been thrown out so far have been Alejo (3-4) and Blaum (7-8). Blaum is on pace for about 60 steals this season.
+20 - Margin of free passes compared to strikeouts so far. The Aggies have walked 56 times and been hit by a pitch 21 times. That's 77 free passes against 57 strikeouts offensively.
30.9% - Percentage of runs scored by A&M through eight games compared to all of last season. A&M has produced 107 runs so far in '20 (13.4 runs per game). The Ags scored 346 runs in 63 games in '19 (5.5 runs per game).
100 - Strikeouts as a pitching staff through eight games in 69 innings of work. That's an eye-catching 13 Ks per nine innings. A staff of 16 arms has combined to walk just 22 hitters, boasting a 4.5/1 strikeout-to-walk ratio.
Following home games against HBU and Incarnate Word in the midweek, A&M heads to Frisco to face Illinois, UCLA and Oklahoma State – three teams that have a chance to reach the NCAA Tournament at season's end.
Finally, a much bigger test is on the near horizon for the Aggies this weekend. Following home games against HBU and Incarnate Word in the midweek, A&M heads to Frisco to face Illinois, UCLA and Oklahoma State – three teams that have a chance to reach the NCAA Tournament at season's end, including a top-ten Bruins club. Our David Sandhop will have a full preview on Friday, and we'll dive into the matchups during Diamond Talk on the Friday edition of TexAgs Radio. Richard Zane and I will be in Frisco for the entirety of the weekend action at Dr. Pepper Ballpark, and I couldn't be more excited to get back up there for it. The Frisco Roughriders do an amazing job hosting this tournament, and I expect the crowds to be fantastic (as they were when the Aggies went up there two years ago).
---
Key notes from Justin Seely interview:
I think we're in pretty safe hands as far as the future of America with those guys. Army does not quit. They are well-coached. They have some experience, and it really showed on Saturday and Sunday. When they hit us, we didn't flinch, and they didn't flinch when we hit them. It was really cool to do Military Appreciation yesterday with Army in town.

I think the perceived pressure that most college athletes, our guys included, put on themselves, that Army team doesn't have that. They understand the gravity of real things and the lack of gravity baseball really has.

The way we look at it, we don't have one individual who is going to push the offense. The lineup is flowing right now. Everyone knows their part, and they're very unselfish. I'd hate to single out one guy because I love how the offense is flowing in general. We don't run the offense or put a lineup to go traditionally. We do it so that there is flow over the entire game.

It's encouraging to answer back immediately like we did a lot on Sunday. There are ebbs and flows in games. Army took advantage of some of our mistakes, but we were ready to take advantage of theirs as well. We want to put so much pressure on them to where they have to pay attention to everything – paying more attention to us than themselves. Our offense is an all-encompassing thing that allows us to score. We force the issue, and it will enable us to score consistently.

What I liked is the discipline our guys are showing at the plate. If we are striking out, they're doing it in the proper fashion and in battles – 2-2 or 3-2 counts. I think we're getting more extra-base hits as a result of that discipline. I don't know if we will be 1:1 with strikeouts and walks at the end of the year, but we want to be close to it.

We love to play Rody Barker. If you asked Rody, he'd be ready to play the day after that. He's one of the most mentally tough kids I've been around. He's doing well. He has another appointment this week, so we can find out more about his future. His eye is open now, so he can see. It doesn't seem like his vision will be impacted going forward. With the swelling that was involved, they had a good idea of what the issue was, but we don't know exactly what it was. This next appointment will tell us more.

I love the Frisco Classic tournament. We went a couple of years ago, and they do a fantastic job. If you're a fan in the Dallas/Fort Worth area, I would go. It's great baseball. It's a lot of fun and really good baseball. It's college baseball with an upper-level minor league feel. We get to play some teams with Omaha aspirations. It's going to be great.
Never miss the latest news from TexAgs!
Join our free email list