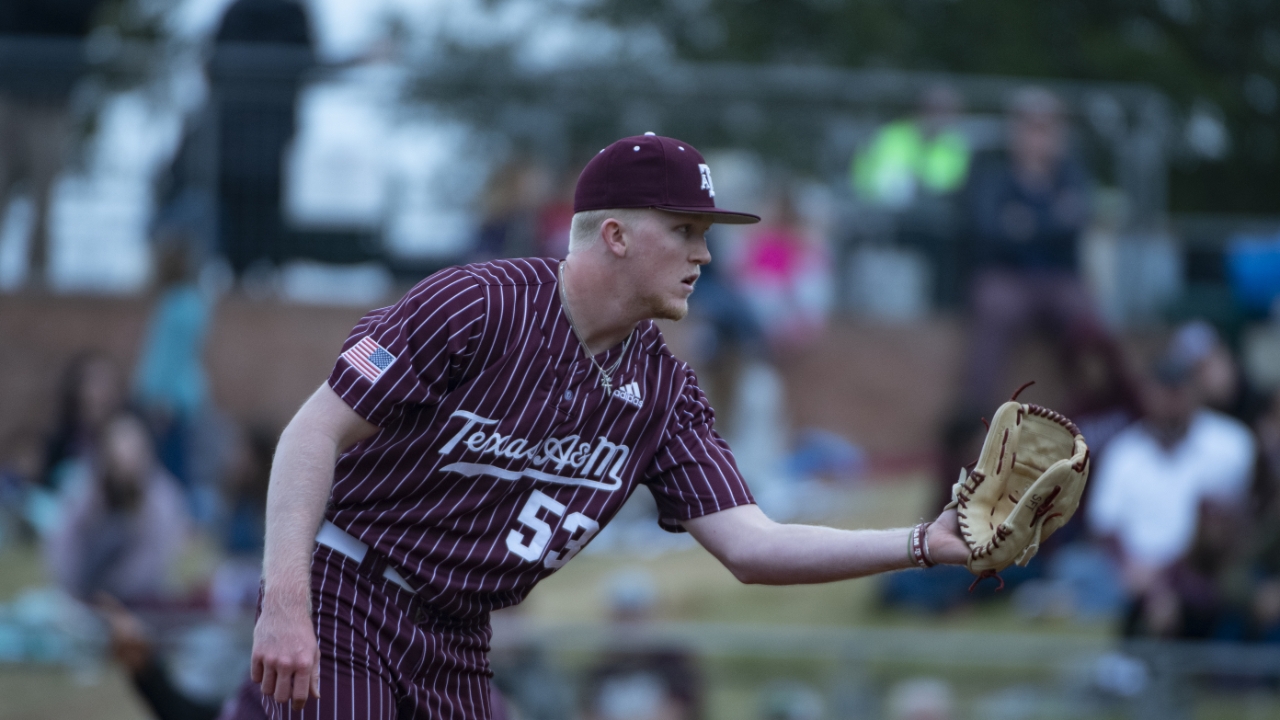 Rob Childress
Bryce Blaum
Ray Alejo
Logan Sartori
Texas A&M Baseball
Aggies sweep Black Knights to remain undefeated, take game three 14-12
---
The clock is usually irrelevant in a baseball game.
That is unless someone has a flight to catch.
In a hard-hitting showing by both offenses, the Black Knight's travel curfew shortened Sunday's contest between No. 20 Texas A&M and Army to just eight innings, a ballgame the Aggies won 14-12, improving their record to a perfect 8-0. Marred by bullpen and defensive struggles, the Aggies were lucky that Army literally ran out of time, not allowing them a chance in the ninth.
The clock struck 3:45 p.m. - an agreed-upon drop-dead time for today's game - after Trevor Werner hit into an RBI fielder's choice that resulted in the second out of the bottom half of the eighth, ending the contest in an unusual fashion to allow Army to catch their plane back to West Point.
"This is probably the first time I've been apart of (a game) to end because of a curfew," said A&M outfielder Ray Alejo.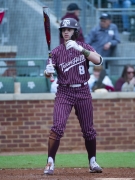 Tarah Cochran, TexAgs
In his return from a concussion suffered on Wednesday night vs. Prairie View, Logan Sartori played the role of hero in the bottom of the seventh. With the Aggies trailing 11-10 at the time, Sartori roped a line drive into the left-centerfield gap, scoring two and giving the Maroon & White a lead that they would not cough up. Those RBIs would ultimately be the difference.
"We had a lot of big hits in that game," Sartori said. "It was just good that I could put the team in front on that swing."
Sloppy perfectly describes the Aggies showing on the field. They booted and threw the ball around, officially registering three errors on the day (and if it weren't for the hometown scorekeeping, it could have easily been five or six errors) and gifting Army three unearned runs.
The bullpen was shaky at best as A&M used seven different pitchers after starter Chandler Jozwiak only recorded ten outs. Alex Magers posted the longest stint in relief, tossing two innings without giving up a run. Sunday's saving grace was the closer Bryce Miller, who slammed the door shut, earning himself his second save of the weekend.
"It's good to get him in those pressure spots," Childress said. "He hasn't had a lot of action through the first six games. To use him on back-to-back days and him to be as fresh as he was today off of yesterday's 30 pitches, it was good to see."
Offensively, the bats continue to roll. Scoring 14 runs on 13 hits is certainly nothing to scoff at, especially when the Aggies had to come up clutch time and time again with Army refusing to roll over. A&M needed every one of those runs to complete the sweep.
"We're relentless. Every time they scored, we found a way to answer back," Childress said.
"We're relentless. Every time they scored, we found a way to answer back"
Trailing 6-3 following a four-run top half of the frame, Bryce Blaum hit a bases-clearing double to tie the game up. A&M would tack on three more in the fifth and another in the sixth to lead 10-6. However, Army scored five runs in the top of the seventh - an inning that required three different A&M pitchers to end - as the Black Knights staked themselves to an 11-10 lead. However, the lead would be shortlived thanks to Sartori's game-winning double.
"It's a great feeling knowing that our guys are not going to stop coming, regardless of the score," Childress said. "They're not going to feel sorry for themselves."
Another five-game slate lies ahead for Aggie baseball, and they'll kick if off on Tuesday night when Houston Baptist comes to Olsen Field. First pitch between the Ags and Huskies is scheduled for 6:32 p.m.
Never miss the latest news from TexAgs!
Join our free email list