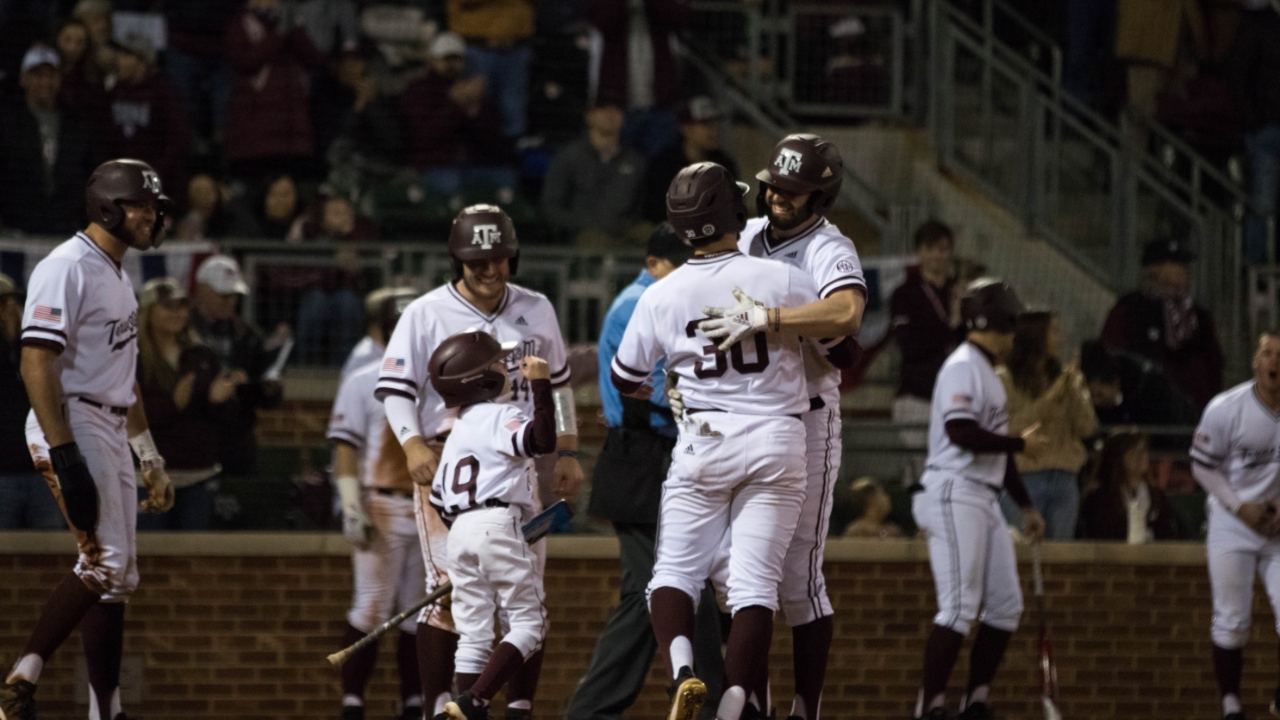 Rob Childress
Asa Lacy
Will Frizzell
Zach DeLoach
Texas A&M Baseball
Aggies put together 13-hit performance in rout of Miami (OH) on Opening Day
---
On Opening Day of the 2020 season, the Aggies put forth a grand performance.
Texas A&M unveiled its new offense to the Olsen Field faithful as they cruised to a 17-1 victory over Miami (OH) on Friday night in the opener of a three-game weekend series.
"It was awfully fun to watch," said Texas A&M head coach Rob Childress. "That's the way we felt all fall. That's the way we felt in January. That's what we thought we were going to get. Incredibly relentless, up and down the lineup."
Much of the conversation leading into the season revolved around the A&M offense and how the Aggies would look under new hitting coach Chad Caillet. The Maroon & White quickly got the bats rolling as they scored 13 runs in the first three innings of play, including a nine-run third inning – highlighted by a Will Frizzell grand slam.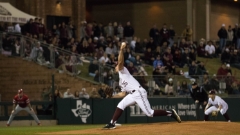 Angelina Alcantar, TexAgs
"That was a pretty good one," said Childress. "I was just watching (Frizzell). I was so happy for him in that moment."
A&M's first run came in the 1st inning when Logan Sartori, the Ags' second hitter, drove a ball into the right-center gap and brought home Bryce Blaum. A&M would only build on the lead, adding three more runs in the 2nd before blowing the doors off of the ballgame with their nine-run 3rd.
"It's something we've been working toward as an offense, really just knocking a pitcher out," said Frizzell. "It just felt really good to do what we did on a stage like tonight whenever we got to show everybody what we have."
Junior outfielder Zach DeLoach, who led the prestigious Cape Cod League in hitting last summer, enjoyed a 3-for-3 evening – finishing a triple shy of the cycle – and scored five times. DeLoach also drove in three more of A&M's runs, two coming on a 5th inning homer that landed in the right-field bullpen.
"Being able to get barrels, but also squeak out hits like that; it's an awesome feeling," said DeLoach.
A&M displayed their new offensive approach as they won numerous hard-fought at-bats in deep counts – part of why RedHawks' starter Sam Bachman was chased after recording just eight outs. They also exhibited their aggressive nature on the basepaths as the Ags swiped four bases on the night. Nine of their 17 runs came with two outs.
"We've got guys up and down the lineup that can turn outfielders around," said Childress. "Obviously, the guys that did tonight, but there is a couple others as well. (The offense has) got a chance to be okay. It doesn't guarantee anything for tomorrow, certainly."
With their ace on the mound, A&M provided more than enough run support to allow Asa Lacy to relax and work on his craft. Still, it wasn't a dominating showing from Lacy, but rather a typical start from the Aggie southpaw: erratic at times but with good-enough stuff to make opposing hitters look silly. Lacy finished his night after six innings, allowing just one run on five hits while notching eight strikeouts to go along with two walks and two hit batters.
"We came out swinging the bats and made things a lot easier on me."
"We came out swinging the bats and made things a lot easier on me," said Lacy. "We had a lot of things going."
The blowout allowed Rob Childress to empty his bench and get experience for a host of freshmen. The Aggie skipper sent seven pinch-hitters to the plate, gave ten players their Texas A&M debut and played eight freshmen. After Lacy exited the ballgame, three freshmen (Will Johnston, Mason Ornelas and Alex Magers) nailed down the win, allowing just one baserunner over the final three innings.
"That's an energy gatherer in the locker room," said Childress. "Guys are going to come out excited, a little less nervous tomorrow. It's good that we got that many in, certainly."
The No. 20 Aggies will be back in action against the RedHawks on Saturday afternoon, with first pitch coming at 2:00 p.m. at Olsen Field at Blue Bell Park. Tomorrow's probables include Christian Roa for Texas A&M (3-2, 3.56 ERA in 2019) and Tyler Bosma (2-1, 5.54 ERA in 2019) for Miami (OH).
Never miss the latest news from TexAgs!
Join our free email list