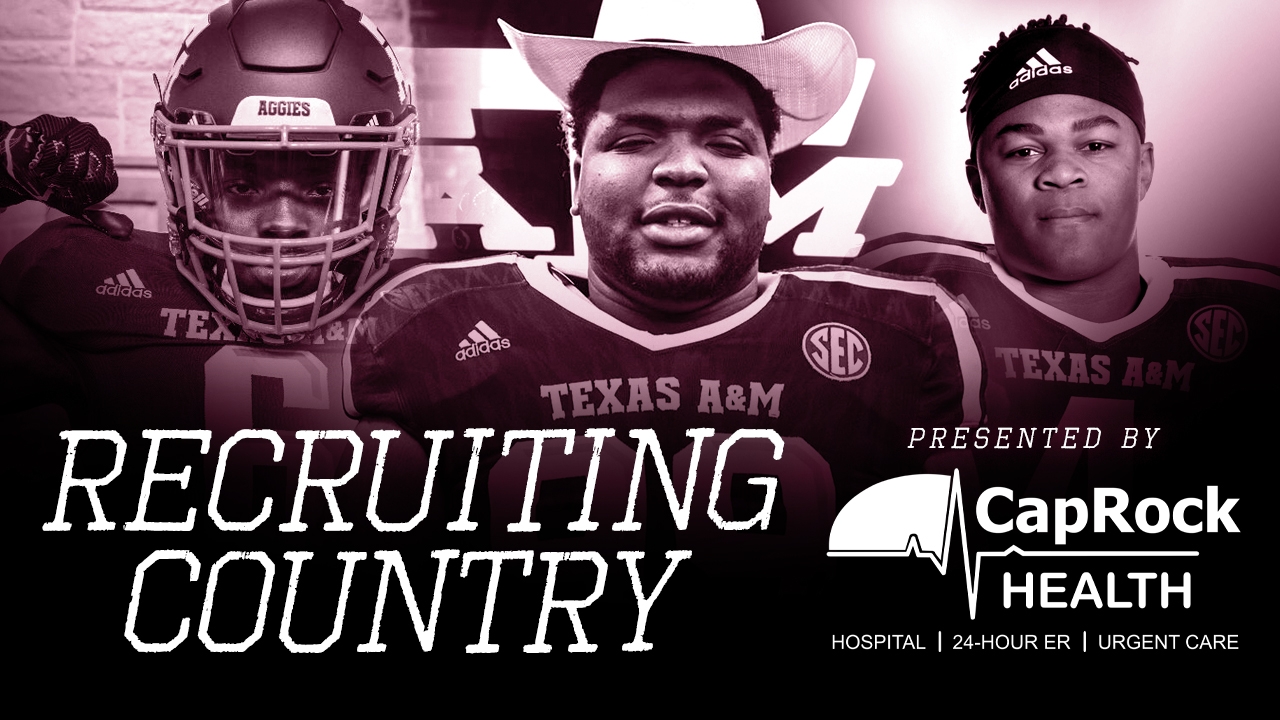 Texas A&M Football Recruiting
Recruiting Country, NSD Edition: Texas A&M puts a bow on 2020 signing class
---
Key notes from Recruiting Country
Ryan Brauninger: I was looking at our signing day graphics. There are a lot of RBs next to names. It was something they had to go out and address, and the coaching staff thought they needed more assurance there after the early signing day. It wasn't going to be from Zach Evans, but Darvon Hubbard‍ checked a lot of boxes for Darrell Dickey. They've got to feel a lot better from a depth perspective at running back.
Billy Liucci: With numbers where they were, you can tell they really wanted Hubbard. The option of getting him on campus was enough for them to not worry about the numbers crunch. Let's not forget; he was committed to Ohio State at one point during the process. That's the key here; they could have left that spot open for any graduate transfer in the country, and they said, no, we want that guy.
RB: It's an interesting group of running backs. You get guys like Hubbard and Deondre Jackson‍ , who have been injured. Earnest Crownover‍ is still figuring out who he is going to be as a back as he figures out his body. It's an eclectic group of backs. Spiller has proven that he's become an every-down back. Everyone brings a different skill set. I like the addition. Crownover is big, but how big is he going to get? They got an exceptional talent in Devon Achane‍. They took a big back in Crownover. Then they took Jackson and Hubbard, who are your prototypical backs. As they get healthy, you hope they continue to get better and better.
RB: I've been calling McKinnley Jackson‍ a five-star talent. That's what he is. I'm not sure how he suddenly becomes a four-star, but he was the best-unsigned prospect in America, and A&M signed him. He's the biggest signing of the Jimbo Fisher-era. This is another 'it ain't like it used to be' moment. This defensive line class was a master class in recruiting by Elijah Robinson and Terry Price.
BL: This was a masterclass by Elijah Robinson, Terry Price, and Mike Elko on McKinnley Jackson. Just about everyone in the country wanted him. Thie defensive line class is as good as I've ever seen them sign in one haul.
RB: It was something we talked about in Road to Signing Day. It was pretty obvious early on in the cycle that A&M thought there were deficiencies in the state at certain spots, and they had to go outside to get the talent. One of those positions was at defensive line. That will change, and Texas will have better defensive linemen soon. To be able to go out of state like that is pretty remarkable.
BL: If you're recruiting nationally, it has to be for a couple of reasons. First, you have to be recruiting elite talent. If the Texas high school football coaches actually cared about coaches in this state recruiting Texas kids, they would be outraged when Ed Orgeron cuts a kid loose, or they wouldn't be making Lincoln Riley a rockstar. It's certainly more logical and the easier/safer play to only recruit in-state. But you have to be going out and getting the very best talent at each position. What they did this year, it was light on the defensive side in terms of difference makers. 2022 looks like it's loaded, and you could see that ratio flip.
BL: I would contend, and I think Brauny, Howell, and Jimbo Fisher would agree that Texas A&M also signed the best prospect in the state of Texas in Demond Demas‍. The way Zach Evans' season went, at least Demas didn't play because he couldn't play. Donell Harris‍ was No. 8 in Florida, and that's having foregone his senior year. They sign top-10 players in Dallas Walker‍ and Isaiah Raikes‍. They took Edgerrin Cooper‍, a top-5 talent in Louisiana. And then they signed three top-10 players in their own state. Pretty ridiculous recruiting. They probably signed the best receiver, quarterback (Haynes King‍) - and I'm not here to hate on Hudson Card - and the best athlete in the state of Texas.
A SPECIAL THANKS TO...
CapRock Health System, the only 100% locally owned and operated healthcare system in B/CS, has 4 convenient locations; CapRock Hospital with ER, CapRock 24-Hour Emergency Center, CapRock Urgent Care at Century Square, and CapRock Urgent Care at Jones Crossing. Visit CapRockHealthSystem.com
Never miss the latest news from TexAgs!
Join our free email list