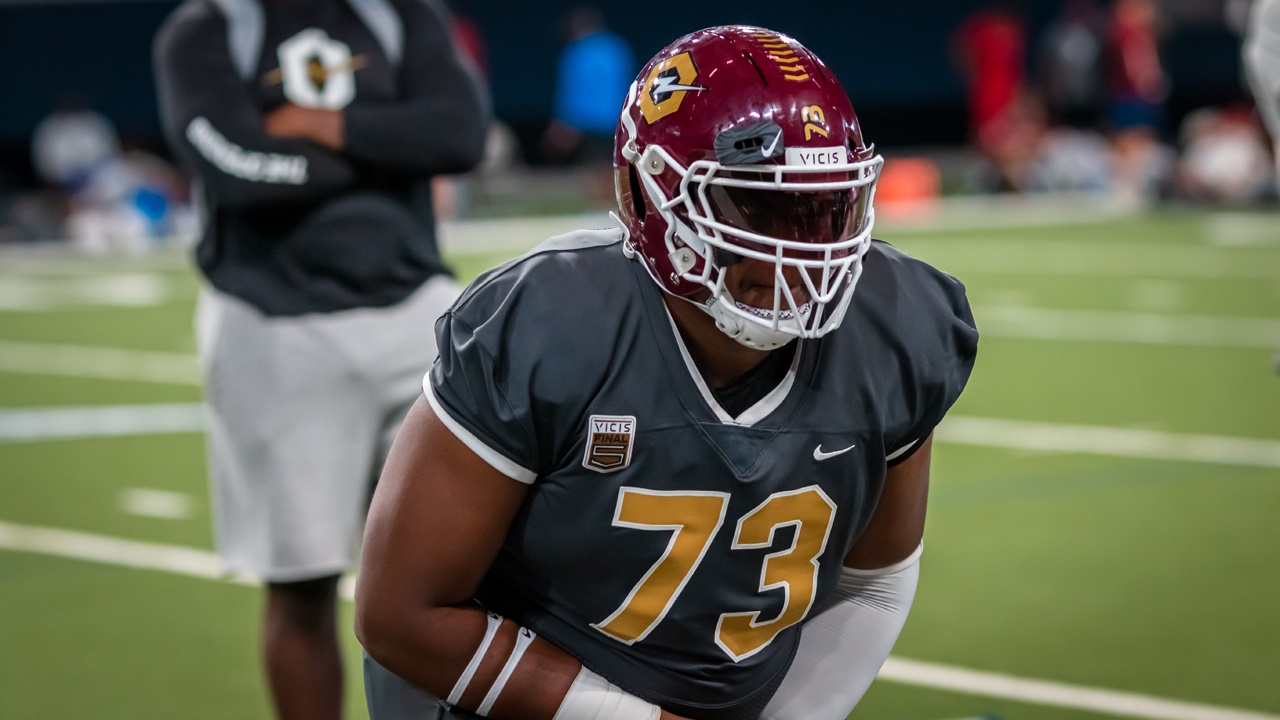 Photo by Justin Schoenemann
Texas A&M Football Recruiting
Strong in the middle: A&M quietly recruiting an elite group at guard
---
Aggies have plenty of reasons to be enthusiastic about the 2020 football recruiting class. There may be one more than some think.
Coach Jimbo Fisher's 2020 class is already ranked ninth in the nation and climbing. He's gotten a commitment from five-star receiver Demond Demas‍. Committed quarterback Haynes King‍, defensive end Fadil Diggs‍ and safety Jaylon Jones‍ are all rated among the top ten in the nation at their respective positions.
The Aggies are also in strong contention to perhaps add highly-rated running backs Zach Evans‍ and Daniyel Ngata‍, safety Antonio Johnson‍ and defensive end Donell Harris‍, among others.
But another reason to hold this class in high regard is the high quality of its guards.
Texas A&M's class currently includes three guards – Akinola Ogunbiyi‍ (pictured above), Smart Chibuzo‍ and Josh Bankhead‍ – that are ranked among the nation's top 35 at the position‍. Ogunbiyi‍ is ranked 10th. The Aggies are also considered the leader for Chris Morris‍ of Memphis, Tennessee, who is the country's second-ranked guard by 247sports.com.
Theoretically, within a season or two, A&M could have one of the better guard tandems in college football. Only seven programs have commitments from more than one guard ranked among the top 40.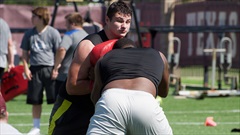 Lia Musgrave, TexAgs
Of course, some guards may shift to tackle or center. Some tackles or centers may shift to guard. But the point is that A&M is making an impressive, though perhaps under-appreciated, haul there.
TexAgs' Hunter Goodwin, a former A&M tackle, former NFL tight end and offensive line savant, is duly impressed.
"You've got to have good guards in the passing game," Goodwin said. "Oftentimes the best way to disrupt a play and a quarterback is to make him uncomfortable in the pocket. Collapsing the interior line is the best way to do that. If you don't have good guard and center play that can post up and have stiff front, then the quarterback is constantly under duress."
Still, guards are typically under-appreciated. A good group of guards won't generally have a major impact on overall class ratings. From 2014 through the developing 2020 recruiting class, just four guards have been anointed five-star status by 247sports.com.
One reason for that may be that it's just too difficult to evaluate interior offensive linemen. Linemen drills at camps are typically geared towards pass protection. Often, a guard is matched up against a speedy defensive end with predictable results. The guard looks overmatched.
"When you're on the end of the line of scrimmage, your match-ups are more visible," Goodwin said. "Your athleticism can show itself. When you're a guard, your athleticism is harder to notice unless you're watching tape of every snap of every game from an end zone angle.
"They'll be the guys that never get talked about. Good guard play may not be as recognized because it's harder to see. It's not as visible to the fan, but its every bit as important.
"With guard play, you've got a guy right in your face. You're boxing in a tight ring."
Playing in tight spaces requires a different skill set. Guards are often just asked to create a stalemate at the line of scrimmage or help with double team blocks in pass protection.
In run blocking, they need brute strength get a push at the line but must be athletic enough to pull on sweeps or to reach the linebackers for next-level blocks.
Successful running teams always have strong, powerful guards.
Still, guards almost always will be rated lower, drafted lower and eventually paid lower salaries than tackles.
But just because they're paid less as professionals and celebrated less as college recruits does not mean they should be less appreciated.
"Tackles are paid more. They get more notoriety because they're long and flashy," Goodwin said. "They're like a thoroughbred. They're long, lean and pretty to watch. But if you need to haul heavy crap up a mountain, you go to a quarter horse or a pack mule.
"They'll be the guys that never get talked about. Good guard play may not be as recognized because it's harder to see. It's not as visible to the fan, but its every bit as important."
Never miss the latest news from TexAgs!
Join our free email list