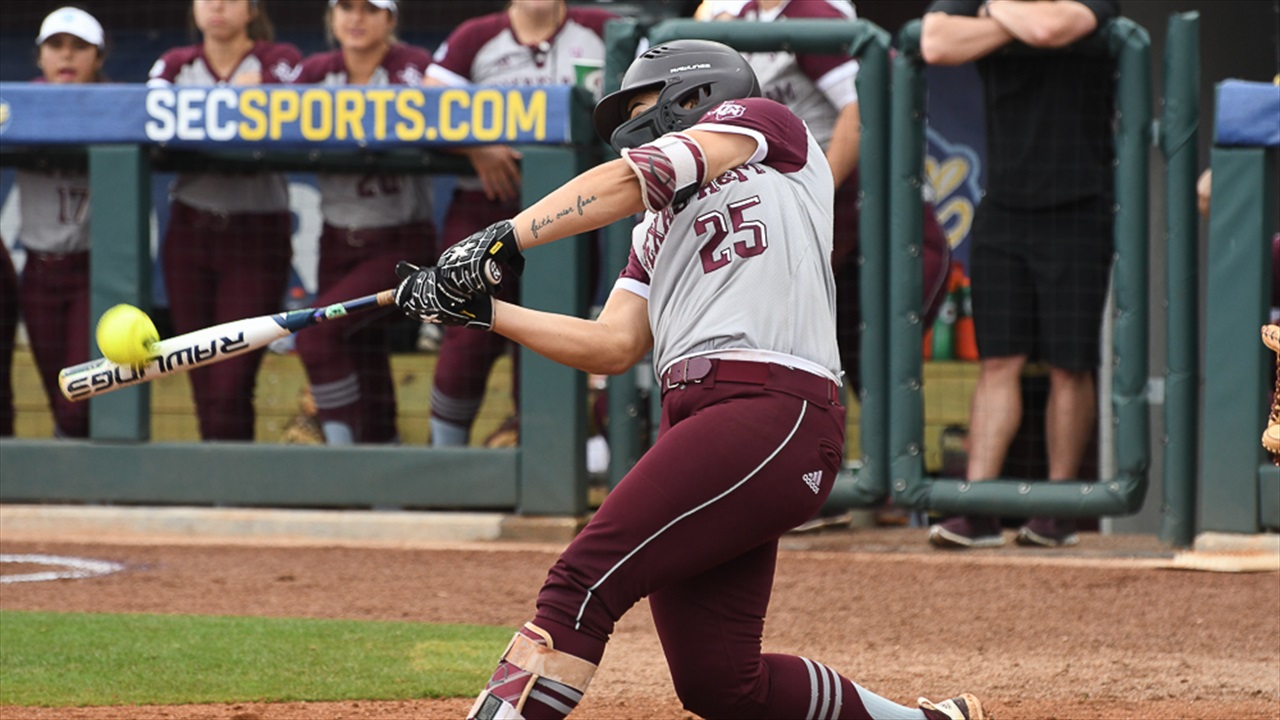 Photo by Mintie Betts, TexAgs
Texas A&M Softball
Aggies Eliminated in First Round of SEC Tournament After Falling 3-2 to Mississippi State
---
Texas A&M softball's run at an SEC Tournament Championship came to a close on Wednesday afternoon as the Aggies fell to Mississippi State, 3-2 in the opening game of the 2019 SEC Tournament.
After falling behind 3-0 in the early innings, A&M battled back to make it a close ballgame. The Aggies never came up with the timely hit they needed as Mississippi State's pitcher Emily Williams thwarted any chance of A&M completing the comeback.
"We certainly had our opportunities," head coach Jo Evans said. "We just couldn't step up."
Mississippi State got off to an early lead as the Bulldogs scored in the bottom of the first inning on a Kat Moore single. After a bunt single and a walk in the third inning, a wild pitch from A&M's Kendall Potts allowed two runners to move into scoring position. Fa Leilua then hit a sacrifice fly to bring Emily Heimberger across the plate, a run directly caused by the wild pitch.
"A routine fly ball ends up scoring a run where it would just been at second," Evans said. "Those are the little things that you look back on and pick apart."
The Aggies were held scoreless until the 5th inning when all-SEC freshman team selection Baylee Klingler brought Kelbi Fortenberry home on a sacrifice fly. A&M would add another run in the 6th inning on a Morgan Smith RBI single to right field. The Aggies would strand eight base runners over the course of the game.
"The difference between us and them is that they executed and we didn't."
"The difference between us and them is that they executed and we didn't," senior shortstop Riley Sartain said.
The Bulldogs' defense played an errorless game and made many difficult plays on hard hit balls right at them. Mississippi State's starting pitcher, Emily Williams, was able to pitch around five walks and five hits en route to the victory.
"I think [Williams] did a good job at doing what she does well and executing with her plan," freshman third baseman Baylee Klingler said.
The Aggies were able to work in and out of trouble to keep the game close. Payton McBride relieved Potts in the fourth inning and worked 2.2 innings of scoreless ball while only giving up two hits and striking out three. McBride avoided danger in the fourth inning, wiggling out of a bases loaded jam. She would also get out of tight spot in the fifth frame.
"I didn't think Potts was quite as sharp as she has been but I thought Payton McBride was great.," Evans said. "[McBride] just continues to get better and better."
The pivotal point in the ballgame came in the sixth inning. Down 3-2 with nobody out and runners on the corners, A&M never got the game-tying hit they needed. Williams was able to work out of the inning and keep the Bulldogs ahead by a run. Williams would later sit A&M's 2-3-4 hitters down in order to close out the game in the seventh.
For the first time in 17 years, it appears that Texas A&M softball will miss the NCAA Tournament.
"Postseason: that's who we are and that's what we do," Evans said. "For us to be in this situation is highly unusual."
The Aggies must now await their fate. The field for the 2019 NCAA softball tournament will be announced on Sunday, May 12. A&M figures to be on the outside looking in, but Aggie players said they are trying to stay hopeful.
"I feel like we deserve to be in that tournament," Klingler said. "We deserve a chance to step up and show people that we're not just an underdog."
Never miss the latest news from TexAgs!
Join our free email list