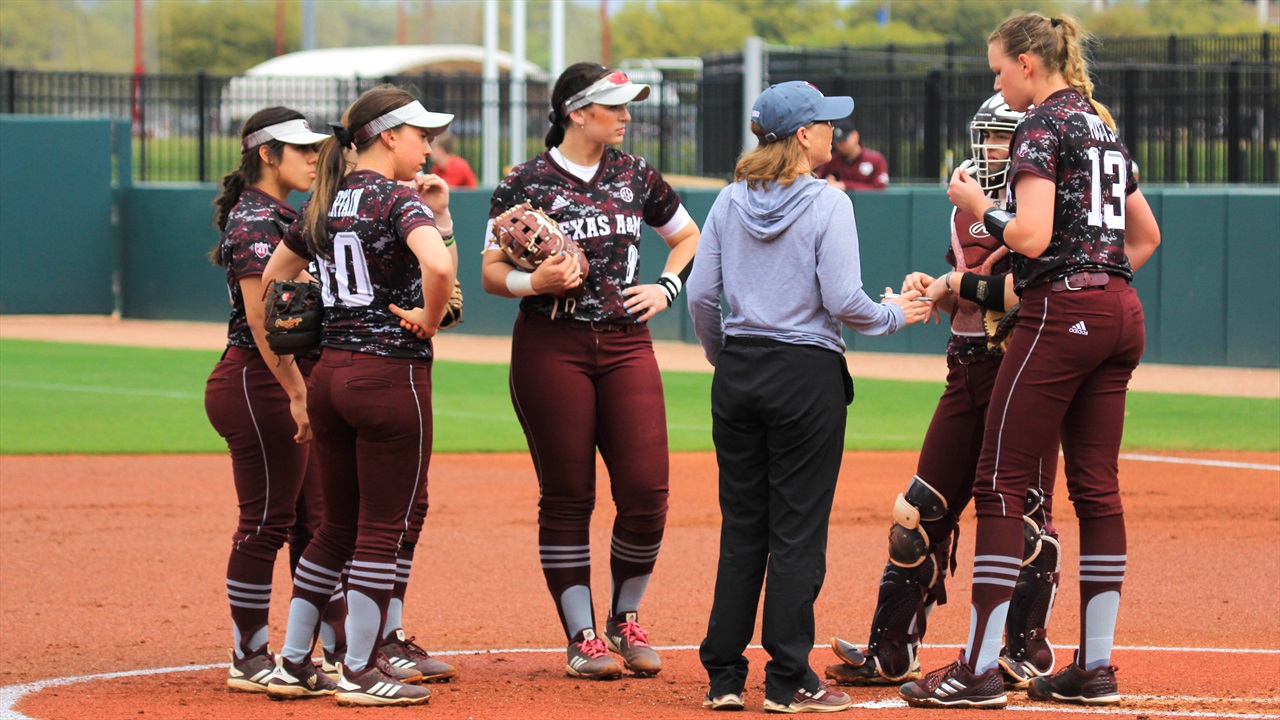 Photo by Angelina Alcantar, TexAgs
Texas A&M Softball
Aggie softball run-ruled, 11-1, for second straight game against Alabama (5 innings)
---
The Texas A&M softball team (17-13, 1-7 SEC) dropped their fifth straight SEC game and their second straight game via run-rule to the undefeated Alabama Crimson Tide (33-0, 5-0 SEC).
The Aggies would find themselves in an early hole after two first inning walks and a throwing error by Riley Sartain. Alabama left fielder Merris Schroder took advantage of the A&M mistakes with a subsequent 2 RBI hit to left. The Tide would go on to score a pair of additional unearned runs to give the Tide a 4-0 lead after the top of the first.
The Aggies bats were quiet for a majority of the early innings, while Alabama added six more runs in the top half of the third. Aggie starting pitcher Kendall Potts gave up a lead-off home run to Schroder, a bases-loaded walk and a grand slam in the third before being pulled in favor of reliever Payton McBride.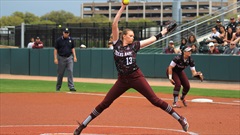 Angelina Alcantar, TexAgs
"There were some pitches that I thought made it, and other pitches it obviously didn't," Kendall Potts said of her performance after the game. "I think tomorrow we need to get ready to play Alabama again."
The Aggie would score a run in the fourth inning on an RBI single by McBride, but it would be the only run the Aggies would plate on the day.
The Tide added a final run in the fifth inning, and held the Aggies scoreless in the bottom of half of the inning to complete the 11-1 run-rule.
Head coach Jo Evans discussed the defeat after the game.
"Definitely a step-back – we've had positive performances from our pitchers before this series. Today we didn't have that, we didn't see that, and we haven't seen it these last two games," Evans said. "What is happening for us is that we make a mistake, and we compound that and make another mistake."
The Aggies will look to bounce back Sunday afternoon with the final game of this weekend's series against the Tide scheduled for 1 p.m. at Davis Diamond. The game will be streamed live on SEC Network+.
Never miss the latest news from TexAgs!
Join our free email list