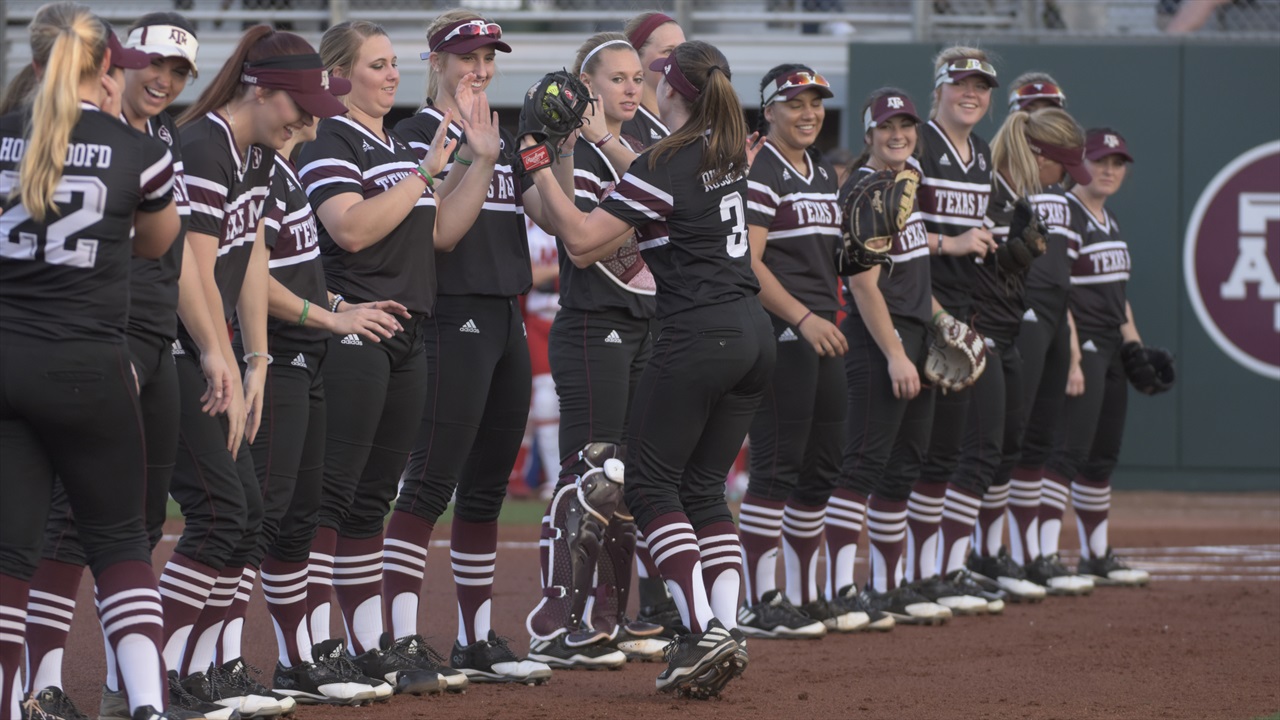 Texas A&M Softball
Aggie Softball's Jo Evans, players preview College Station Regional
---
The stars at night are going to be big and bright this weekend as four different Texas softball teams head to the College Station Regional this weekend. Texas A&M, Texas State, the University of Texas and Texas Southern will duke it out for a chance to advance to the NCAA's super regional round.
On Thursday, coaches and select players from the four Texas teams participating at the College Station Regional spoke to the media.
Coach Jo Evans, sophomores Riley Sartain and Samantha Show of Texas A&M talked about what the team has been working on heading into the tournament, the excitement of hosting, and the novelty of having an all-Texas field. To open the tournament on Friday, Texas and Texas State will battle it out at 4:00 p.m. before Texas A&M and Texas Southern go toe-to-toe at 6:30.
Head Coach Jo Evans
On her thoughts on the regional...
"Well we're obviously excited to be hosting. It's something we've worked hard at all year long. When we had our first team meeting we talked about our responsibility to this program is to put this program – is to put ourselves – in a position to host regionals and super regionals, and although we fell a little short on the super regionals, right now the only thing that's important in our mind is that we're hosting regionals. We're at home, and (it's) a chance for us to gain some momentum. The field is a great field. With all the Texas teams, there's a lot of familiarity for us, we played Texas last year in the postseason. We played Texas State already this season. And Texas Southern we haven't seen in many years, but we're excited to get the opportunity to play them."
On what the regional atmosphere will be like…
"We expect it to be a great atmosphere. We also know because everyone's so close within a couple hours that they're going to travel well. So, we expect to have some burnt orange in the stands, and some black and red and some maroon from Texas State, so we're looking forward to it. So it's really important to us that we get a good crowd out because we know that there are going to be opposing fans in the stands, but I think the atmosphere is going to be great. I don't know another regional in the country – I don't know if ever that there has been teams from all just that state so close to each other, so it lends itself to being a really great atmosphere."
On key differences from last year…
"We're just more solid all the way around. We've played great defense all year, and we've had a couple of games where we weren't our best, but you look at our fielding percentage (and) it's one of the highest in the country so we've improved on that. We've worked really hard at it in the offseason. Our pitching staff is deeper and better. We have more tools. We have four pitchers who are very different from each other so we are able to give different looks depending on different matchups, which that wasn't always the case for us before so those things really stand out to me for being improved areas that we've worked really hard on to get ourselves in a position we're in right now to be one of the top seeds."
On Coach Evans' 16 consecutive NCAA Tournaments…
"Well it's just important for us to remember that: who we are. It's important we remember our history and the expectation is this is where we are supposed to be. We're supposed to win it, and we're supposed to be playing in the College World Series. And we're still a young team. I don't know if people recognize that. We're starting four sophomores and the rest juniors and one freshman and so we still have room to grow, but my hope is that our maturity level is such that we understand this stage and what it's like and what's expected. So, this is a year where we've worked really hard to make a turn, and we've done that in the SEC. This is our best SEC season to this date, and this is an opportunity for us to get out and take that experience with us in the regionals."
On Riley Sartain's development...
"Well Riley's always been a really hard worker so there's nobody that will out-work Riley, she's here at night when no one else is around under the lights hitting, and she worked hard last year. What's different? I think last year she's been able to relax a bit and not over-think. She's really smart. She's one of those high-IQ kids, and she's a thinker. Sometimes those kids can think too much, and so this year I've seen from her is she's able to relax and trust all her hard work and be more instinctual in how she plays the game instead of trying to calculate exactly how this is going to look like and exactly how these things are going to play out – you know, which pitch is coming and what I'm going to hit. Sometimes she would get a little too bogged down with that – too much information. So now I think she's gotten a lot better at just relaxing and playing the game and just trusting all her hard work."
On the offense struggling at times…
"Yeah, last year I think we were just a lot more consistent at the plate, our pitchers gave up a bunch of runs and our mentality offensively was that we'd score one more run than the other team. If they were to score 12, we were going to score 13, and this year's kinda flipped a little on us. But I think consistency is the key for us, and I do think our team was pressing a bit offensively. You can see that at times we're relaxed, we're aggressive and we're scoring a bunch of runs, and at other times we're a little more attentive so it's really important for us that if we're going to make a run in this postseason – which we feel we have the talent to do it – we're going to need to see our offense relax and attack. It's not a matter of, 'Do they work hard enough? Do we spend enough time getting reps? Do we want it? Do we have a great attitude?' We have all that. We just don't want to be try-too-hard hitters. We don't wanna get up there too tight, pressing, wringing our hands and then frustrated when things don't go our way."
On the timing of regionals...
"Yeah it's nice to be done with school. We joke about being paid to play right now. So, that's fun. They can be focused on having some fun with their teammates. We're out of the SEC, which is a grind week in and week out, but that prepares us for the new grind that we're about to face. It's nice because it feels like a mini season – like a completely different season than what we've been a part of – and that's good. We needed a fresh look. We needed some time to be on the practice field to break some things down and feel better about ourselves, so I'm really pleased that we've had that opportunity. The silver lining about losing to Alabama early in that tournament is that we got to come back and have some really challenging, tough practices and pay attention to some detail that when you're in the middle of the SEC conference play, you don't really get to do. So, we've used that to our advantage.
---
Riley Sartain
On what the hitters focused on coming into regionals...
"When we came back from the SEC tournament, Coach Glasco was very adamant about not trying to reinvent the wheel. Really just to be more, sharp and take pitches we can drive hard, and we've been preparing for any option this weekend – whoever we face. And of course, our first plan of attack is to go get those Texas Southern pitchers."
On what she's been working on at the plate...
"So I worked with Dan Ortmeier. He played for the Giants. I worked with him over the summer. We just kind of tweaked some things. I wasn't really happy with my overall performance from my freshman year. We haven't really changed too much, but when we came out, it was pretty cool. It's funny. We were actually trying to make my swing look like Josh Donaldson, so it was kind of cool to get that comparison, but that's not really the swing I use anymore. Me and Glasco worked really hard this Fall in getting a more softball-based swing and really attacking the rise ball and being able to hit all those pitches."
---
Samantha Show
On all of the College Station Regional teams being from Texas…
"Yeah, actually I have a close friend that goes to Texas Southern. We went to high school together, and actually when it was announced who we were playing, my first thought was, 'I get to see Heaven!' We kinda communicated. It really just goes back to playing summer ball, and it's comfortable – almost – to know we've faced each other before and that's it's going to be a battle no matter who we are playing."
On getting a fresh start after the SEC Tournament…
"Oh definitely, I think that right now we have a lot of fire under us and we have that determination to come up swinging, and we're swinging hard."
---
College Station Regional summary
Texas A&M (42-10,16-7 SEC)
Seed: No. 1 (9th overall national seed)
Conference: SEC
Mascot: Aggies
Coach: Jo Evans
Bid: SEC At-Large
Texas State (41-15, 18-8 Sun Belt)
Seed: No. 2
Conference: Sun Belt
Mascot: Bobcats
Coach: Ricci Woodard
Bid: Sun Belt At-Large
Texas (31-24, 7-10 Big 12)
Seed: No. 3
Conference: Big 12
Mascot: Longhorns
Coach: Connie Clark
Bid: Big 12 At-Large
Texas Southern (25-19, 12-6 SWAC)
Seed: No. 4
Conference: SWAC
Mascot: Lady Tigers
Coach: Worley Barker
Bid: SWAC At-Large
Regional schedule
Friday, May 19
Game 1 - Texas vs. Texas State – 4:00 p.m. (Longhorn Network)
Game 2 - Texas Southern vs. Texas A&M – 6:30 p.m. (ESPN3)
Saturday, May 20
Game 3 - Game 1 Winner vs. Game 2 Winner – 1:30 p.m. (ESPN3)
Game 4 - Game 1 Loser vs. Game 2 Loser – 4:00 p.m. (ESPN3)
Game 5 - Game 4 Winner vs. Game 3 Loser – 6:30 p.m. (ESPN3)
Sunday, May 21
Game 6 - Game 3 Winner vs. Game 5 Winner – 1:30 p.m. (ESPN3)
Game 7 (if necessary) - Game 6 Winner vs. Game 6 Loser – 4:00 p.m. (ESPN3)
Never miss the latest news from TexAgs!
Join our free email list