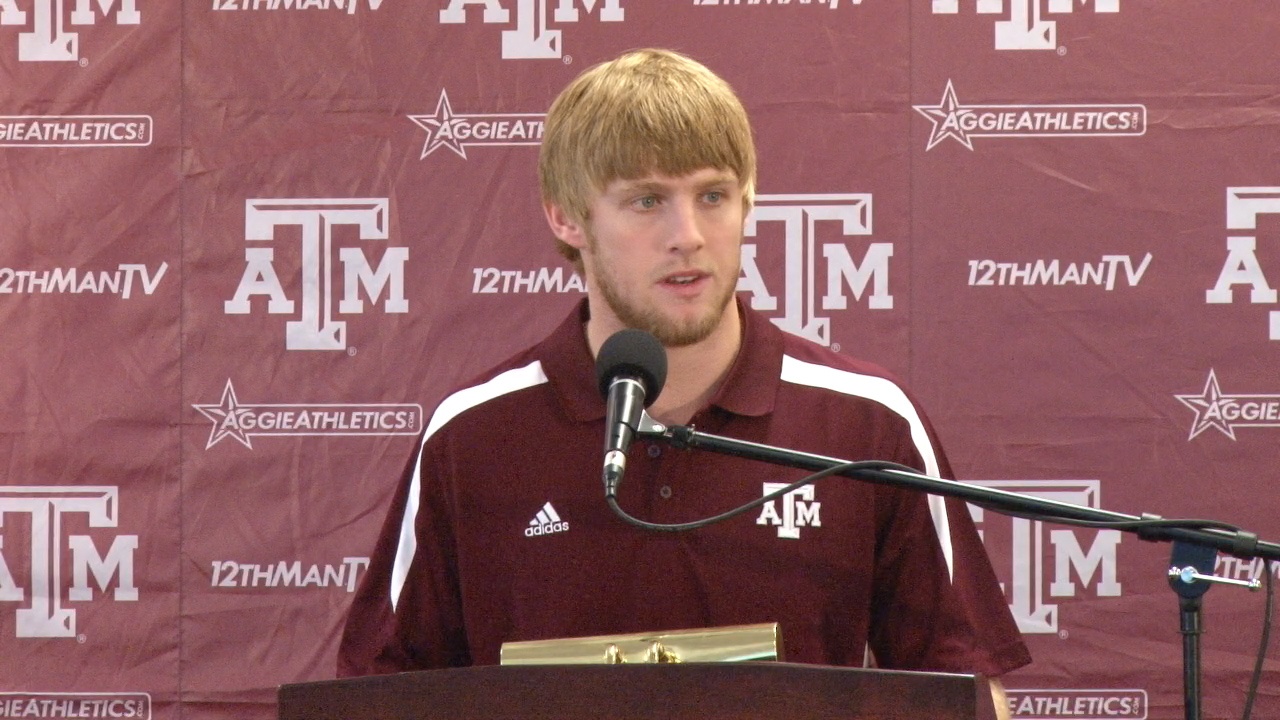 Kevin Sumlin
Kliff Kingsbury
Mark Snyder
Ryan Swope
Uzoma Nwachukwu
Patrick Lewis
Spencer Nealy
Jonathan Stewart
Steven Terrell
Texas A&M Football
Last Ride: Aggies discuss Senior Night, Mizzou & more
---
Kevin Sumlin
On how the team will spend Thanksgiving...
Sumlin:
"Typically, in the past, we've practiced early in the morning Thursday for a Saturday game. Guys are making trips three-four hours away, whether it's East Texas, San Antonio, Dallas, and that way they can get there. We push things back a bit on Friday so guys don't have to get up and rush back here early. If they want to go home, they can get home reasonably. Right after practice, we'll have a big Thanksgiving spread up in the Zone for those guys who live too far away. We'll try to take care of everybody that way."
On Michael Richardson...
Sumlin:
"It was amazing, he was at the team meeting yesterday. He was trying to get out of the hospital Sunday night. It was really a shock, because he played the whole second half. We were going back and looking, trying to figure out where it happened. It was a play near our sideline where he came from behind and made a hit. Then he played the rest of the game.
"You look at the X-ray, and it's a miracle. It could have been a catastrophic situation. Right after the game, we took him to the hospital and had the surgery and it was successful. He's in great spirits. I'm not going to ask him how he's doing, because he had a broken vertebrae and played half a game. It could have been a lot worse. We've got to tell him to slow down right now. I'm not even worried about (his football future) right now. We're worried about, in this phase, him getting better."
On Thomas Johnson...
Sumlin:
"He's still with his family and we're just kind of working through that."
On any special challenges to stay motivated this week...
Sumlin:
"No. We're playing a team that no one on this football team has ever beat. It's Senior Day. That ought to be enough to get our attention this week."
On this senior group's buy-in...
Sumlin:
"It will be a big deal. It will be ... probably a pretty emotional situation at the start of the game. For a lot of people. Not just for the players, but for me too. For what these guys have done this year. If you look at what has transpired this year, with a new coaching staff coming in and these guys having to deal with new philosophies, offense, defense, special teams, new quarterback, first game cancelled by a hurricane, playing 11 straight weeks ... the way they've played is nothing short of amazing.
"That takes leadership. Effort has never been an issue with this team. And I don't expect it to be this week. From my standpoint, you can't do that without senior leadership. You're only with them so much as a coach. It's in the locker room that guys need to be held accountable. They've been critical to our success. I told them in the team meeting, 'We have one more week. We need you to do it one more week.'"
On Patrick Lewis...
Sumlin:
"Patrick does everything up front. He gets us targeted in the run game, sets up protections in the pass game, and like I said earlier, he was tired of me yelling at him. We can't do anything until he gets to the ball. It's hard when you're 300 pounds and the ball gets spotted and the coach is yelling at you to get to the ball.
"It starts with him every time. From a tempo standpoint, if he's slow to the ball, our tempo's slow. He sets the protection, points out the run game, all of it. He's done a great job. He's had some hellacious matchups this year inside. Big, strong, athletic guys. From right off the bat against Florida ... he's the only senior on that front and he's been a leader for us the whole time."
On what's changed in a year...
Sumlin:
"As a coach, you don't really have a chance to enjoy a lot of things until it's over. You're always going to the next deal, the next game. It's the biggest game of the year, or a trap game, or 'this' game. But it's been fun. Getting back to your question about the seniors, that's the biggest thing to me — how this team has come together and accepted this coaching staff. From the beginning where there was a lot of tension to now, where there's ease in talking to guys about things that have nothing to do with football.
"That's what makes coaching a lot of fun. It's amazing how fast the season has gone by. It took a while with the hurricane, but it's just been boom-boom-boom. You look up and, these seniors, it's their last time to run out on Kyle Field. It'll be an emotional day."
On what makes Luke Joeckel and Jake Matthews so good...
Sumlin:
"They're big, athletic and smart. And tough. That's a great combination. And they've played a lot of football since they got here. They're confident, they've played against everybody; they're juniors but they have as much experience as anybody in the country. You can just see the confidence level.
"As your team gets better — I've been on teams like that, particularly at Oklahoma — you do one-on-one pass rush and you block Damontre Moore, he goes from one tackle to the other tackle and they're making each other better. And as your talent level rises on the team, guys get better across the board by practicing against good players. And the confidence level goes up by game time.
"But those two definitely understand the game and they're extremely talented guys. And tough guys. The whole offensive line has done a great job this year."
On whether he always wanted to be a coach...
Sumlin:
"No. Matter of fact, my dad didn't want me to be a coach, because he was a coach. At one point I was going to go to law school, but that didn't work out. I probably should have done it, I wouldn't have to deal with you guys. (Laughter.)"
On whether he had to be hard on the seniors as a head coach...
Sumlin:
"I've done this twice now, so ... everybody's got different ways of doing things. I'm probably more sensitive to those guys. Some guys would come in the program and push those guys aside and start playing the young guys. But those guys have the hardest time, because they didn't sign up for you. Other guys have a year or two to get adjusted. Those guys have eight months. For most of them, they'll never play football again.
"So their experience ... I'm very, very sensitive to that. Anybody who's ever been a part of something like that knows that that experience your senior year is probably what you're going to remember most. It's critical that, win or lose, whatever happens, that it's a good experience."
On Missouri's offense and whether it's similar to his...
Sumlin:
"Not really."
On the senior linebackers...
Sumlin:
"They've done a great job. Jonathan and Sean have played a lot. Steven Jenkins has made big plays for us. You look back over the course of the year, critical turnovers, big plays, sacks ... we asked them to do a lot. We had some situations where our secondary's been thin in some games, for whatever reason. Guys missed games and we had to play Sean Porter at nickel in the Ole Miss game.
"Like I said, what that group has done this year, going without a bye week, playing the way they've played all year, has really been phenomenal."
On the challenge Mizzou presents...
Sumlin:
"James Franklin has been in and out of the lineup. That's hurt them a bit from the continuity standpoint, but they're talented. Big guys outside, always had talented receivers. They've struggled for whatever reason. The quarterback going in and out ... when you lose your starting guy — there's a reason he's your starter.
"But they lead the league in the kickoff return game. Both these teams come in Saturday with a lot to play for. Last I checked, they haven't lost here in a while. They won't be lacking confidence."
On building depth and the 28 points given up by the backups showing a lack thereof...
Sumlin:
"You saw it. You were at the game."
On Christine Michael's ejection...
Sumlin:
"There's no video. It was late and the TV didn't catch it. I didn't see it when it happened. I was busy doing something else. When the league rules, the league rules. That's good enough. We can move on."
On Mizzou beating Houston for players when he was there...
Sumlin:
"We lost some commitments to Missouri. We lost three of them. We didn't recruit (Dorial Green-Beckham). We didn't get in the mix. We concentrated on in-state and Louisiana. But he's an excellent player."
On the players ready to beat Missouri...
Sumlin:
"A lot of things happened for this team this year, a lot of firsts. First year in the SEC, playing different teams. It's ... similar to the Arkansas situation. I'll just say that."
On whether the SEC was everything it's cracked up to be...
Sumlin:
"It's what everybody says it is. It's a line-of-scrimmage league. Everybody has depth. You beat teams in this league with speed. It's the emotional and physical grind. You've watched different teams this year go through it. They're playing good at certain points and then you've got to go back-to-back-to-back. Somewhere, no matter who you are in this league, you're going to have to go boom-boom-boom.
"Physically, in this league, to do that and handle that particularly on the road, is very difficult. Practicing during the week, handling the guys that can barely walk on Monday and Tuesday, giving them the game plan so they can execute it by Saturday ... you have to have depth in this league to sustain success. We've got to recruit to that. We've been very fortunate this year from an injury standpoint.
"How we've managed practice this year has helped us. But against Ole Miss, we played 17 guys on defense the whole game. One only played one snap. So really 16. A bunch of them played over 100 snaps. Then they've got to regenerate and come play (again). You've got to play very physical ballgames every week. That's probably the biggest difference. And some very hostile environments every week. The fans are very, very passionate.
"This weekend, for our seniors, particularly with what Missouri does offensively, we need a great effort from our team, but we need a great atmosphere from our fans too. Our seniors deserve that. It ought to be an emotional time for them but it'll be a great time for them to play their last game at Kyle Field and show some appreciation for what they've accomplished."
On the program impact if the 2012 Heisman resides in College Station...
Sumlin:
"It's the biggest honor there is in college football. Biggest individual honor. It's a big deal. You can tell that because many schools don't have one. We have (only) one. That shows how hard it is to be in the conversation."
On whether Manziel is the most outstanding player in college football...
Sumlin:
"I would say this. I think that if you look at his numbers ... just look at his numbers and what he has done, compared to everyone else who's playing the game. They speak for themselves. I'll take it a step further — if you look at his numbers compared to anyone else who's played the game in one season, they speak for themselves."
Kliff Kingsbury
On Manziel's Heisman candidacy...
Kingsbury:
"That's above my pay grade. But do what he's done as a freshman in that conference ... the fun thing is to watch the film and see how he's improved from Game 1 to now."
On what made him want to work for Sumlin...
Kingsbury:
"I kind of fell into it. I came to Houston to help out Dana (Holgorsen) and he saw what I was doing and asked me to stay on. I was very fortunate. I've been around, in my playing career, some big time coaches, and he's as good as any in terms of handling the team and preparing them each and every week."
On what Patrick Lewis has meant to the offense...
Kingsbury:
"Huge. He's probably the most underrated player on the entire team because we put so much on him from a run game and protection standpoint with a young quarterback. I can't say enough good things about Pat. he's really led this offense."
On Mizzou's defense...
Kingsbury:
"They have a very good defense. They're very diverse schematically and they give you a bunch of different looks. It'll be a challenge for us."
On telling the players not to cry on Senior Day...
Kingsbury:
"That was a different line of thinking. It's kind of a private deal."
Mark Snyder
On Missouri's offense...
Snyder:
"The way they spread the ball out makes you defend the entire field horizontally and vertically. They have good wide receivers and a very good quarterback. They'll make us defend both ways."
On preparing for two quarterbacks...
Snyder:
"They're doing the same things with the other guy that they're doing with James. They may be different quarterbacks, but they're doing the same things."
On how proud he is of the defense's performance this season...
Snyder:
"I would use all of those words. Very, very proud. There are a lot of emotions that come to mind. We've got to piece together, with Sean playing different positions, Deshazor, we've had to mix and match each week. Guys have done an outstanding job. They did again on Saturday, if you watch the film. We hadn't faced a lot of option. Very, very proud, very happy, all those words."
On Spencer Nealy...
Snyder:
"We've talked about Spencer at length. He's an energizer buddy and he keeps things up at practice."
On whether he was bothered that Damontre Moore wasn't an award finalist...
Snyder:
"To be honest with you, I was. He's deserving. A lot of it is preseason stuff. I understand that. But if you look at the big picture, a kid moving from a position to another position and excelling at that position ... that's what the awards are for. That's not taking away from those other guys up for the award, but Damontre's of that mix."
On Michael Richardson...
Snyder:
"Mike's such a big, tough, strong guy. Very well put together and thank goodness. Very good kid. One of my favorites."
On Stewart and Porter...
Snyder:
"Those two guys are our coaches on the field. I've enjoyed being with them and around them. My challenge to those guys was to get in my head, because I can't play. Around the middle of the season they started getting in my head, and you know things are going on when guys are coming to the sideline saying, 'Let's try this.' And it's a good idea."
On players having perpsective on the field...
Snyder:
"They can hear what's going on out there. If it's my idea, it's a good idea. If it's their idea, it's a great idea. And they've held themselves accountable with their play."
On Manziel's season...
Snyder:
"It's right up there with Troy Smith, who won (the Heisman). Johnny's probably got better numbers than Troy had."
On practicing against such a talented offense...
Snyder:
"There's no doubt, every day we're going against some of the best guys in the country. When you've got a whole team doing that, there's something good going on."
On how his life has changed since last Thanksgiving...
Snyder:
"It's been good. We were excited to come here, thought we could compete in the SEC. The unknown was how our kids would buy in. Our talent, what we're going to do, what we're going to build, we knew what that was going to look like. Would the kids buy in? Kevin's done a great job of that. It's hard to sit back and reflect in the season. You sit there and you look — caught myself doing it yesterday — the first spring practice, what we looked like, and looking at the picture now, it's pretty amazing."
On the secondary...
Snyder:
"We're making progress. We'll continue to make progress. We're not as veteran back there as we are at linebacker or defensive end. And we've had to move some pieces back there. That's hard to do when you're youthful. I hope in the future that'll become our strength because of how we've had to shuffle people."
On injuries on Mizzou's O-line...
Snyder:
"It's hampered them a bit. Their center has had to go to right tackle. I'd like to say this now — this Saturday, one of the most impressive things that happened this year — at Bama, when Johnny addressed the center, the crowd ... you couldn't hear anything. We need that here this weekend. The 12th Man could really, really help us this week."
Ryan Swope
On whether he'll be the first to cry...
Swope:
"I don't know about that. (Nealy) will be the first to cry in my opinion. But to be honest, I think everybody's going to cry. It's going to be an emotional night. But it shows a lot of respect for this University. We're going to go out the right way. It'll be hard to know it's our last game on Kyle Field, in front of this incredible atmosphere."
On playing with Jerrod Johnson, Ryan Tannehill and now Manziel...
Swope:
"I never really thought about it. It's pretty cool that we get to experience three quarterbacks, all very different in their own ways and all going down in history here. It's cool that I got to be a part of that. I can't wait to see what these guys can do in the future. It's very humbling to be a part of that."
On his Thanksgiving plans...
Swope:
"My family is coming up here and we're going to just celebrate in College Station. It'll be good to see them and celebrate with them without having to drive two hours."
On the feeling before this one...
Swope:
"It's just another game. It's not an odd game at all. It's one of those games we treat like any other game. We're excited that we get to play Missouri, we're excited that we get to play on national television and we can't wait for Saturday."
On...
Swope:
"I really didn't know what to expect. I knew I was coming to a great university. Got recruited by Coach Sherman and his staff, target as an athlete. I didn't know much about receiver. Slowly, I started learning receiver and Tannehill taught me the ways. Then here I am today, just thankful to receive these great records. But I really tilt my hat to my teammates, who've helped me achieve these records and get me to where I am today. If it wasn't for them, if it wasn't for the offensive line blocking for me, if it wasn't for Johnny or Tannehill getting me the football, it's a special moment I want to share with my teammates."
On Patrick Lewis...
Swope:
"Patrick's not a guy that talks about himself at all. He's a team player. He's been so fun to play for and he's one of my really good friends on this team. He's a guy everyone looks up to. He wants to win, he makes the right decisions, he's a great student ... everything Patrick has done for this University has been incredible. I'm going to keep in touch with him for a long time. A guy with that kind of character, you want to go far."
On Spencer Nealy...
Swope:
"I think Spencer has his own ways of viewing things. He sees through his eyes. But I think it's just one of those things ... Spencer, when I saw him, I didn't know if I'd be able to last living with this kid because he's such a pig. No, not really. He's been fun to joke around with. He tries to take my swag, take that credit. We go back and forth. It's been fun to experience this senior year with him. I can't say enough good things about Spencer."
On whether the receivers feel extra pressure with Manziel's Heisman hopes on the line...
Swope:
"Yeah, there's obviously pressure, but we have to treat it like any other game. And Johnny does too. He knows what's at stake. We have to win this game on Saturday. Take it one day at a time in practice, like Coach says, be 1-0 on Tuesday, Wednesday, Thursday and have a great week."
On how close he was to leaving for the NFL...
Swope:
"I was. It's one of those things where I'd wake up one day and tell myself I'm going to leave, then the next day, I'd tell myself, 'I can't leave this place.' It came down to me having to follow my heart and I just prayed about it. I had to follow my heart and experience the SEC and these great things and the fans. That was one thing I didn't want to leave. I didn't want to leave Texas A&M. It's been an amazing journey. The traditions and the fans we have, I couldn't leave it behind.
"It's going to go down in history, to be the first senior class to compete in the SEC. It's pretty cool to be a part of that and to be a part of a winning season. We just have to stay focused though, get to 10 wins. One of our goals is to play in a BCS bowl, the biggest possible. To come back and be part of it, I couldn't be happier."
On potentially facing Texas in the Cotton Bowl...
Swope:
"I think it'd be a very interesting game. No better way to go out than playing Texas. We have so many great traditions, so many intangibles in that game. It's great for the fans and the universities because they've been playing each other for so long. It'd be great to go out playing Texas."
Uzoma Nwachukwu
On how far the offense has come as a unit...
Nwachukwu:
"We've come along great, because if you look at that first game we definitely didn't know how that offense was going to run and how Johnny likes to play. It was an adjustment and we definitely gelled and we've definitely gotten a whole lot better."
On the chemistry between the receivers and Manziel...
Nwachukwu:
"It's kind of surprising because the kinds of throws he makes ... I don't know how he can throw from one side of the field to the other on one foot. But we definitely work scramble drills a lot, and that's helped. Understanding where he wants to go. After the first couple games, just watching film and understanding that anybody on the field is open ... that's helped a lot."
On how fast Manziel is...
Nwachukwu:
"I don't know timing-wise, but Johnny is deceptively fast. Yeah, (defensive backs underestimate his speed) a whole lot. When he runs, he doesn't look like he's running fast but he's gaining a lot of ground. So they take the wrong angles. He has deceptive speed at the quarterback position. It's definitely a different dimension to the game."
On the fastest player on the offense...
Nwachukwu:
"If I had to sit myself out of this (chuckles), I'd say Swope. (But) I could beat him in a race."
On the team gelling...
Nwachukwu:
"Coach Sumlin did a great job of easing those nerves and making a smooth transition and making sure we're all comfortable."
On how far they've come since last Thanksgiving...
Nwachukwu:
"It's crazy to think about that because we're in a whole different kind of program. It's bittersweet because we're getting a whole lot better but I don't want to see it end. It's great to see the strides we've made."
On pressure on the receivers to help Manziel's Heisman candidacy...
Nwachukwu:
"I think we always have pressure, no matter what game we're playing. We expect greatness out of all of us. We expect the best of everyone on the field. We hold ourselves to that standard. If he's up for those awards, we'll be on the highlight. That's incentive to play better."
On his four years at A&M...
Nwachukwu:
"I've definitely been blessed with some great quarterbacks, and just to be able to play with guys like Jerrod and guys like Tannehill and Johnny, it's been a blessing. I'm definitely lucky to be at a school where we can recruit quarterbacks like that and have great success."
On his relationship with Swope...
Nwachukwu:
"Me and Swope have been through a whole lot and, when he came in, he was a running back. We almost had to kind of teach him how to run routes. Now he's the guy teaching everybody else to run routes. I'm so proud of him and all he's accomplished. It's crazy to see where he came from that first fall camp to now making all these plays downfield and doing as well as he is."
On the motivation to beat Missouri...
Nwachukwu:
"There is, because as a senior group we want to go out the right way. We can't go out the right way without finishing this. There's definitely motivation and guys are harping on it little by little every week. To go out the right way and right all the wrongs will be amazing."
On his Thanksgiving plans...
Nwachukwu:
"Hopefully watch as much football as I can. Study a bit of film. And relax with family."
Patrick Lewis
On his last game at Kyle Field...
Lewis:
"This game is real special. My thoughts going in are just getting a win on Kyle Field. We haven't had success against Missouri in the pass and it'll be nice for our last game at Kyle Field to be a win against Missouri, and to get a 10-win season for the Texas A&M football family."
On the history with Missouri...
Lewis:
"There's a lot of added motivation. This week in practice, it's not hard to create energy as we get ready for this game, knowing they've beat us twice at Kyle Field the last two years. We're going in with a lot of energy this weekend and a lot to prove. Like I said, they've beaten us two years in a row on our home field and that's unacceptable."
On when he settled into the offense's tempo...
Lewis:
"Probably in the middle of the season. We started clicking and I knew the offense like the back of my hand. It was easy to beat the ref to the ball and create more scoring opportunities."
On how different it is from Thanksgiving a year ago...
Lewis:
"Last year we had won six and lost five and we were scratching and clawing for seven, but unfortunately we lost. (Now) it's just a different attitude. We've had a lot of changes since then and it's been for the better. Our record shows that. The attitude around here is not the same at all. It's about winning. That's what the plan is, to win and keep on winning."
On Longhorns tweeting that A&M's missing out by not playing on Thanksgiving...
Lewis:
"Whatever the schedule presents, that's what we're going to do. If the schedule presents a Thanksgiving game, we'll play it. If not, we won't. We have a game to play right now that's more important than playing on Thanksgiving."
On whether anything will be different this week...
Lewis:
"We're not going to change anything. We stay in our normal routine. That's the biggest hting we do, we ahve a routine going into games. We haven't changed it for anyone we've played, no matter the opposition."
On whether he thought in the summer that he'd eventually be snapping to a Heisman candidate...
Lewis:
"I would've thought it was very doable. I know what this offense can do. And I knew what kind of team we had. We competed against each other all offseason and we're like brothers in the locker room. We fight for each other. That's what's led to our success this season. We love each other like no other."
On how he feels about Manziel's chances...
Lewis:
"It's been talked about. We want him to win it. But the important thing is this Mizzou game. If you don't win, you don't get those types of accolades. We're focused on winning right now."
On what makes Luke Joeckel and Jake Matthews so good...
Lewis:
"They do a phenomenal job of just being themselves, never getting out of their element. They get put on a high pedestal as offensive tackles (but) they're very consistent about working out and competing against each other, making each other better. They do a lot of football talking and watch film together, doing the things that make offensive linemen great. They'll be great offensive linemen in the NFL."
On whose career path surprised him...
Lewis:
"I'm going to have to go with Ryan Swope. I think he came in as a running back, and once they moved him to receiver it's history from there. He's really thrived as a football player. He's a big competitor and he works real hard. It's showed."
On being the center for Jerrod Johnson, Ryan Tannehill and now Manziel...
Lewis:
"I never really thought about it, but now that you say that I guess I can take a little credit (laughter). Those are three amazing quarterbacks and I guess I played a small part in protecting them. I can take pride in having blocked for three of the best quarterbacks in A&M history."
On who will be most sentimental...
Lewis:
"Probably me. I've played a lot of games here on Kyle Field and it'll be kind of hurtful that it's my last game on Kyle Field. We want to walk away with a victory. If we win, it might not be as sentimental, but it'll still be hurtful to never walk on that field again. I might come back and sit on the alumni side, but to not play anymore is kind of hurtful."
Spencer Nealy
On what he likes most about Sumlin...
Nealy:
"I can't even think of a clever thing to say. I don't want to sing the same tune, but I like how cool he is. He's going to tell you how it is. I don't like people that beat around the bush. Coach Sumlin, since day one, he didn't know us that well but if you were playing bad he'd tell you you were playing bad. That's what I like about him."
On his four years at A&M and once spending a spring at tight end...
Nealy:
"We talked about it the other day when someone threw me a pass in practice and, of course, I dropped it. But trying at tight end was awesome. Then I played 3-4 D-end, now 3-tech and 5-tech, it's awesome. It's been a crazy four years. But trying at tight end was awesome. With the mindset I have, you have to tone it down on offense. It was an experience."
On Luke Joeckel being up for the Outland Trophy...
Nealy:
"I told Joeckel, who knows man, I may be making that trip to Orlando to cheer him on. (Him) being one of my best friends, I almost feel like I'm winning the award. I tweeted last night, I'm so proud of him. He told me not to tweet it. That's just how he is. I've never known someone who won this kind of award. ...Get out of here, Swope (Swope had ducked in)."
On last Thanksgiving...
Nealy:
"It was upsetting. We should have won that game and we feel we let the whole Aggie community down. It still burns. I'd love to play that game again."
On potentially playing the Longhorns in the ...
Nealy:
"I'm hoping for the best bowl. And if we play in the Cotton against Texas, that'd be awesome. If you think about the way this year has gone, that'd be the cherry on top for the seniors to redeem ourselves and send us out."
On Longhorns tweeting that A&M is missing out on Thanksgiving...
Nealy:
"We definitely get a full week to prepare and a lot of guys get to go home and, for the seniors, this is our first year to get to enjoy Thanksgiving. So... we get a Thanksgiving. They don't. But it's weird, definitely. We have full-padded practices, which kind of sucks. The past few years we'd have nice, calm practices because it was a short week. I do miss that. But we get a full week to prepare for Missouri and that's definitely going to be a plus."
On whose career path has surprised him...
Nealy:
"I just knew Swope was going to be a superstar once I saw him with his flat-billed Yankee hat. I was super-intimidated by these guys, Eazy, Swope, Lewis ... they just looked rocked. I still don't look rocked, but freshman year (I definitely didn't). I have no surprises at all. Our class was a pretty special class and I knew we were going to be special all four years."
On Lewis...
Nealy:
"That's Pat, man. He's still, to this day, the best center I've faced. I appreciate him in practice because of how good he is. He's definitely the most underrated player in my opinion. People truly don't understand how good he is, because of the checks and calls he has to make. He's consistently been in there, rocking it. Pat's the man."
On his last game on Kyle Field...
Nealy:
"With this week being a lot of lasts, I've definitely thought about it. It's kind of heartbreaking. It sucks, because last game I was listening to my iPod before the game and I was like, 'I don't have many more left here.' Now that we don't have much left but practice — other than the bowl game — now I'm starting to think, 'There's nothing after that.' No media day, Tuesday practices, Wednesday practices, the juicy stuff. The things you love. It kind of sucks. But, four years of it, so... you can't complain."
On hosting Manziel on his official visit...
Nealy:
"Not a lot of people know about that. I did host Johnny, at the OU game. I don't want to, but I have to take credit for it. Johnny will admit it. I dropped him off at the hotel and he had a great time. We ended up stealing him from Oregon. So when they build him the statue, I'd like a little side statue of my face by it.
"I hung out with Luke Joeckel too (on his visit). Look at that, the two award finalists. And I room with Swope, so ... that's a lot of credit."
On the last game again...
Nealy:
"I'm definitely going to embrace that last War Hymn on Kyle Field. Kliff Kingsbury told us not to cry, so I'm not going to. But I probably won't be able to hold it in. Look at Swope, getting all choked up over there. I'd put money on (Swope) being the first to cry."
Jonathan Stewart
On Longhorns tweeting that A&M will be missing out by not playing on Thanksgiving...
Stewart: "We're still playing on national TV on Saturday, so I don't know what we'll be missing out on. We'll be fine."
On how they can get better...
Stewart:
"Making more explosive plays on defense, creating more turnovers, little things like that. We finish the season strong and hopefully have successful bowl practices and it'll help the guys going into the spring."
On the Missouri offense...
Stewart:
"I know they're good. They go as James Franklin goes. He's a very good quarterback. Built like a running back and good in the passing game. They're a tough offense to stop. People have to make one-on-one tackles. We'll do what we have to to win this game."
On playing the Tigers last year...
Stewart:
"Going into last year, we knew they were a very good football game. We felt he was a very good quarterback. Dual-threat quarterback, very tough to tackle. We knew he'd potentially present some problems for us and, unfortunately, he was able to do that. Hopefully this year it won't be the same result."
On whether they'll prepare for Franklin, who was injured against Syracuse, or backup Corbin Berkstresser...
Stewart:
"We prepare for (Franklin). He's the starter for a reason. He's the best quarterback. If the backup comes in, we'll have to adjust and prepare for him too."
On who's grown the most of this senior class...
Stewart:
"To specifically pinpoint anybody, I don't know. When we came in, all of us were shellshocked. Something like 25 of us played our freshman year. We all got experience. And we're still maturing, still trying to get better."
On the effects of that many young players in his class playing early...
Stewart:
"You can say it (was beneficial) because people got experience sooner, or you could say it handicapped because people didn't get to redshirt. But in my opinion, it was mostly beneficial."
On Michael Richardson's family and his injury...
Stewart:
"His spirits are good. We saw him yesterday in the team meeting. He was in good spirits. Football is secondary whenever it comes to spinal and neck injuries. He'll be fine."
Steven Terrell
On Missouri...
"We looked back at some of the things they had success with last year. They've had some success here at this stadium so we have got to get prepared to play and ready to win. The biggest thing that we looked at from last year is that we didn't tackle well last year against Missouri so that's going to be a big focus. We've just got to make sure we make those plays and we didn't make those last year."
On the Mizzou receivers...
"That's a great group of receivers. They're a lot taller than most receivers we've been facing — they're all 6-3, 6-4, they even have a 6-6 receiver. They throw the ball around a lot. They have a good quarterback, a good running game. He doesn't do a lot of quick passes. They'll try to spread us out a lot. It's kind of similar to our offense, so we've had a lot of experience with offenses like this through the spring. We've just got to watch a lot of film this week and be prepared for them."
On his senior season...
"Our plan was to win every game and then that didn't happen, but this is the best season I've been a part of. For the coaches to come in and put in a new system and things like that, we just wanted to win, all of the seniors. It wasn't too hard for us to buy in to their system since they've had success everywhere they've been.
"It really does feel good to play for something really meaningful this week. We're just happy to be a part of it. It's been crazy. I was talking to (Jonathan Stewart) — we've been through the highest of highs and the lowest of lows. We've been through it all, I feel like. It is a completely different aspect going into the last game this season as compared to last year. We're just fortunate to be in this situation and we want to make the most of it."
Never miss the latest news from TexAgs!
Join our free email list