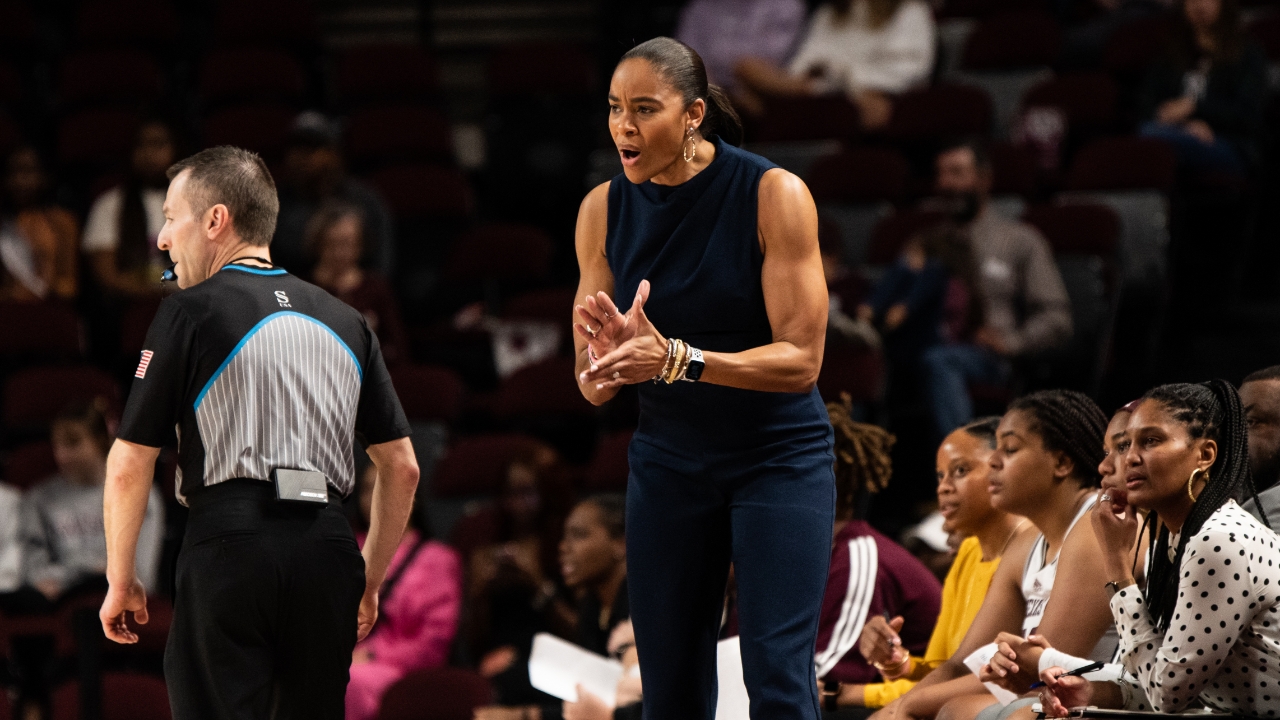 Joni Taylor
Barker & Coulibaly
Texas A&M Women's Basketball
Despite last year's bumps, Joni Taylor's Aggies are becoming 'TOUGH'
---
In any strenuous journey, it's normal to foresee obstacles ahead.
But after facing so many just one year ago, Texas A&M women's basketball head coach Joni Taylor returns for her second year in Aggieland, cautious yet ready for bumps in the road.
In Taylor's debut season, A&M finished tied for last in the Southeastern Conference (9-20, 2-14), faced a mid-season eight-game losing streak and played five conference games with just seven players.
The red lights, potholes and stop signs continued to come the Aggies' way.
But Taylor was determined to park their season of "becoming" at their final destination.
That point of arrival was in Greensville, South Carolina.
Taylor earned her first A&M victory away from Reed Arena at the 2023 SEC Tournament as the 13-seed Aggies showed tremendous resiliency to eliminate 12-seed Vanderbilt and 5-seed Mississippi State.
At the time, the Aggies became the lowest-seeded team to advance to the quarterfinals.
"Last year was a huge part of our growth as a program. It set the foundation for how we were going to operate. A huge part of that was trust.
"We talk about last year all the time," Taylor said. "Last year was a huge part of our growth as a program. It set the foundation for how we were going to operate. A huge part of that was trust.
"We talked about it being challenging. If you trust the process and details of things we are going to do, then we will see a positive outcome in the end. That played out for us in the right way."
A strong close to the season perhaps foreshadowed what's to come — toughness.
Being "TOUGH" is the second-year head coach's mantra this time around.
But again, obstacles still remain in the way.
The Aggies will have plenty of opportunities to learn from speed bumps beginning with their first test on Thursday at Reed Arena against Texas A&M-Corpus Christi at 6 p.m. CT.
A&M ranks 16th nationally in strength of schedule, and although their non-conference schedule is not nearly as daunting compared to league play, challenges will come early.
Taylor's squad will face the likes of reigning WNIT champions Kansas along with second-round WNIT participant Wake Forest.
A&M also faces Purdue, which made the NCAA Tournament a year ago, on the road in the third game of the season.
Learning to Win
As the league's second-youngest team last year, the Aggies will look to veterans and freshmen alike to provide a jump.
The Maroon & White return a pair of SEC All-Freshman selections in Janiah Barker and Sydney Bowles. Additionally, Sahara Jones, Kay Kay Green and Tineya Hylton are back for another year in Aggieland — all key, talented pieces with experience under their belt.
Alongside the returners, eight new faces — four transfers and four freshmen — joined A&M this offseason to fill the 15-player roster.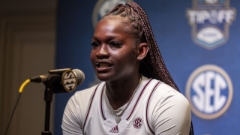 Vasha Hunt-USA TODAY Sports
The transfer haul is headlined by Aicha Coulibaly, who comes to Aggieland after receiving All-SEC honors at Auburn two years in a row while leading the Tigers in scoring in 2022-23.
Coming from Oregon, graduate Endyia Rogers looks to provide an offensive spark as she averaged 15.9 points a year ago and was named to the All-Pac-12 team for three straight seasons.
Additionally, Taylor also signed Kylie Marshall — the No. 1-rated player in Texas — and Solè Williams — the 2023 Ohio Girls Gatorade Player of the Year.
The talent is there.
Taylor doesn't doubt the abilities of her players. More so just points out their unfamiliarity with winning.
"Our talent is much better, but we don't know how to win," Taylor said. "Knowing how to win can win you four, five, six games a year. We don't know how to do that. Last year was trial by fire. It will be this way, too, in terms of closing out games."
Fiery Coaching
Last year was trial by fire.
This year, Taylor will be looking to create even more fire. Just in a different way.
According to Barker, Taylor has adjusted her coaching style to be "spicy."
"We told all of our returners last year, 'Anything you know about us as coaches, in terms of how we were on the court last year, in practice and in games, erase from your mind,'" Taylor said. "Last year, we met you where you were.
"We had a team that wasn't experienced and did not have a lot of playing time. We did a whole lot of cheering for things that, this year, we shouldn't be cheering about."
For the Aggies, the upcoming road may be treacherous.
But with the right navigation…
Caution ahead.
Never miss the latest news from TexAgs!
Join our free email list