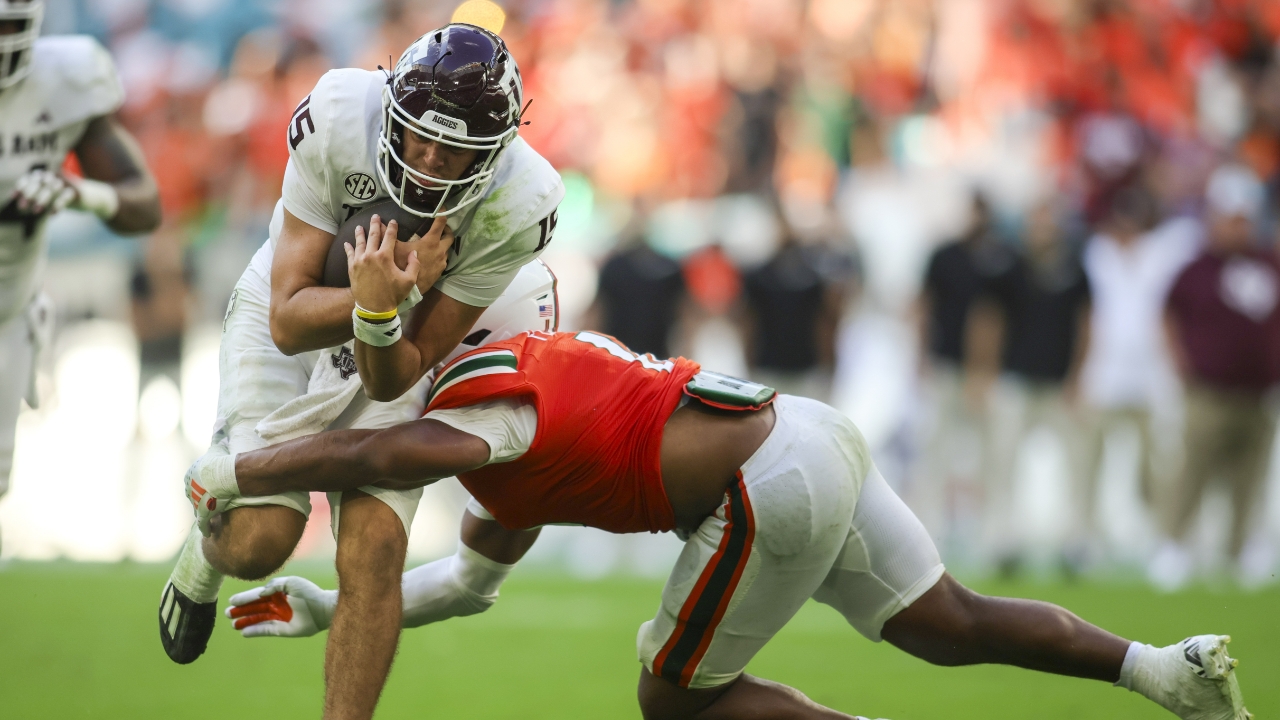 Jimbo Fisher
Layden Robinson
Demani Richardson
Texas A&M Football
Miami Meltdown: No. 23 A&M blown away by Canes as road woes resurface
---
MIAMI — Following another futile Texas A&M road trip came predictable calls for lessons to be learned.
The Miami Hurricanes (2-0) gave the No. 23 Aggies (1-1) a lesson in humility while dealing them a 48-33 college football loss on Saturday afternoon at Hard Rock Stadium.
"I feel this loss is just going to make us stronger," safety Demani Richardson said. "I know we'll bounce back. We're going to learn from this."
Added guard Layden Robinson: "We can learn that we need to be better on the little things. They made mistakes. We made mistakes. They just executed on our mistakes a lot more than we did."
However, the hopeful Aggie fans could perhaps learn a more poignant lesson from South Carolina.
Three times in their history the Gamecocks hired coaches that previously won national championships. But neither Paul Deitzel, Lou Holtz nor Steve Spurrier would win a championship in Columbia.
"We ain't worried about expectations. We've got to worry about next week. We shouldn't adjust to anything. What we need to do is go focus and play a good game next week and get better the next week and the next week and the next week."
The obvious lesson: Hiring a national championship coach doesn't always equate to winning one.
That fact should resonate with Aggies more than ever. Six years ago Jimbo Fisher, who won a national crown at Florida State, was brought to College Station to make A&M a championship contender.
Instead of championships, A&M has gotten catch-phrases and disappointment. The Aggies ain't done (nothing) yet.
The meltdown in Miami suggests the Aggies haven't gotten much closer to elite status. A&M was given two gift touchdowns and an early 17-7 lead, but still faded in the second half amid a fog of turnovers, missed tackles and special teams gaffes.
Sure, it's only one of a dozen games. Still, a season with such high hopes and expectations suddenly seems fragile.
If Miami quarterback Tyler Van Dyke can riddle the Aggies for 374 yards and five touchdowns, what awaits in the more treacherous SEC?
Should long-suffering Aggies adjust their expectations?
"We ain't worried about expectations," Fisher said in a postgame press conference. "We've got to worry about next week. We shouldn't adjust to anything. What we need to do is go focus and play a good game next week and get better the next week and the next week and the next week."
Quite frankly, it shouldn't be hard for the Aggies to get better.
They slopped through a disgusting first half and — despite incredible generosity from Miami — somehow trailed 21-17 at the break.
Aided by a blocked punt and a fumbled punt, A&M only had to cover 24 yards for two first-half touchdowns. Other than that, the Aggies managed 124 total yards. Thirty-eight of those came on a swing pass to Rueben Owens and a 14-yard Conner Weigman scramble. A&M averaged 3.1 yards on 27 other players.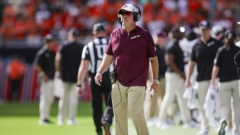 Sam Navarro-USA TODAY Sports
The Aggie defense, especially the secondary, was worse.
They struggled to cover. They struggled to tackle. Van Dyke passed for three touchdowns in the first half. The third was an 11-yard dart with 13 seconds left until halftime. It capped a 75-yard drive that took only 44 seconds.
A missed tackle which turned a short pass into a 32-yard gain was a backbreaker. Overall, Miami receivers accumulated a whopping 241 yards-after-catch.
"We had guys we could've tackled," Fisher said. "We tackled poor in space. They had yards after catch.
"We had some guys with arms around them. We just didn't make the plays and get them on the ground."
The Aggies looked like they might correct their mistakes in the second half. Instead, they just made new ones.
Their opening second-half possession reached Miami's 6-yard line. The Aggies were going for a first down on fourth-and-one, but were penalized for a false start. They settled for a short field goal.
Miami returned the ensuing kickoff 98 yards for a touchdown and a 28-20 lead.
Four plays later, Weigman threw his first interception when Ainias Smith slipped on the soggy turf. That led to a Miami field goal.
The Aggies responded with a drive for a Weigman touchdown pass to Earnest Crownover. Trailing 31-26, Fisher opted to go for a two-point conversion. The ball was snapped early and away from Weigman. The play failed.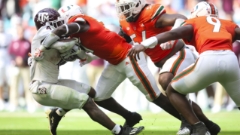 Sam Navarro-USA TODAY Sports
Fisher blamed the Hurricanes for that.
"The ball got snapped early because they simulated the snap count," he said. "They clapped their hands and we snapped the ball."
The Aggies could only blame themselves the rest of the way. Amari Daniels lost a fumble on third-and-1. That led to a Miami touchdown and a 38-26 lead.
The Hurricanes outscored A&M 17-7 in the fourth quarter as the Aggies suffered their seventh consecutive road loss.
With apologies to legendary Aggie song writer Robert Earl Keen: "The road goes on forever and the Aggies never win."
At least, it seems that way.
Fortunately, the Aggies don't take a true road trip again until they visit Tennessee on Oct. 14. They've got to get better long before that, though.
That starts with tackling and better protecting Weigman, who was frequently under pressure.
"Discipline is a big part of it," Robinson said of A&M's blocking issues. "Those little things that hurt us … that's all discipline. Foot work. Hand placement. Firing off the ball. Not being mesmerized by the stunts that they do up front. That all takes discipline. We just need to become a more disciplined team."
None of the legions of frustrated Aggies would question that. They question is why, in Fisher's sixth season, are they not?
Never miss the latest news from TexAgs!
Join our free email list