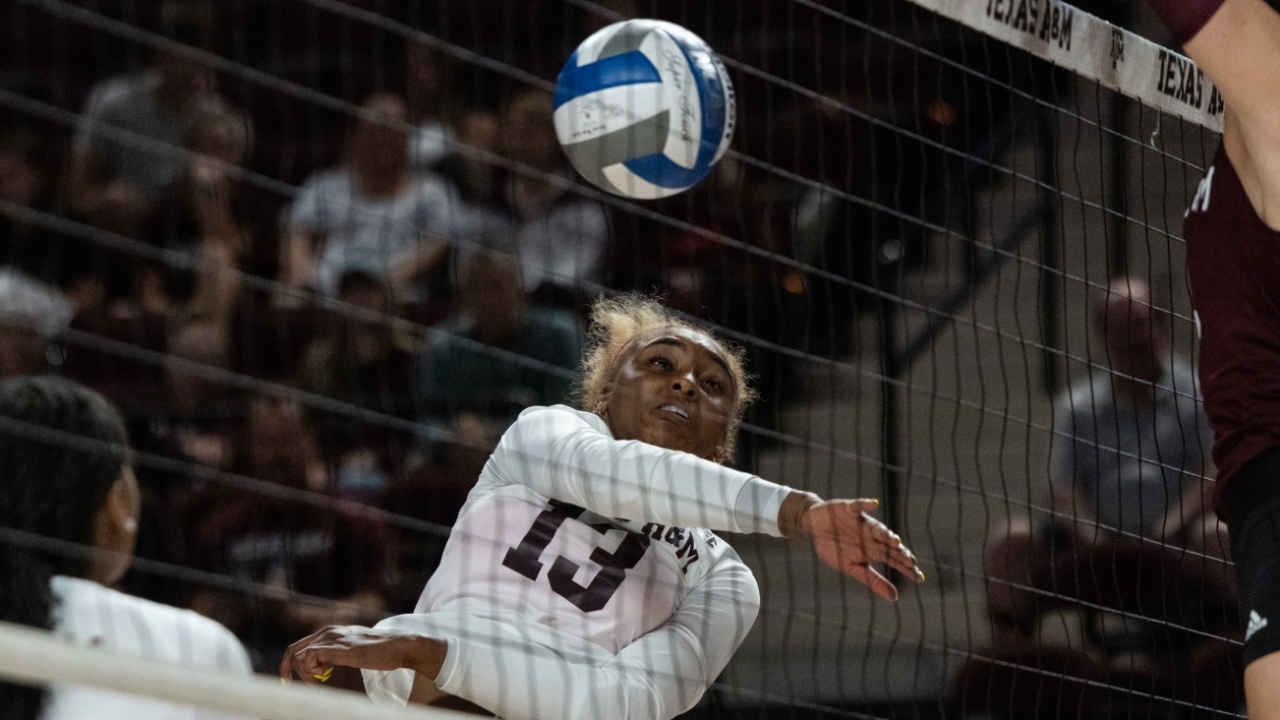 Photo by Chris Swann, TexAgs
Texas A&M Volleyball
Texas A&M sweeps Pepperdine to open season with back-to-back wins
---
Coming off a campaign-opening win on Friday at the Omaha Invite, Texas A&M made it back-to-back wins to open the season by sweeping Pepperdine on Saturday (25-12, 25-21, 25-15) at Baxter Arena.
"Pepperdine is a really good volleyball team, and I'm pleased to get that win," A&M head coach Jamie Morrison said. "We had another efficient day, hitting .420 percent, which is hard to do. I think the things we have been working on the past six months showed today on the court."
After logging 55 kills, 11 blocks and a .364 hitting average on Friday to officially begin the Morrison era, the Aggies continued to shine on Saturday with 43 kills, eight blocks and a .420 hitting percentage.
Bianna Muoneke led the offense with 12 kills in the match, and the Maroon & White displayed an ability to capitalize on mistakes, making them look like a well-oiled machine.
"This invite was a good base to build off," Morrison said. "We talk a lot about raising the level of all 14 players in our gym, and we saw that this weekend. When we get back, we have two days to address some small corrections, but we're excited to get back on the road and travel to Bowling Green."
Set One: Texas A&M 25-12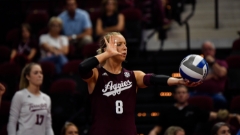 Cade Ingersoll, TexAgs
The Aggies logged six consecutive points out of the gate with Lauren Hogan competing as the key server.
The Maroon & White commanded the match early with positive energy on and off the court. Margot Manning ramped the momentum up a notch in set one, assisting Morgan Perkins for a pair of textbook kills.
The first set was a dance between the front and back rows, with the defense picking up nearly everything the Waves put down as the offense finished on almost every chance it had.
Texas A&M got it going early with a 25-12 set-one victory.
Set Two: Texas A&M 25-21
The two sides traded points in a more balanced second set.
The Waves hung around thanks to three errors by the Aggies in the middle set, and Pepperdine took its first lead on an 8-7 advantage early in the second set. However, the Waves were also never able to put together more than a one-point edge.
The off-blocker defense continued to be crucial for A&M to keep control of the game as Pepperdine insisted on playing close to the net. There was an abundance of energy on the Aggie sideline that brought a taste of Read Arena to Omaha, and because of that cool demeanor, the Aggies prevailed in the second set, 25-21.
Set Three: Texas A&M 25-15
The Aggies continued to pile on pressure in the final set.
After quickly establishing another lead, Ifenna Cos-Okpalla, Ital Lopuyo, Logan Lednicky and Perkins each continued to throw up crucial blocks. Pepperdine clawed for all the points they could pull in, but between Hogan's locked-up back row and a plethora of power up front, A&M made it a quick third set that ended 25-15 when Brooke Jeffrey sealed the sweep with a kill.
---
Texas A&M returns to action on Thursday against Wright State in the Hampton Inn Invitational in Bowling Green, Ohio.
Never miss the latest news from TexAgs!
Join our free email list