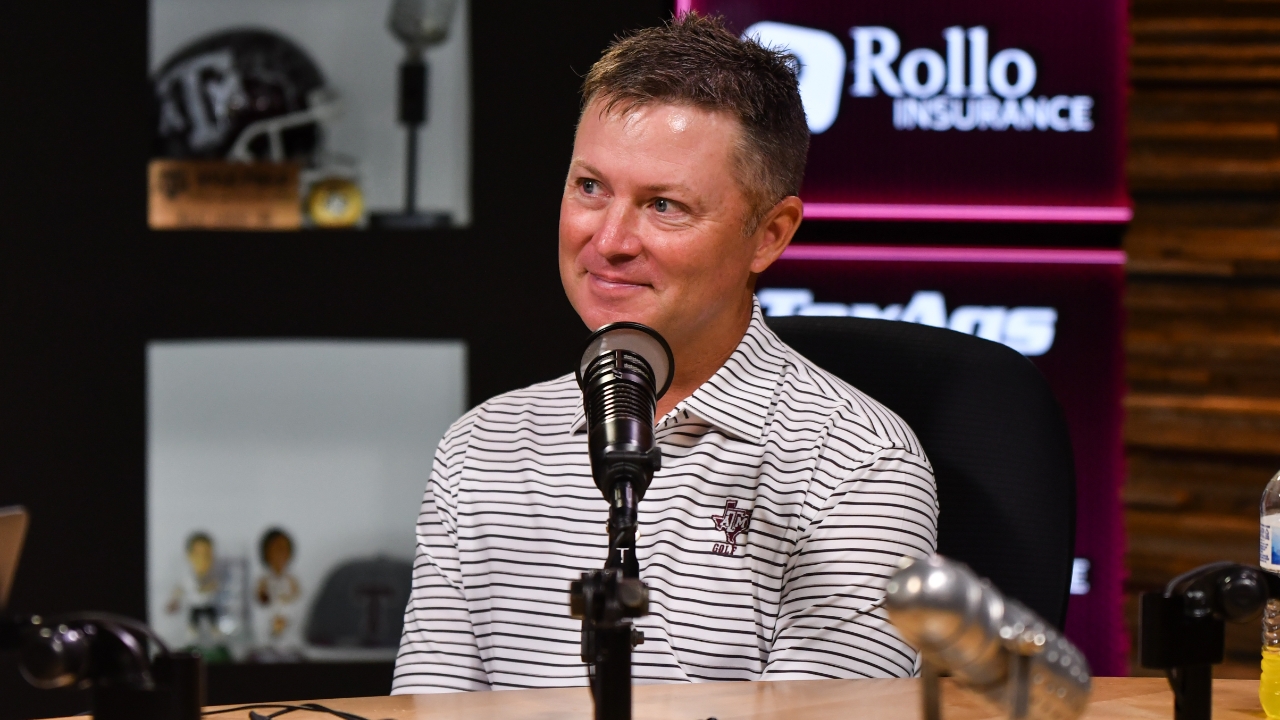 Photo by Jamie Maury, TexAgs
Texas A&M Women's Golf
Gerrod Chadwell recaps historic season, run through NCAA Championship
---
The Texas A&M women's golf team's extraordinary season came to a close as national champion Wake Forest defeated the Aggies in the semifinal round of the NCAA Championships. Head coach Gerrod Chadwell joined TexAgs Radio to detail the team's season and play at Grayhawk.
---

Key notes from Gerrod Chadwell interview
I feel like we went 12 rounds with Mike Tyson. Physically, everyone is pretty worn out. It will dawn on me getting into next week. The thing that I was hoping for this year was to validate last year. Man, did they do that. To go toe-to-toe with the eventual national champion in Wake Forest, and we had our chances, you couldn't ask for anything more. We didn't have our best stuff this week. That's a testament to how gritty they are to get us to that point and not play our best.

It all started after the third round, we got on them pretty good. We finished atrociously. We said if we do this again, that will be it. Nobody was ready for it to be over. They played really well on the back nine to get us into match play. Everybody wanted Texas. We played phenomenally against them. I knew we would have to play well to beat them. Emotionally, we looked a little drained on that back nine, but it was pretty sweet in the fashion that we beat them in too.

Everyone loved beating Texas for Hailee Cooper. She is the lone graduating senior this year and played for Texas for three years. She came to us as a graduate transfer with two years of eligibility. I've known Hailee for 10 years. She choose Texas over the University of Houston, where I was at, at the time, and Texas A&M. She was probably the highest-rated recruit in the country at that time. She slowly lost her game over three years. I think her last year at Texas, she finished dead last at the Big 12 Championships.

I reached out to Hailee when I got the job here. I was trying to build a culture. I knew she could find her love for the game of golf again. She did not have the best of years last year. She had a good March and April, did not play well in the postseason, then turns around and averages close to 72, goes out an SEC Champion and beats Texas in the quarterfinals. That's a great way to send her out as an Aggie.

Everything Cooper has been through, she still has a smile on her face. She and I had a connection from seventh grade. I watched her in the pouring rain for 18 holes. We'll be a part of each other's lives forever.

It's comforting knowing you return almost everybody. We have a great freshman class coming in. This group will have to figure out how to write their own story. How do we have the chemistry that this team had? When it got tough, we were at our best. They have to choose to care about each other more than themselves. We will preach that from the go. Our schedule will be harder. I want to soak this in. It was hard coaching that team for the last time. I'm not ready for next year yet.

I'm on a plane Sunday to New Jersey to start recruiting. It's nice that almost every junior in the country recognizes the brand when we walk out there. The turnaround is quick. We got a couple of months, and we will be back teeing off at Pebble Creek.

Let's get a big baseball win today. I think the men's golf team will have a good run. They are gaining momentum. We're a golf school now.
Never miss the latest news from TexAgs!
Join our free email list