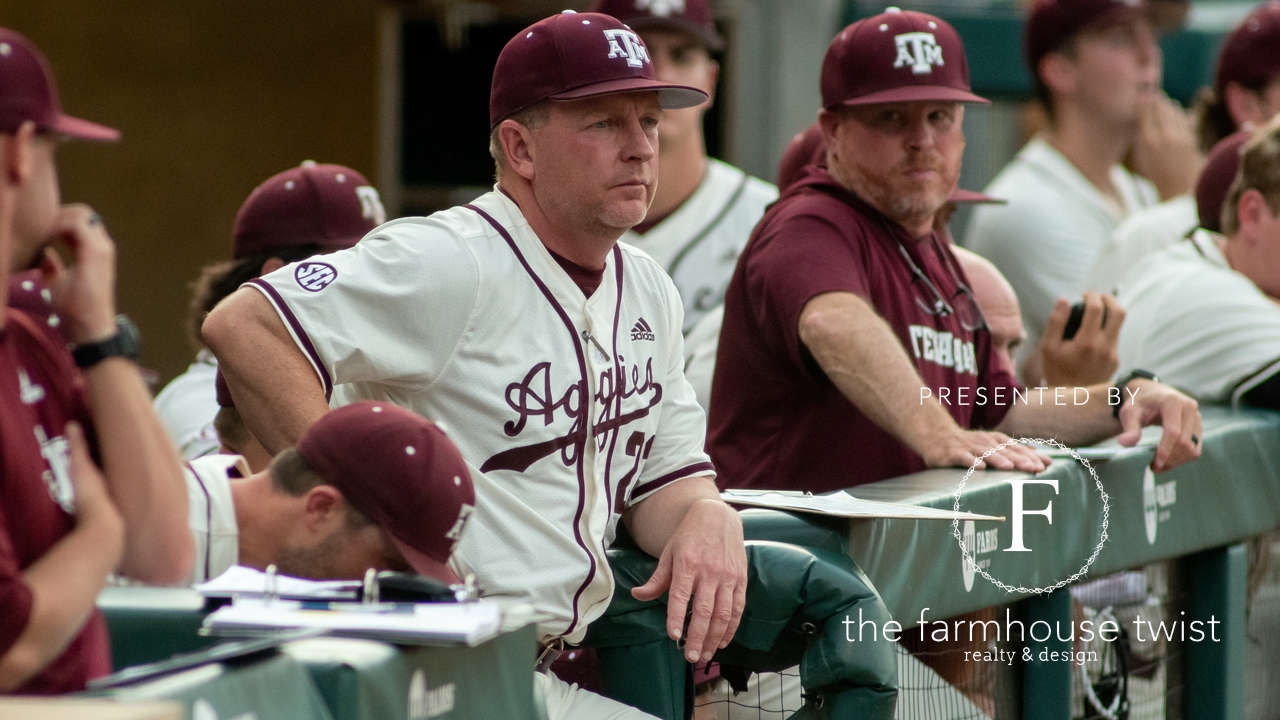 Photo by Jaime Maury, TexAgs
Texas A&M Baseball
Schlossnagle discusses Texas A&M's resiliency as postseason begins
---
Finishing with a 14-16 record in the conference, the regular season is now in the rearview as Texas A&M approaches the SEC Tournament in Hoover. Jim Schlossnagle joins TexAgs Radio to detail the Aggies' series win over Mississippi State and what is to come in Hoover.
---

Key notes from Jim Schlossnagle interview
I've been doing this for 33 years, and the loss on Thursday wasn't number one, but it was close. We were up 7-2. Nathan Dettmer goes out in the fifth. I looked at coach Nate Yeskie and thought this is the game right here. The top of the order was up, and he gets two outs on four pitches. We brought Evan Aschenbeck in. He had to pitch around the game. I was taking a chance with our best pitcher. I thought Justin Lamkin went out there and pitched really well. Shane Sdao was effective out of the bullpen. Jace LaViolette hits his third homer and takes that momentum into Saturday. We'll see if we can build on that going into the week.

In baseball, the success of your program is about roster management. Outside of Jace, from a pitching standpoint, who can you build around? Lamkin is finding the breaking ball. Sdao is airing it out. He's put on 12 pounds since he's been here. He was up to 94 mph and threw his best breaking balls of the season. That's a great sign for this year and down the road. In the summer, teams will be scrambling for pitching.

Jace passing the freshman home run records says a lot to be included in the same sentence as John Byington. It's an incredible honor. Jace isn't finished yet. The good key is having good players around him to make sure he gets pitched to. You can't hide him anymore when you have a guy like that. He can do damage with two strikes. He can steal bases. If he can stay healthy, he could have a 20-homer and 20-stolen-bases season. That's rare in college baseball.

I think it was a good defensive weekend. Jordan Thompson tried to throw a guy out at third which I'm against. A ball got kicked away from Trevor Werner, and the pop-up foul ball that Austin Bost didn't catch, that's a tough play.

We have been swamped getting here and having practice. I'll spend the rest of the day catching up on Tennessee. They are a different team than they were in the second conference weekend. They are crazy talented and deep on the mound. Our guys are confident that we can play with them. Brett Minnich wasn't around that weekend, and since he's been back, we've won six of eight conference weekends. Not sure who is going to start. Troy Wansing looked awesome.

With a runner at first with a 3-2 count, Chris Cortez was getting ground balls, but those balls were hit hard. I thought maybe Aschenbeck could come in there and change the look. He doesn't throw as hard. He had to be careful. He walked him. Kellum Clark was up next and had seen everything from Aschenbeck two games before. He punches him out looking. That guy doesn't strike out. We have a lot of confidence in Evan. Hopefully, he can catch a second win in the back part of the season.

Trevor Werner is where you want him to be. He is vocal when he needs to be. He leads with body language. Veteran players could watch how Trevor handles things. He moves on. The game rewards him.
Never miss the latest news from TexAgs!
Join our free email list
SPONSORED BY