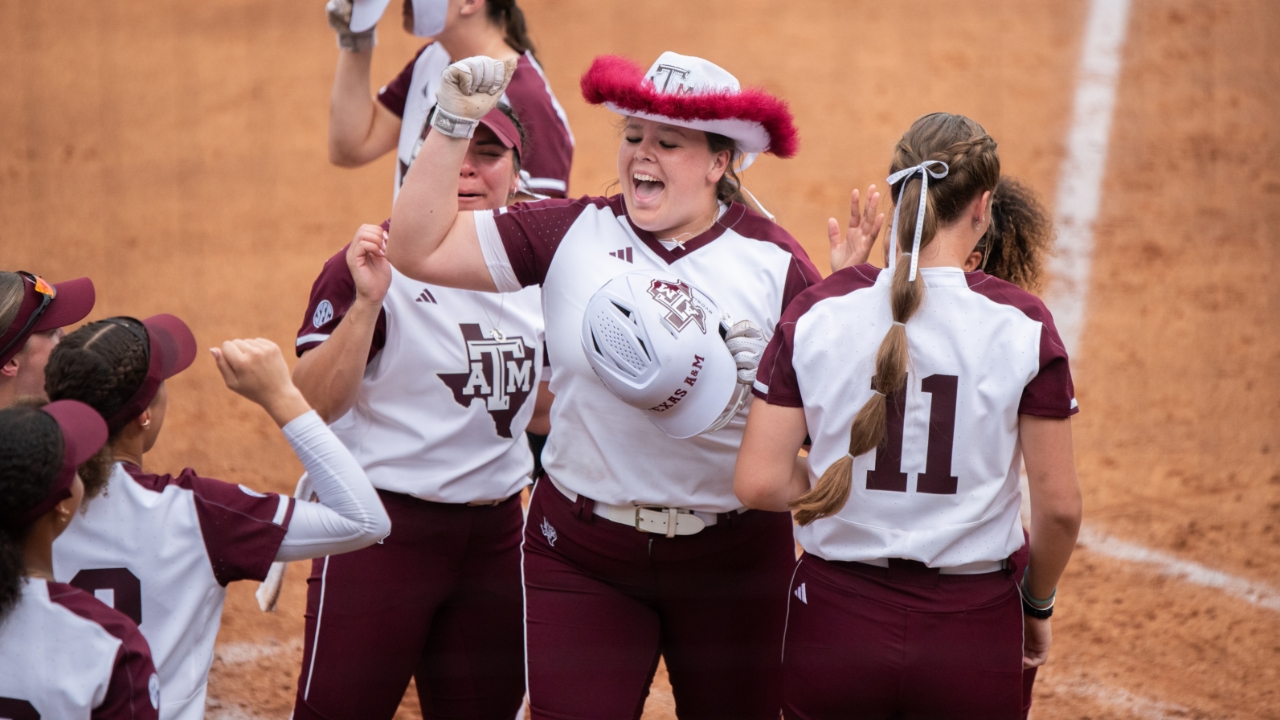 Photo by Cade Ingersoll, TexAgs
Texas A&M Softball
Coleman's walk-off single vs. Texas State opens Austin Regional in style
---
Press conference video courtesy of Texas A&M Athletics
---
Don't count them out.
After yet another pitchers' duel in the circle, Texas A&M (34-19, 12-12) clinched a come-from-behind win in extra innings against Texas State (34-24-1, 13-9-1), 2-1, at McCombs Field on Friday night.
The victory moves the Aggies into the winner's bracket at the Austin Regional.
"We're a young team, but a good team and a good team finds a way to win, and that's what we did tonight," A&M head coach Trisha Ford said.
The scoreboard was left empty until the Bobcats capitalized on Shaylee Ackerman's sixth-inning error.
Other than the unearned marker, the Bobcats found no more success against Ackerman.
"I guess I tried to rush (the bunt)," Ackerman said. "I was just out of luck on that one. I think it was fine after that."
Ackerman was able to hold her own in the circle until that point, allowing four hits, one run and tallying two strikeouts through six innings.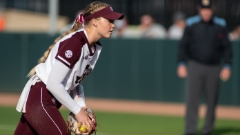 Jamie Maury, TexAgs
In relief, Emiley Kennedy also held the Bobcats silent as she notched one strikeout and allowed only one hit through two innings.
Although A&M's offense woke up just in time, the Aggie defense held steady throughout the night.
For a second time this season, Koko Wooley and Amari Harper held down the infield and kept Texas State's damage to a minimum.
"We played clean defense. I think that was the other piece I thought was huge," Ford said. "When we talked prior to going into regionals, I said it's going to begin and end in the circle, and we have to play clean defense."
In her postseason debut, freshman Aiyana Coleman was responsible for shifting the momentum with a leadoff single to right field in the bottom of the seventh inning. Allie Enright managed to get on base, reaching on a fielder's choice.
Shortly after, Wooley put the Aggies on the scoreboard with a single to centerfield as Enright tied the score on a throwing error by Piper Randolph.
The Aggies maintained that momentum in the bottom of the eighth inning.
Rylen Wiggins slammed a two-out triple to left field, setting the stage for Coleman's heroics.
With her second hit of the night, Coleman called game by slamming a walk-off single off the right field wall to score Wiggins.
"I am so proud of Aiyana," Ford said. "She's been in and out of the lineup. She's a freshman, and these are such pivotal reps for her when you talk about developing our program."
The Aggies will continue their postseason run on Saturday, taking on archrival Texas on their home field.
First pitch is set for 2 p.m. CT.
Never miss the latest news from TexAgs!
Join our free email list