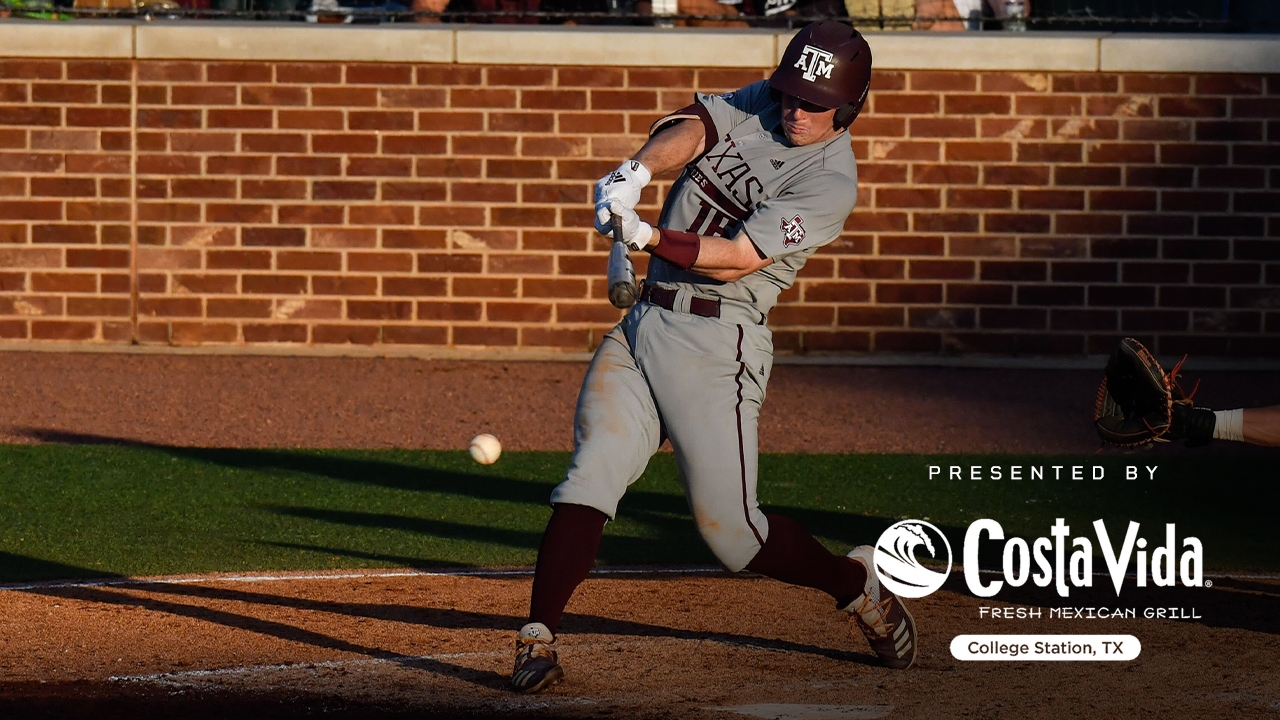 Photo by Jamie Maury, TexAgs
Texas A&M Baseball
Texas A&M walked-off by Mississippi State in series opener, 10-8
---
Game #53: Mississippi State 10, Texas A&M 8
Records: Texas A&M (30-23, 12-16), Mississippi State (27-24, 9-19)
WP: Nate Dohm (6-4)
LP: Brandyn Garcia (2-3)
Box Score
---
Heartbreaking.
Needing a series victory to make an NCAA regional, Texas A&M suffered a back-breaking walk-off loss on Thursday night, falling to Mississippi State, 10-8.
A&M was an out away from escaping with an 8-7 victory until Will Johnston's wild pitch allowed Dakota Jordan to tie the game.
Two pitches later, Amani Larry crushed a two-run shot to left that pushed A&M to the brink.
The hero — or villain, depending on your shade of Maroon — of the evening, Larry finished 3-for-4 with two homers and a 103 mph double off the right ankle of A&M starter Nathan Dettmer.
Now sitting at 12-16 in SEC play, the Aggies must rebound to take the three-game set and reach a 14-win plateau in conference that national pundits believe could be the cut line come selection day.
The trouble will be rebounding after using their best arms in a losing effort.
Evan Aschenbeck was uncharacteristically ineffective in relief of Dettmer, who gutted and hobbled through 4.2 innings and departed with a 7-2 lead.
Slate Alford's two-out double off Ashenbeck in the fifth allowed inherited runners to score and turned what once appeared to be an Aggie runaway into a dogfight.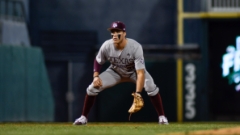 Jamie Maury, TexAgs
Aschenbeck ultimately allowed Mississippi State to pull even with two more in the sixth.
Entering with a one-run lead in the seventh, Brandyn Garcia reached the final frame, but the 26th and 27th outs eluded him as he walked a pair in the ninth. Both of those free passes scored, saddling Garcia with the loss following Johnston's ill-fated offering to Larry.
That the Bulldogs ever had a shot at pulling off the comeback should puzzle Jim Schlossnagle and his coaching staff.
Mississippi State pitching walked 15 Aggies. Jace LaViolette walked four times. Max Kaufer worked three.
A&M also stranded 16 runners.
The Aggies only had eight hits. With men in scoring position, they were 3-for-17 (.176) as the timely hits never arrived.
Worse, A&M was 0-for-4 with the bases loaded.
Ryan Targac's three-run blast in the fourth staked A&M to an early 4-2 advantage. He also broke a 7-7 tie with a solo blast to lead off the seventh. The much-maligned Targac finished 3-for-4 with three extra-base hits.
Yet, it wasn't enough against a Mississippi State club fighting to reach the SEC Tournament.
Save an unlikely conference title next week in Hoover, the Aggies now face must-win ballgames in a hostile environment on back-to-back nights just to get into the field of 64.
With their margin for error officially gone, the series resumes Friday at 6 p.m. CT.
Never miss the latest news from TexAgs!
Join our free email list
SPONSORED BY