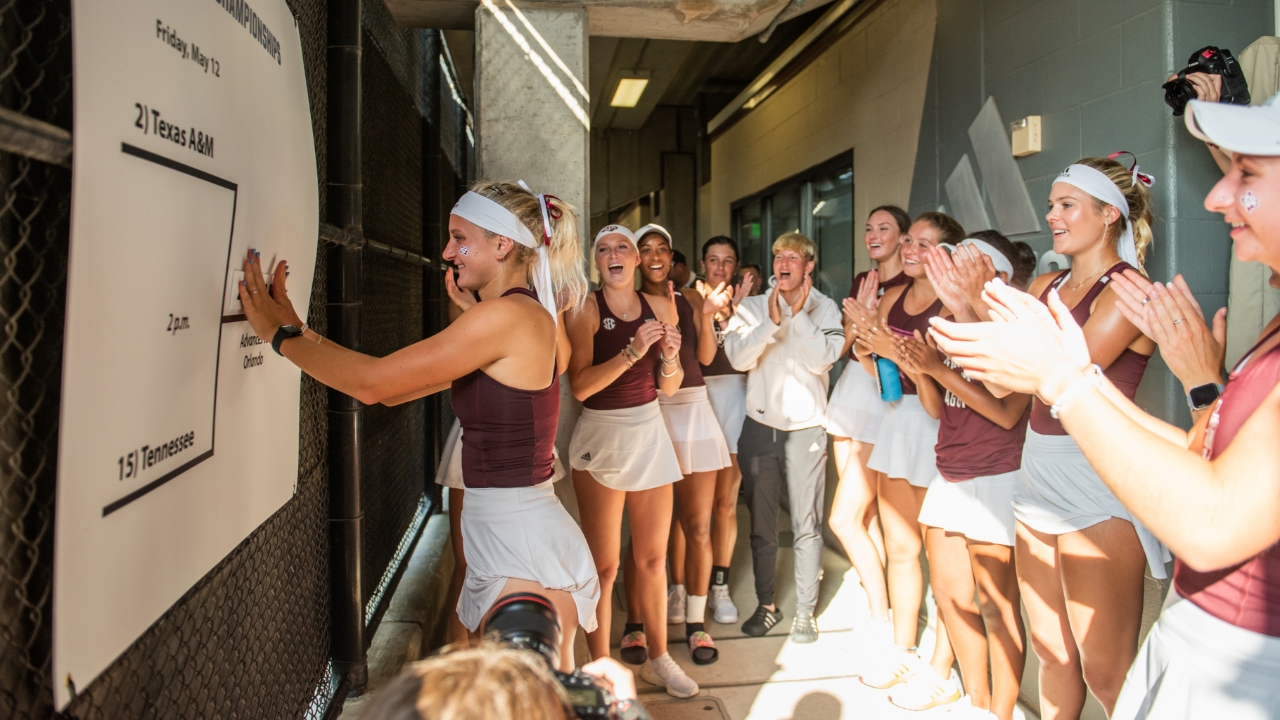 Mark Weaver
Jayci Goldsmith
Daria Smetannikov
Orlando Bound! No. 2 Aggies knock off Vols in Round of 16, 4-1
---
Elite.
For the second-straight year, head coach Mark Weaver and the No. 2 Texas A&M women's tennis team are headed back to the NCAA Tournament Quarterfinals, after downing No. 15 Tennessee, 4-1, in a Super Regional in College Station.
Similar to the Aggies' previous first- and second-round matches against Quinnipiac and Baylor, the temperature and humidity were unforgiving, but it complemented the Maroon & White's blazing play.
The day got started on an unfamiliar note, with doubles pairing Jayci Goldsmith and Salma Ewing dropping their match to Tennessee's Rebeka Mertenal and Esther Adeshina, 6-4.
Mia Kupres and Mary Stoiana were able to get the Aggies back on track, topping their Volunteer opponents, 6-3.
After that, it was all eyes on Jeanette Mireles and Gianna Pielet. The duo played catch-up through the entirety of their match but proved to be resilient as they tied it up and send the match into a tiebreaker.
"Doubles was really close, a little closer than our liking," Goldsmith said. "Everyone fought, and it was awesome that Jeanette and Gianna could get that win for us."
To break the 6-6 tie, Mireles and Pielet started hot, jumping out to 3-0. The Volunteers made their presence known by scoring five straight points to take the lead. However, the Aggies did not fret and came back to secure their 27th doubles point of the season.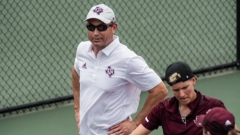 Jamie Maury, TexAgs
As she has done all season, Jayci Goldsmith made quick work of her singles match to earn her 116th solo victory against Tennessee's Eleonora Molinaro and put the Aggies up 2-0. Mary Stoiana followed suit immediately after, pushing the Aggies to 3-0 with a straight-set victory, which marked her 24th dual-match singles win.
However, the Volunteers weren't done there. Tennessee sent the remaining singles matches into three sets, prolonging the Aggies' victory. Tennessee's Lauren Anzalotta took the second and third sets over Mireles to avoid the sweep.
Texas A&M has now only allowed 27 opposing points scored when the Aggies win the match. This loss also marks the first time this season that the Aggies have lost on Court 6.
After much anticipation, Daria Smetannikov clinched A&M's 4-1 victory and secured the Aggies' trip to Orlando, Florida, to compete in the NCAA Quarterfinals.
"A sense of relief here. I knew it was going to be a battle," head coach Mark Weaver said. "The home courts really paid off for us today. We had a great crowd here today. I knew it was going to be a battle."
Texas A&M's adventure to the Sunshine State will begin on Wednesday, May 17, as they face No. 7 Stanford as one of the eight remaining teams in the NCAA Tournament.
Never miss the latest news from TexAgs!
Join our free email list