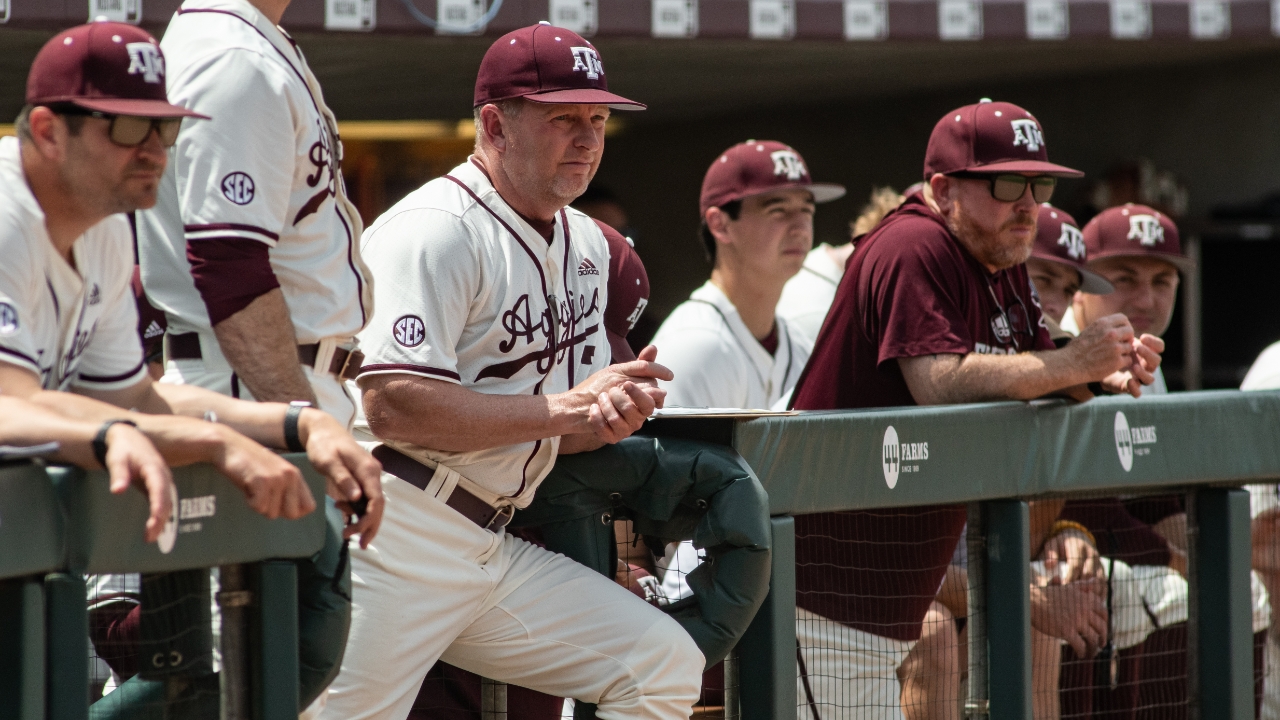 Photo by Jamie Maury, TexAgs
Texas A&M Baseball
Series Preview: A&M looks to continue success in home regular season finale
---
Also included above is a radio segment with Ryan Brauninger and Scott Clendenin from Friday morning, previewing this weekend's series between Texas A&M and Alabama.
---
Who: University of Alabama (33-16, 11-13 SEC)
Where: Olsen Field at Blue Bell Park – Bryan-College Station, Texas
When:
Friday: 6:00 p.m. CT (SEC Network+)
Saturday: 2:00 p.m. CT (SEC Network+)
Sunday: 3:00 p.m. CT (SEC Network)
Pitching matchups
Friday: Nathan Dettmer (RHP, 1-3, 6.19) vs. Luke Holman (RHP, 2-0, 3.04)
Saturday: Troy Wansing (LHP, 2-2, 6.05) vs. Garrett McMillian (RHP, 1-2, 5.01)
Sunday: TBA vs. Jacob McNairy (RHP, 5-1, 4.02)
Scouting Alabama
Alabama has had an interesting season so far. After racing out to a 14-0 record to start the season (granted, against low-level competition), the Tide lost a weekend series to Columbia. That losing streak of weekends extended to five with losses to Florida, Kentucky, Arkansas and a brutal Mississippi State squad. After winning weekends against Auburn and Missouri, Alabama was swept at LSU to fall to 9-12, and then there was the gambling scandal that left the team without a head coach. Interestingly enough, instead of folding like a cheap tent and quietly playing out the year in the aftermath of the scandal, the Tide went out at home and took two out of three from national powerhouse Vanderbilt. So that brings us to today and the series in College Station. Was the Vanderbilt triumph just the team coming together and rallying around the controversy creating a type of short-term sugar high, or is this team turning the corner and gaining momentum at the end of the season? That's the $64,000 question, right? We'll see.
But on paper, this Alabama team is solid across the board. This isn't a dynamic squad bubbling with high-potential MLB talents like Florida or LSU, but it's a team that is experienced and more consistent.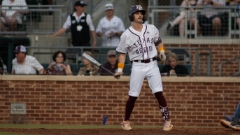 Jamie Maury, TexAgs
On offense, Alabama doesn't have the explosive slugging percentages of Florida in the middle of the batting order, but they have good, tough hitters up and down the lineup. The Tide hits right at .300 as a team, and they have seven starters hitting .285 or higher, led by veteran Tommy Seidl and his team-leading .352 batting average and a very impressive .463 on-base percentage. Drew Williamson is the big run producer in the lineup, with 14 home runs and 50 RBI. Colby Shelton is another big power bat with 16 home runs and a team-high .669 slugging percentage. Andrew Pinckney is a tough out, hitting .343 and also has double-digit homers with 11. It's a very good collegiate lineup. Is it an explosive batting order on the level of Florida or LSU? Probably not, but it is an upper-division SEC offense with some depth in the batting order. The Tide will be a challenge for the Texas A&M pitching staff.
The same comparisons can be made with the Alabama pitching staff to Florida. The Gators have several big league arms but guys that can get sideways and run into some control problems. That's exactly what happened last weekend in College Station. The Aggies took advantage of too many free passes and used timely hitting to squeeze out a series win. Alabama's pitching won't be as generous. They've walked 49 fewer batters than Florida, and rank third in the SEC in fewest walks allowed (175).
For reference, the Aggies have walked a whopping 242 batters. On the flip side, Texas A&M leads the SEC in getting walked with 318 compared to 265 walks collected by Alabama hitters. That's the stat to watch this weekend. Will Alabama minimize free passes and force the Aggies to swing the bats and put the ball in play? If they do, the Tide has a good chance to leave College Station with a series win. If A&M can remain patient and create free passes at their usual rate, the Aggies have a good chance to come out of this weekend with another SEC series victory.
Luke Holman will present a challenge on Friday. His numbers are very good across the board, with a 3.04 ERA, allowing just 15 hits in 26.1 innings with only nine walks. Holman doesn't have many bad outings, so don't expect any big scoring innings or a bushel of runs by the Aggies. Friday will be a grind-it-out type of game. Garrett McMillian will throw game two. He's been a part-time starter and has a pretty high ERA of 5.01, but he's only walked eight batters this season. Sunday starter Jacob McNairy has a solid 4.02 ERA. He's allowed more hits (56) than innings pitched (53.2), but he's only walked 11 batters in 2023. Alabama clearly has a goal to minimize walks and force A&M's offense to earn their run production.
| | | | | | |
| --- | --- | --- | --- | --- | --- |
| Hitting | Avg. | Runs | Slugging % | On-Base % | Strikeouts |
| Texas A&M | .272 | 349 | .447 | .398 | 386 |
| Alabama | .300 | 388 | .515 | .410 | 361 |
| | | | | | | |
| --- | --- | --- | --- | --- | --- | --- |
| Pitching | ERA | WHIP | Walks | Opp. Avg. | Strikeouts | Fielding % |
| Texas A&M | 5.48 | 1.58 | 241 | .263 | 484 | .978 |
| Alabama | 4.06 | 1.25 | 175 | .228 | 459 | .978 |

Texas A&M storylines to watch
The storyline goes back to pitching. It's been a grind all year, but there was a slight ray of hope coming out of the Florida series. Nathan Dettmer battled the elite Gator lineup and got through the fifth inning. Now, he wasn't dominant, and he wasn't clean. He gave up four runs on five hits and two walks, but at least he hung in there long enough to salvage the bullpen that was needed to win the last two games. He's improving, even if it's baby steps. If he can raise the bar just a little more this weekend, that could be a big deal not only for this weekend but for the rest of the season and into the postseason.
The same can be said of Troy Wansing. He allowed three hits and four walks in 3.2 innings. That's nothing to get excited about, but he did strike out five Gators and left the game without giving up an earned run. Chris Cortez relieved Wansing, and he gave up a hit and two walks in 2+ innings of work. Yeah, that's nothing to write home about, but he did squeeze out of a jam in the fourth inning, and then the Aggie bats broke the game open with an 8-spot in the bottom of the inning.
The pitching wasn't great, but it was good enough. They survived, and that has to be our mentality for the rest of this season. Figure out how to minimize the damage, move on, and survive. At the very least, the pitchers weren't blown out and remained competitive even through some adversity. Welcome to 2023, Ags. That's how it's going to be, and the team found a way to win two from a top-five team. So look for more of the same against Alabama. Avoid the big inning and live to play another inning. Scratch, claw, and find a way to get it done.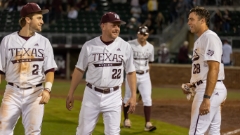 CJ Smith, TexAgs
At the plate, the three veteran hitters that have struggled all season (Bost, Werner, Targac) have shown some signs of breaking out of their extended slumps. Trevor Werner had four hits and five RBI in the Florida series. Austin Bost had the big home run, and Ryan Targac scorched the ball three times on Tuesday against UTRGV. Jordan Thompson is also slowly heating back up, so there is some optimism heading Friday. But the big unknown right now is the status of Brett Minnich. Coach Jim Schlossnagle said he will be on the roster this weekend, and he took limited batting practice on Thursday. He'll hit again on Friday. Schlossnagle said at Thursday's press conference that the odds were greater than 50 percent that he'll play in some capacity either as a designated hitter or a pinch-hitter. He won't be playing on the field. Minnich hitting in the middle of the order between Werner and Jace LaViolette is huge and potentially transforms this lineup. Again, this series will come down to A&M's ability to be patient, extend at-bats, draw a decent amount of free passes and hit a couple of big flies. Do that, and the Aggies have a good shot to win this series.
What's at stake this weekend
The Aggies are tied with Auburn and Alabama at 11-13 after Auburn upset LSU and Alabama surprised Vanderbilt. Alabama ends the season with a struggling Ole Miss. Texas A&M ends the SEC regular season at Mississippi State. Both matchups favor the Tide and Aggies, so the winner this weekend has a big advantage to finish in third place in the SEC West.
The thinking has been most SEC teams at 14-16 will get into the NCAA Tournament. There could be a complication. 11 of the 14 conference teams still have a realistic shot at finishing 14-16. I know the SEC is the monster of college baseball and will get the benefit of the doubt when it comes to the NCAA Tourney, but will the committee take all 11 if they make it to 14-16? I don't know. A&M's non-conference resume isn't the strongest, so I don't want to get in a 2-3 way tie at 14-16 with Auburn, Alabama or Georgia.
That's why I still say 15-15 should be the goal, and that means the Aggies need to go 4-2 in these last two series. So the Maroon & White winning two this weekend puts them ahead of Alabama in the standings, and that leaves beating the MSU Bulldogs two out of three games next weekend. With next week being played in Starkville, begging for a sweep on the road (even against a bad team) is a lot to ask of any college team. So to be safe, the Aggies really must take two in College Station against Alabama. Just win two!
Never miss the latest news from TexAgs!
Join our free email list