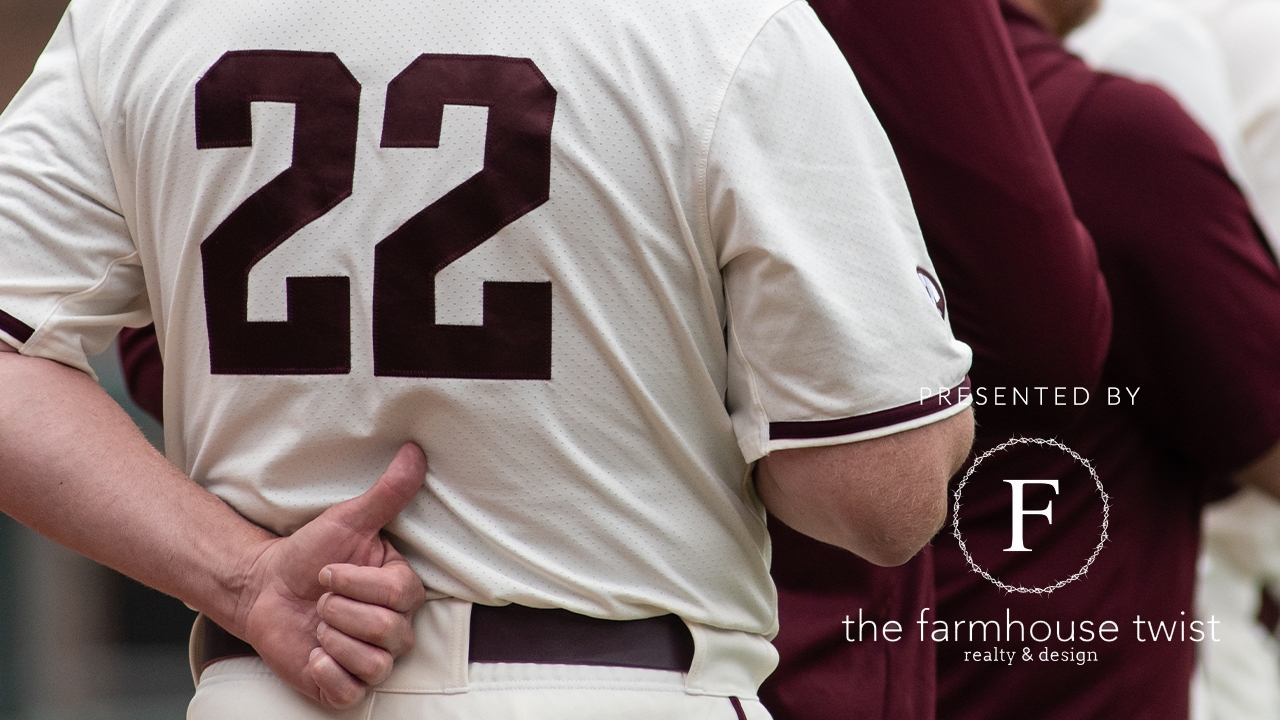 Photo by Jamie Maury, TexAgs
Texas A&M Baseball
Jim Schlossnagle and Co. ready to finish off home slate vs. Alabama
---
Texas A&M looks to extend its winning streak into the weekend as the Alabama Crimson Tide roll into town on Friday. Head baseball coach Jim Schlossnagle joined Thursday's edition of TexAgs Radio to preview 2023's last series at Blue Bell Park.
---

Key notes from Jim Schlossnagle interview
We've pitched well. We've limited free bases and had timely hits. We played at home, and it make a difference. After being swept by Arkansas, I looked up after the national anthem before playing Tarleton. You can never complain about the crowd and fans showing up at Blue Bell Park. Hopefully, we will get some good weather this weekend. You wake up with a smile on your face when you win.

I think Nathan Dettmer giving us five decent innings had a lot to do with it. We got to go to Evan Aschenbeck twice. Some people may ask why didn't you start him. Part of Evan's effectiveness is who he follows. Will Johnston is a better starter than some that we've rolled out there. Brandyn Garcia is building confidence. He feels like he is as good of a pitcher in the SEC. I think Max Kaufer has had a lot to do with that. I don't know what's going on in the pitcher's heads. We're a good fielding team. It's one of those things you tell them 1,000 times, and they get it at 1,001. Maybe it's gotten through, or maybe we've gotten lucky. I envision the best version of them, but we have a tall task ahead of us. Alabama is just as good, if not a more complete team than Florida.

Brett Minnich had live at-bats yesterday. This sounds crazy, but the big test is when he swings and misses, where the pitch is relative to his shoulder. We will do that again today. I would anticipate him being on the roster. Whether he is able to pinch hit or DH, I'd say there's a 50 percent chance he can do that. What do you do with a guy like Ryan Targac? Can he play the outfield? Outfield defense plays a big role. It will be interesting if Brett is available and what you do with that. I do believe he will be available.

We just met on the weather. The SEC doesn't like us to make decisions until the last second. Friday should be fine. Saturday is hit or miss, but Saturday night, we may be able to do something. Sunday's game may need the whole length of the day to get it in. The SEC might be willing to let us juggle Sunday's 3 p.m. national broadcast to get the game in. The worst-case scenario would be two games on Friday. I should have been a basketball coach. You sweep the gym floor and play. Now, I have to sleep in a Holiday Inn and turn into a meteorologist.

The starting rotation will be Dettmer on Friday, Troy Wansing on Saturday and TBA on Sunday.

We have guys graduating and Senior Day. If I start talking about the seniors, I will start crying. Those guys have been through a lot. Coach Rob Childress is to be credited for those guys being here.

Friday night, after we lost to Florida, a lot of guys have not been through an NCAA Regional. I told them that is what that feels like. Every pitch has something riding on it, and you have to bounce back quickly. We did. If we can get in a regional, you feel confident about being able to play because you've been through it.

I never feel great about where we're at. I feel better than where we were last week. Every coach in the league has said to find a way to 14-15 wins. We will keep our heads down and try to make our case better.
Never miss the latest news from TexAgs!
Join our free email list
SPONSORED BY