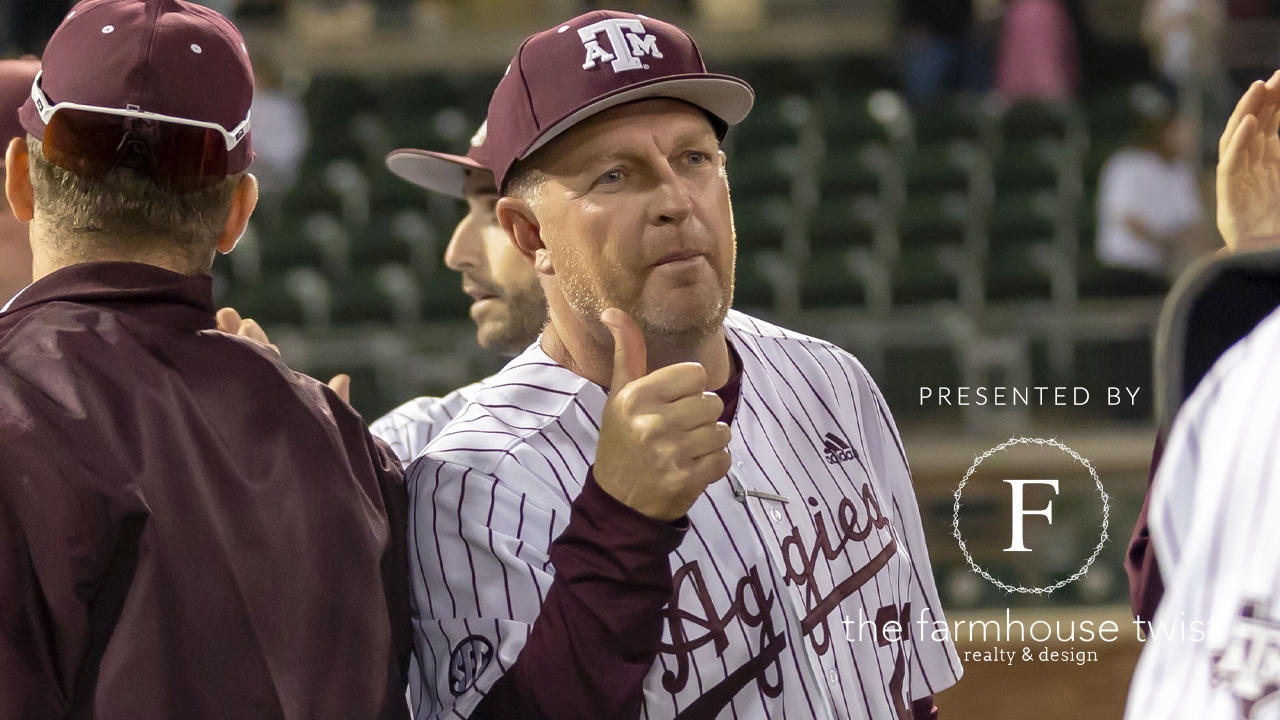 Photo by CJ Smith, TexAgs
Texas A&M Baseball
Jim Schlossnagle recaps motivating series victory over No. 4 Florida
---
Texas A&M's balk-off win on Sunday capped off what was a successful weekend for Aggie baseball. Following the massive series victory over the fourth-ranked Florida Gators, Jim Schlossnagle joined TexAgs Radio to detail the motiving weekend.
---

Key notes from Jim Schlossnagle interview
The overall week was pretty stressful considering Tuesday's night game ended on a bases-loaded double play ball. I thought we played as good as we have played all year on Friday night. You can play well in losing baseball. Friday night, we battled and gave up a few solo homers. We got the tying run on base, and we had Trevor Werner, Jack Moss and Jace LaViolette up with the wind blowing out to win the game. I will take that everyday. The loss was tough to swallow. You also had the emotions of Brett Minnich not playing. He was pretty uspet as we understand. Saturday, they gave us some free bases and got some timely hits. Yesterday was a really awesome baseball game. Two great teams.

Allowing Will Johnston not to start but to get into the starter's routine. You know, I think Nathan Dettmer pitched better, not great, but better. Instead of Evan Aschenbeck throwing 50 to 60 pitches, he threw 18 and could come back for us yesterday.

Chris Cortez still needs to land that off-speed pitch. His misses are really small. He's a right-hander that's gotta give us something, and he can do it multiple days too.

I said something in front of the team the other day — why do you play? If you can't find a reason to, just look at #23. He's always been hurt here and played hurt. He has a chance to sign professionally and did not for the right reasons. He's the best player on our team, hitting balls out to left field, playing great outfield, then dives into first base and has a lot of other things happen. I think he'll be able to come back for us in a DH or pinch hitter role.

Jordan Thompson is a guy who doesn't get talked about a bunch, but what big hits he comes up with. Started off an inning with a big base hit. He's a gritty guy and stays on the baseball. With Brett out, JT rising to the occasion has been big. Trevor had a big weekend, too, controlling the strike zone. Talking to the team that's not a natural thing for him, but I think that's him thinking that it's his last year here.

I talked to Kevin O'Sullivan when we had that rain delay. He complained about the average number of walks.

You'd like to think it looks like last year. I think we're better than what we played against Arkansas. I'd like to think even though we lost Friday night, I thought we played well. You think about it, we are one swing away from a sweep, and we'd be two swings away from losing the series.

Justin Lamkin is supposed to get the ball again tomorrow. We're going to have to talk about when they're leaving. Lamkin needs to pitch because the way I figured it, we're not getting a bye on Tuesday. I'm planning on us making the conference tournament and us playing the first day. This is why in my career, I've always wanted four legit starters because the fourth guy always will pitch the first game of the conference tournament. When we make the SEC tournament, he will have to pitch the first game.

Alabama's lineup is legit. It's older and super physical. I couldn't tell who was better, them or LSU when they played. This time last week, we felt awful. One week later, we're more positive.
Never miss the latest news from TexAgs!
Join our free email list
SPONSORED BY