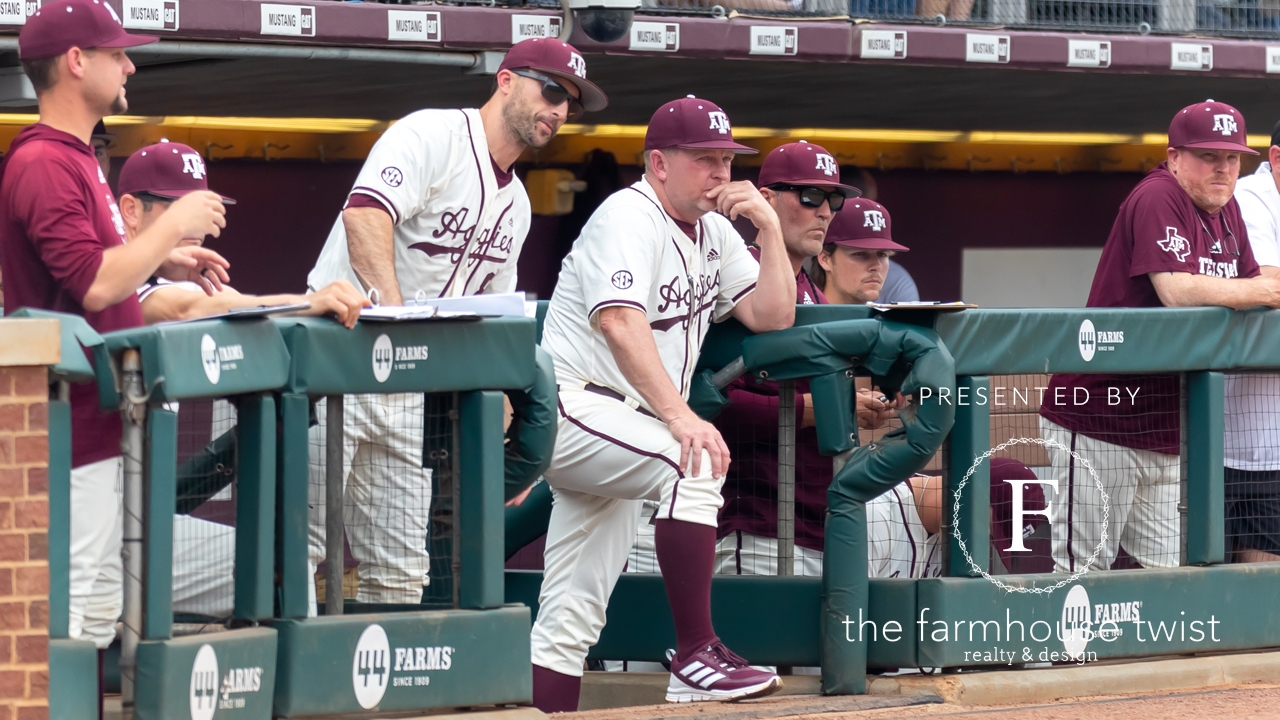 Texas A&M Baseball
Schlossnagle & Co. face No. 4 Florida in an important series at Blue Bell
---
With just nine SEC games remaining, Texas A&M baseball is pushing to make the NCAA Tournament, and the Aggies have a big opportunity this weekend vs. No. 4 Florida. On Thursday, Jim Schlossnagle spoke to TexAgs Radio to preview the series.
---

Key notes from Jim Schlossnagle interview
Brett Minnich is pretty banged up, no doubt about it. Almost a game-time decision as to whether he can pay the field, but we've dealt with this before. He's as tough a kid as there is, and he has been through this before. We are going to have to just keep plugging. With Minnich, we've had issues in other areas of the game, but going into the season, the whole reason Brett came back was to get bigger and stronger. He's fast, and then he had an injury. You lose one of these guys, and it really hurts you. When Brett came back, he came back with a vengeance. Hopefully, he can get to the point where the soreness doesn't bother him too much, and he can pick up a bat.

Justin Lamkin hadn't pitched in 10 days or started in a while, but he did a good job at establishing his fastball. He put up some good numbers, but I think he still has to still get his fastball down and continue his development. Overall, he did what we needed him to do that night, that's for sure. I think he got away with a couple of pitches that you normally wouldn't have gotten away with. I think Justin has a good chance to develop well.

Nathan Dettmer had a really impressive bullpen. He threw well off the mound yesterday. I would anticipate him starting a game this weekend, but we will wait and see when the best time to roll him out would be.

Jordan Thompson is a competitive player. Just when you think he's out, he will fight his way through. We've been hard on him about using the whole field to hit. He had a great at-bat against Tarleton and played a solid center field. You could probably count the number of words he says in a month on one hand. He's a quiet player.

Austin Bost's competitiveness outplays his skillset. He's really worked hard at second base. Anyone can turn a double play on a guy who can't run, but to do what he did and open the field for the other guys was great. Despite his poor luck as an offensive player, he has played great defense. The same can be said about Trevor Werner as well. There are a lot of ways to win a baseball game.

With the Florida offense, you are seeing national championship-caliber guys and a coaching staff that has been there for a while. The University of Florida has a lot of great players, but you still have to turn it on and play the game no matter who you play. Some of these guys have some walk totals, so if we can get some guys on and get a big hit, then I think we can hang with them.

There is some top-heaviness to their lineup, and you can't set the table for them. You know well-executed pitches get out good hitters.
Never miss the latest news from TexAgs!
Join our free email list
SPONSORED BY